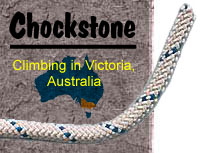 Sponsored By
ROCK
HARDWARE


17 Down Under: 17 DOWN UNDER. "A celebration of moderate grade climbing in Victoria". 184 pages. 285 images. Father & son team, Steve & John Morris, embark on a journey to climb and photograph 50 of the best rock climbs in Victoria, grade 17 & under. Inc bookmark $50.00
9% Off

Chockstone Forum - Trip Reports
Tells Us About Your Latest Trip!
Author

| | |
| --- | --- |
| TR - (Not so) Sweet Dreams | |

10-Apr-2013
12:10:55 AM

Ok
TR - (Not so) Sweet Dreams.

I few weeks ago I had one of my currently rare opportunities to actually go climbing. I am caring for 87 year old Mum at the moment hence I don't get too many options.
Unfortunately like on many other occasions my timing did not really coincide with any available regular partners so I just enjoyed being out of the house, visited the kids, and grandkid and finally got back out into the bush, getting to Sublime Point carpark quite late in the arvo. Whilst sorting the smallest rack I could think of, a few cams and a couple of wires, two young lads rolled up also planning to doing SD, I told them I was semi-soloing it and made sure it was fine with them that I went ahead so as to not get in their way, chucked the rope on my back and headed off down the track feeling great and really stoked to get back to it. This is my third time up it and was planning to solo the first three pitches, as I was progressively soloing each pitch. What a great day to be out even if was only going to be easy ground being by oneself can be very special.

Fired off down the track getting in the zone for what lay ahead, avoiding any use of the various fixed ropes on the way down and concentrating on footwork and balance. Every thing was fine until I got to the Thumb Roofs when suddenly my whole world collapsed in on me and I found myself screaming 'FFAAAARRRKKKKK!!!!!' at the top of my lungs, as a wave of unbelievable anger wash over me. "They f@cking bolted it!!!' F@ck, F@ck,F@ck, F@ck I found myself screaming again as I saw the new dingbolts on my project. My blood was boiling, the shock of it had set my heart racing, blood boiling, body temp through the roof, How could they not know that someone was trying this, there was at least some chalk on it from my previous attempts, so surely the could tell someone was trying. Who would do such a thing, all the regular crew who have been bolting here know I have been trying, so surely it could not be them, but how could anyone else not realise it was a trad project. FAARK, I screamed again as I saw all the heavily chalked holds and tick marks, lines and footer dabs dotted over it - and a little red bit of wire as a 'project' tag to boot. To say I 'seething with anger' is to put it mildly, I was 'ropeable'. I felt like chucking a full-on John Cleese style 'wobbly' - where you tear down a small tree and start bashing things but I didn't - ok maybe a little . . .

Eventually I headed off still 'seeing red', literally charged off to get the start of Sweet Dreams, but still with a constant litany of 'f@ck's bursting out under my breath, and anger/disbelief/disappointment etc filling my head every few minutes. I charged through the bush in the hope that I might vent all my anger, but it did not really work. Pulling around the Cable Traverse I slipped briefly in my haste and by the time I reached the bottom of the climb I was panting heavily. I tried smoking a small joint to try and relax but I just couldn't, as thoughts swam around my head like a frenzy of feeding sharks. Gotta get moving, that should calm me down, just focus on the moves and it should all fade away . . . But it didn't I found myself unable to get the thoughts out of my mind, stopping once or twice on the first pitch to scream f--- and pound some in the vain hope of venting my anger. Even at the first belay ledge I was still unable to get focussed, could not just sit there hoping it would pass so charged off up the second pitch, gaining a little more composure as I headed higher and finding brief moments of peaceful focus solitude before yet another bout of anger would wash over me. Swing between these two events I also became more aware that this really not a very good state to be soloing in, and slowed down to try to gain a little composure and upon reaching the alcove of the next belay, I through the rope down and finally decided I should stop and try to relax, look out over the valley, have a few more puffs and try to chill out. I sat there for a good few minutes breathing deeply, closing my eyes, feeling the solitude and expanse surrounding me, in a concerted effort to regain some mental control/composure - 'You really should not be soloing in this state' I said out loud to reinforce the thought 'But for f@cks sake - No, you really need to let it go and your going to do the rest of this route'. Time to get your shit together and get on with business . . .

I love the ritual of putting on my climbing shoes, it's usually the last thing I do before heading off, all the decisions have been made by then and its 'Game On' time. Ok, this seems to be working, I am getting a little bit of control back finally by now but how much I wonder, enough to be sure I won't explode again as soon as I start climbing, hmm not sure. I had intended to simply solo the third pitch as well but had difficulty assuring myself of my confidence in myself. Ok it's time to get moving, what am I going to do? I thread the top through one of the rings tie in, pay out a mile of slack, clip in the grigri and throw the remaining rope across my shoulders, and with the Death Loop belay head off up the slab to the traverse line, at least a little calmer now, or at least now I am pissed off with myself for the choice I have made but am able to placate myself with the fact that it is probably the best decision at the time. Gaining the traverse line I shake my head in disgust at my decision as I untie and recoil the rope. My mind is now far clearer as I saunter off across the ledge and I finally here the voices of the other climbers drifting up from below. I reach the next belay and move up a little to sit on a lovely little block and gaze out over the vall at potential lines on Solitary, and down at the following climbers, exchanging some light hearted banter with them helped chill things out. I was finally getting the composure I needed, and whilst wild thoughts still swam around my head I could finally through them a line, catch them and stash them away for later when I would be able to afford to worry about them, anyway there is nothing I can do about it all here and now is there . . .

I finally flake out the rope in earnest, set a small cam for an upwards pull, a wire a few feet above it, figure-8 to the cam, clove hitch to the wire, set up the 'Death -Mod GriGri' neck sling etc and quickly I am on belay. " Catch ya's later guys' I yell down and across to the following part as the start the 2nd pitch. The line gets a little steeper here but its all good, I now find myself smiling and laughing quietly to myself as I climb smugly past a few bolts, then coming up onto one of the ledge-lets I spy a beautiful No. 1 hex placement, chuck it in for fun then punch up the final several metres of near vertical to the 4th belay. To save a bit of time I quickly chuck a biner on one of the rings, tie-off and in no time I am rapping back down to clean the hex, break down the lower belay have another quick chat with the lads then charge back up the line, occasionally pulling slack through as too much gathers below me until the weight of the rope final lets it feed itself though a bit easier.

The 4th belay is a quite pleasant little place where one take ones shoes off, lie-down, kick back and relax in style. I feeling pretty chuffed with getting by with just the one piece on that pitch, I think that deserves finishing of the joint to celebrate. Although the most of the pitch is pretty safe the final bulge has a bit of exposure but by now I am very much feeling in my element and under control, and no thats not just because of the joint. I had felt good on that last pitch, focussed, flowing, free. I looked down at the following party and they seemed to be moving a little slow, possibly slower then they really needed to. Apparently it was the first multi-pitch for one of them, how awesome I thought - late start, chasing the setting of the sun, wondering and worrying, the s
10-Apr-2013
6:06:45 AM

That sound like a a super fun excursion Macciza.
10-Apr-2013
7:17:32 AM

Great read.
10-Apr-2013
8:18:42 AM

What is a 'Death mod' gri gri?
10-Apr-2013
8:39:11 AM

Hey - thanks for the TR - a good read. Good to see even strong climbers can enjoy easier routes. Sweet Dreams is such a cool excursion - wonderful positions and views, and as you've demonstrated, you can still make quite an adventure of it despite the bolts.

Sorry to hear your project was bolted - seems to be a bit of that going around. If you ever want to get away from it all (I also have an aging Mom with dementia) to somewhere the bolters don't seem to operate, I've got a bit of a Wolgan thing going at the moment. I have a hit list of easy/moderate classics + a bunch of old school stuff that nobody has done for a very long time (or if they did, they don't post about it online). I'll happily belay you on anything you want to do if you are okay to do some easier stuff as well.
10-Apr-2013
8:45:18 AM

see various versions:

http://www.bigwalls.net/wallwiki/index.php?title=Solo_Belay
http://ulrichprinz.de/alpin/equipment/selfmade/

And some discussion: http://www.chockstone.org/Forum/Forum.asp?Action=DisplayTopic&ForumID=1&MessageID=42709&Replies=74
10-Apr-2013
9:18:32 AM

Thanks for that ajfclark.
Macciza, I too often gaze accross the Jameson valley at what I percieve as great looking lines on Mount Solitary. I have explored the top of it and climbed all the easy passes but never any of its walls. Have you done much climbing on it? Do you know how much climbing has been done on it in the past?
10-Apr-2013
10:15:29 AM

Great read Macciza.
10-Apr-2013
11:24:39 AM

Thanks for the TR Macciza. It was good to read a contribution from you on a somewhat different topic from your recent posts!
;-) x3

As I was reading your TR, I was thinking about your mind-focus given the soloing aspect; and found myself hoping that this wasn't all going to turn out badly (not that it ever really was the case given you 'survived' to post about it!!), as that uncertain-outcome feeling came to me too through your words.

Soloing is a strong dose, and I applaud your overcoming the distractions to the mind game involved, to enable achieving your goal.




10-Apr-2013
12:03:19 PM

I really enjoyed the qualifiers used in the context of using the ringbolts.
10-Apr-2013
10:35:22 PM

Nice.
11-Apr-2013
3:24:21 PM

Thanks for the various comments everyone . . .

@Techno - yeah, if everythings aligns it sounds like it could be fun, there are a few things I have had my eye on out there but sometimes getting partners is difficult, PM about any of your future plans . . .

@Deadbudgy - I will PM you later with some details so as to not give too much away . . .

@M9 - Well I actually wrote it because it kind of ties in with those other topics, and shows part of the flow-on effect related to them - I did have some concerns on that climb that I hadn't on previous times and yes, overcoming them was probably the 'crux of the biscuit' as the saying goes . . .

@Will - Well, I always try to 'tell it how it is' even if admitting to my foibles or 'qualifying' less then ethical choices. Often I feel I am my harshest critic, and I respect my own opinion far more than others . . .

Will try and dig up some of my earlier writings and post a bit more of my current shenanigans . . .

Cheers all . . .
11-Apr-2013
5:27:48 PM

On 11/04/2013 Macciza wrote:
>Will try and dig up some of my earlier writings and post a bit more of
>my current shenanigans . . .

That would be great.
12-Apr-2013
10:34:23 AM

On 11/04/2013 Macciza wrote:


> overcoming them was probably the 'crux of the biscuit' as the saying goes . . .

I thought the crux of the biscuit was the apostrophe ...
12-Apr-2013
11:52:59 AM

On 11/04/2013 Macciza wrote:
>@Will - Well, I always try to 'tell it how it is' even if admitting to
>my foibles or 'qualifying' less then ethical choices. Often I feel I am
>my harshest critic, and I respect my own opinion far more than others .

At least you're aware of it, that's a credit to you. And nice one for not biting, that wasn't the response I expected!
12-Apr-2013
12:26:08 PM

On 12/04/2013 BA wrote:
>I thought the crux of the biscuit was the apostrophe ...

"You can't say that"
"It doesn't, and you can't, I won't, and it don't
it hasn't, it isn't, it even ain't, and it shouldn't
it couldn't"
And if you say "No, no, no"
Then I'll say "Yes, yes, yes"
I'll say "I do it all the time "
"Ain't this thread a mess . . . ."
12-Apr-2013
1:13:24 PM

On 12/04/2013 Will_P wrote:
>At least you're aware of it, that's a credit to you. And nice one for
>not biting, that wasn't the response I expected!

Thank you, I do try to not mis-represent myself and usually admit to when I don't live up to my own principles .. . .
Did not see anything, or any reason, to 'bite' - I actually took it as a compliment . . .
12-Apr-2013
2:49:11 PM

Hmm. Then I apologise for my childish baiting. Which is what is was.
12-Apr-2013
5:49:15 PM

I like crack
| | |
| --- | --- |
| | There are 19 messages in this topic. |
Home | Guide | Gallery | Tech Tips | Articles | Reviews | Dictionary | Forum | Links | About | Search
Chockstone Photography | Landscape Photography Australia | Australian Landscape Photography | Landscape Photos Australia

Please read the full disclaimer before using any information contained on these pages.
Australian Panoramic | Australian Coast | Australian Mountains | Australian Countryside | Australian Waterfalls | Australian Lakes | Australian Cities | Australian Macro | Australian Wildlife
Landscape Photo | Landscape Photography | Landscape Photography Australia | Fine Art Photography | Wilderness Photography | Nature Photo | Australian Landscape Photo | Stock Photography Australia | Landscape Photos | Panoramic Photos | Panoramic Photography Australia | Australian Landscape Photography | High Country Mountain Huts | Mothers Day Gifts | Gifts for Mothers Day | Mothers Day Gift Ideas | Ideas for Mothers Day | Wedding Gift Ideas | Christmas Gift Ideas | Fathers Day Gifts | Gifts for Fathers Day | Fathers Day Gift Ideas | Ideas for Fathers Day | Landscape Prints | Landscape Poster | Limited Edition Prints | Panoramic Photo | Buy Posters | Poster Prints