So what do you do for your holidays if you are a climber with a non-climbing wife and 2 small kids? I hook up with an old partner in similar circumstances, and we go camping with our families in places where we can squeeze in a bit of climbing, while spending most of the time with the kids, exploring, hiking, scrambling, cycling etc. The Wolgan is perfect for that – a great campsite, a shallow river which is safe for the kids to play in unsupervised, dirt roads to cycle on, loads of good walks, ruins to explore, etc. We'd been there on a long weekend earlier in the year, and had the smaller campsite over the river almost to ourselves – so we booked in with a few friends for this Easter.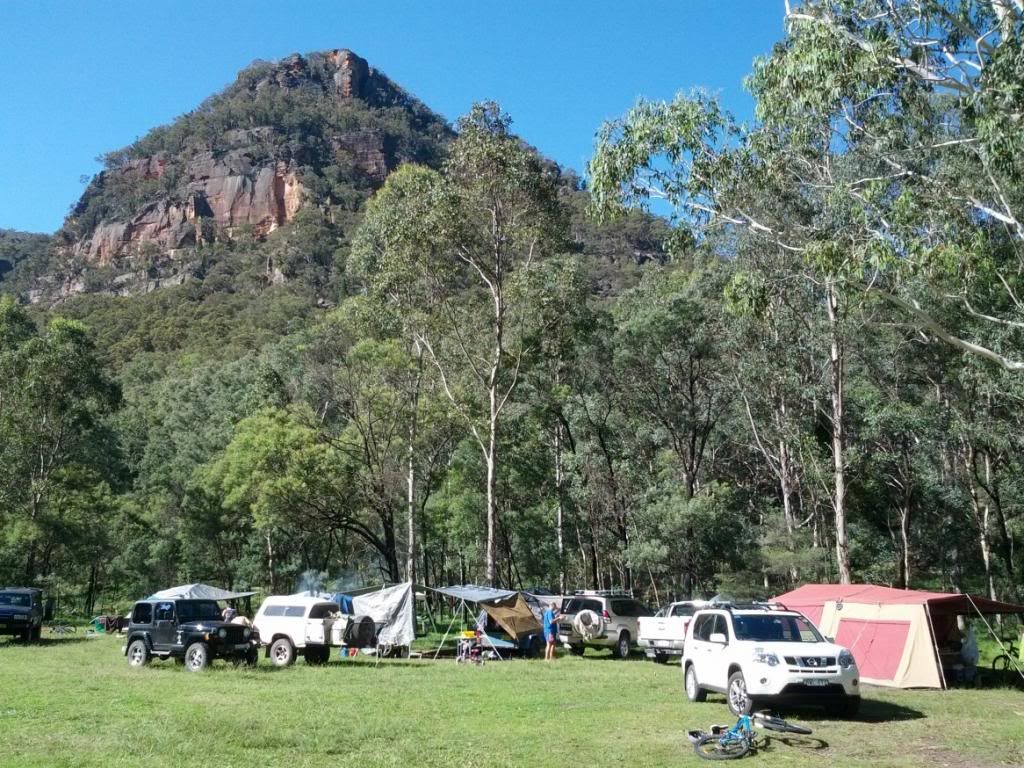 Wolgan campsite - Magic Mountain backdrop

Unfortunately, half of NSW had the same idea. We arrived Thursday night, and luckily our friends had come up earlier, as the campsite was almost full. Friday dawned clear, and the little clearing was almost swallowed up with tents, trailers and 4WDs – it looked like the Byron Bay Blues Festival, but with worse music. I like unsupervised camping with minimal facilities – but one down side is that to some people, that means they can do as they like. And what they like is to play loud music, drink as much beer as humanly possible, and stay up until 4am shouting and swearing and carrying on. Three nights in a row this went on – what a waste of normally gloriously peaceful nights under the stars. I reckon there were 200 people in the small campsite, maybe 400 in the main campsite, and another 200 scattered around Newnes and in the remoter bush sites – unbelievable. I saw three separate groups with their own portable Hills Hoists…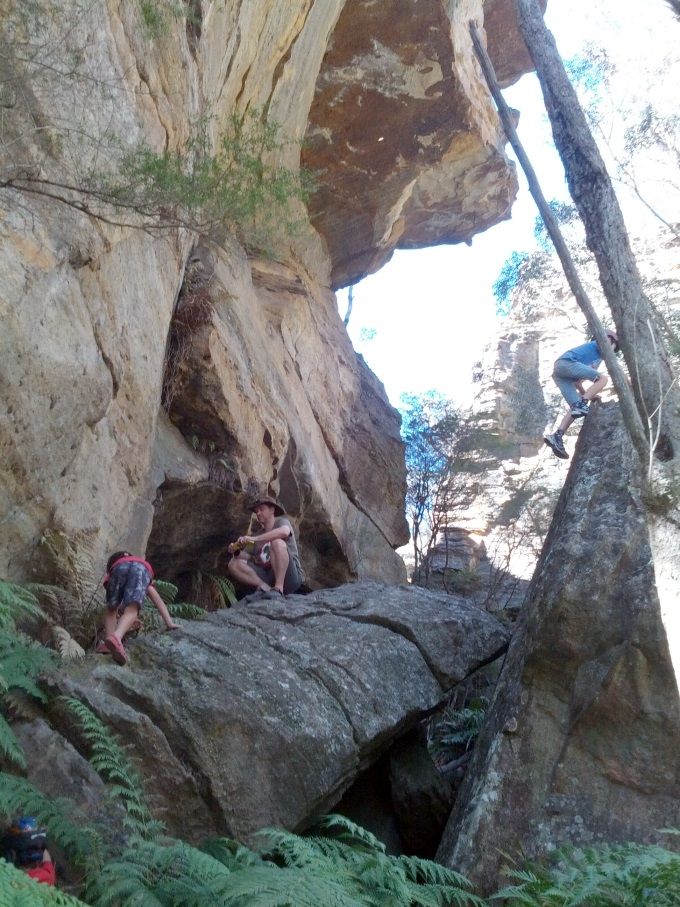 Scrambling around Blackfella's Hands

But the weather was decent, and as soon as we got away from the campsite, we could enjoy all that the Wolgan has to offer. We took the kids to check out the Aboriginal site and hand paintings at Blackfella's Hands, and then set up some top ropes on the nearby pagodas, and had the kids getting to grips with real rock. We all walked up Mystery Mountain behind the campsite – a steep long slog, but even my 6 year old made it up, and they were super chuffed to stand on top of a "real mountain". Awesome views, well worth the hike. We explored the ruins, hiked down to the Pipeline track, walked Newnes Rd to the Glowworm tunnels, and spent hours putting together huge feasts for the troops. Good fun.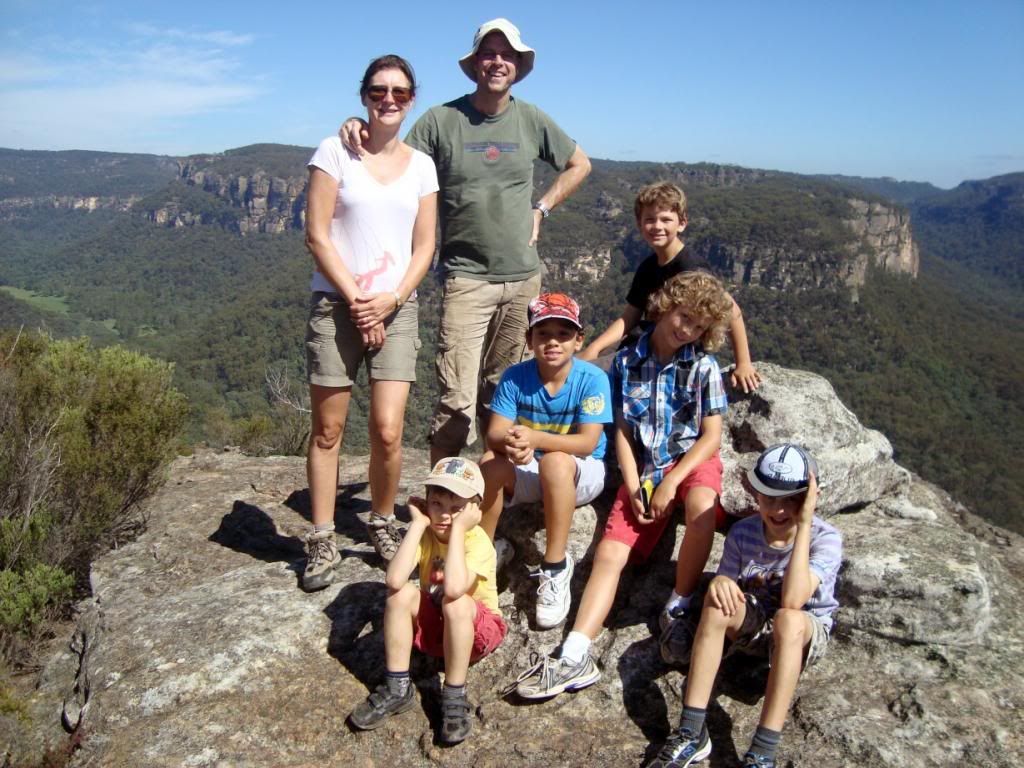 Top of Magic Mountain

Climbing? Well – I did get one day off. Was supposed to meet another Chocky member who was going to come down for the day, but he was never going to find us in the campsites, so headed up to the Coke Ovens. Nobody around, so Charlie and I trekked up the hill, and broke out the guide book, looking for the easiest climb possible. We settled on Organ Grinder, as it was described as well protected and had nice friendly trees to belay off. Charlie hasn't led anything for years, so I led both pitches (running 1&2 and 3&4 together) and thoroughly enjoyed it. It is an old-school grade 14, corners and cracks and trees, and enough spice to make it interesting. The main crack was brilliant, and quite thought provoking. The rock was generally good, lots of good pro, and brilliant shady belay ledges with good views – what is not to like? Only one dodgy section, going around the large tree sticking out of the crack – had to be very careful not to dislodge a huge pile of rocks precariously stacked behind the tree.

We saw a trio of climbers setting sail on something a bit harder around the corner, but that was it for the weekend as far as other climbers went – I'm always amazed that so few climbers go to the Wolgan when there is such great climbing so close to Sydney.

I was on cooking duty, so couldn't stay too late – so we got onto Deathbed Confessions – also a 14, but totally different character, being slabby face climbing with a mix of carrots and a couple of cams. There was a handy set of chains at 30m, so we did it pretty much as a sport climb. Really pretty easy, with only the spacing between the bolts (6-7m at times) keeping things interesting. Good fun though, and I'll do the second pitch another time for sure, maybe as a warmup for Grunter next door, which looks great. We had a bit of a wander along the base of the cliffs, locating and admiring the lines of a bunch of harder climbs – lots and lots to come back for here, but I'll need to sack up a little as pretty much everything good is in the 16-18+ range.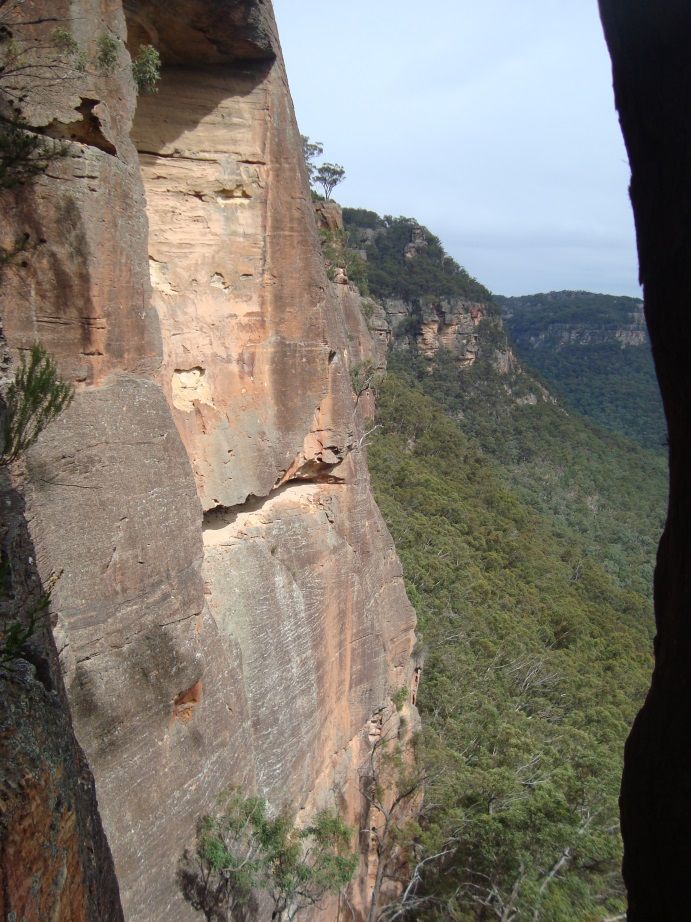 View from half way up the Coke Ovens lower cliff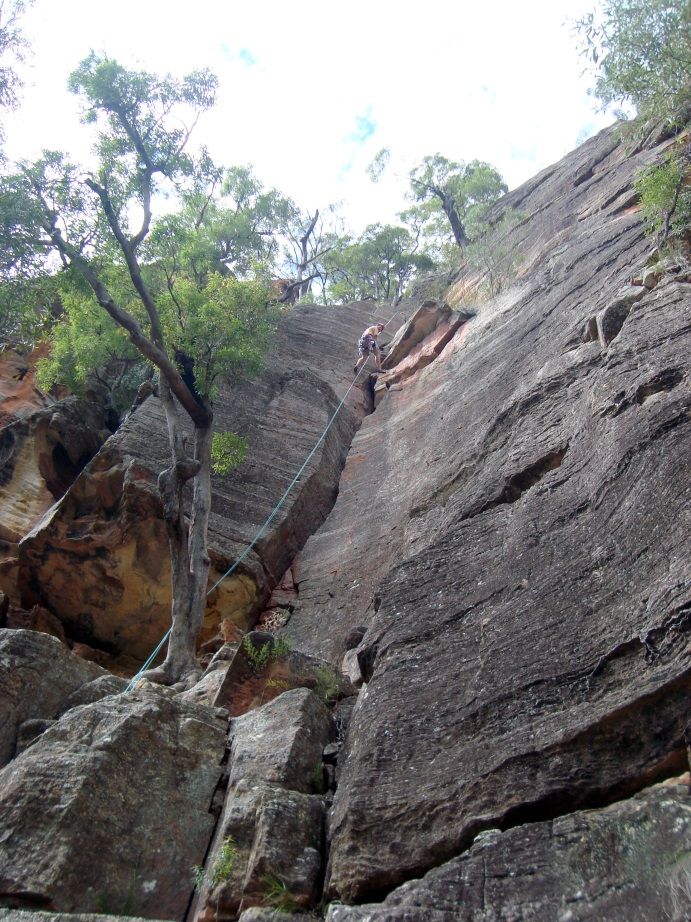 Charlie raps the line of Mouth Organ

My other mission for the week was to recce the Little Capertee Creek cliffs, and resurrect some of the climbs there. The Wade Stevens guide doesn't cover these cliffs, simply noting that while they have the 3rd most climbs of any Wolgan crag, they had fallen into obscurity and thus were not covered – quite likely, most of them haven't been climbed for 20 years. Admittedly these cliffs are less prepossessing from below than the huge faces of Old Baldy and the Coke Ovens – but there are a lot of easy-moderate lines on the Capertee cliffs, and I thought they would be worth cleaning up to take my small ones up. So I got a copy of the relevant pages from the old guide, transcribed the descriptions onto TheCrag.com, printed them out, and armed with this, hacked my way up the scrub above the Little Capertee camping area to the cliffs. There is no trace of any path left, so it was a long, steep and slippery bushwhack – but rewarded with some beautiful, tranquil, almost virgin cliffs. For sure there is a lot of choss and vegetation, but also some awesome lines – when I think of the rubbish we climb on in & around Sydney, these cliffs are brilliant.

I walked, scrambled, slipped & slid about a kilometre along the cliffs – but couldn't identify a single climb from the old descriptions. I did find one route marked with a square of white paint and a "K" but it bore no resemblance to the only route description with a K (Kindergarten Crack). A short distance past this was a very faded set of initials (BPO?) which I couldn't match to anything in the guide. Everything else had faded into the moss & lichen, and apart from an old & rusty can, there was no sign anyone had ever climbed there. I gave up on trying to match routes to descriptions, and just admired the rock faces, and traced out possible "new routes" for me to come back to – and I think that is the real future of the Capertee Creek crags – a place trad lovers can come and explore, and put up their own routes, and leave them in the forest for others to do the same. The walk up is too hard for my little ones now, but in a few years we can come back, and I think the cliffs will be much the same, and perhaps my boys can do their own "new routes" there too.

So – no cliff resurrection, but I did get in a great scramble, with huge caves, soaring clifflines, sitting under an overhang behind a waterfall, drinking crystal water from little creeks, and a jungle-bash of note to get down where the cliffline runs into the beginning of Old Baldy.

All in all a good weekend – but I won't go the