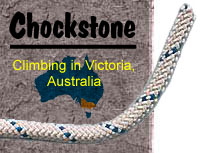 Sponsored By
ROCK
HARDWARE


Black Diamond: 120cm Nylon Runner. (Open sewn sling) 18mm wide nylon. Assorted colours. Awesome value IMO. $8.50
15% Off

Chockstone Forum - Trip Reports
Tells Us About Your Latest Trip!
Author

| | |
| --- | --- |
| Another Boring Straddie TR | |

30/03/2012
11:07:53 AM

Ok here we go. After a bunch of weird shit here is the unedited version of Damo's (One Day Hero) Stradbroke Island TR.


'Making Dreams Come True'.......


Firstly, a list of things which I despise!

-The idea of internet dating
-Clusterf---ed trips with too many people, making it impossible to get things done
-Cliche ridden stories where everything works out for the best and the jaded character finds redemption
-People doing stuff "for a cause"

1)

It's raining properly now. Rain like you only get in Queensland during summertime, hard and warm and sideways. There's a fat bloke outside trying to hold down the corner of a shadesail which has torn loose in the squall, he's not having much luck.

I lean my head against the fogged window and sneak a glance around the car. What the hell am I doing here? This is a stupid idea. Why did I open my big mouth? I blame Dan! Actually I blame Dan and Clinton and my big mouth, but Clinton is in the other 4wd and right now I'm looking at the back of Dan's neck, so I blame him.

Dan has flown up from Melbourne with a conscience. I've read about those things, so I'm familiar with the concept. People with a conscience will often make the leap from "someone should do something" to "I should do something".......strange, I know. He has his neck craned to the side, and his temple is touching the roof of the car. That's because Dan may be the tallest, skinniest person I've ever met. In the half an hour that I've known Dan I've already learned; that he's a retired professional juggler, he has a young daughter from a one night stand, and he used to ride turtles.

Clinton started it all. "I'm having trouble getting the slack out of my Tyrolean rope." "Has anyone got any suggestions?" Clint has Asperger's and a sense of adventure, I'm not sure which one gets him into more trouble. In between running a one man window cleaning business in Ipswich and terrorising the amateur radio scene, Clinton has acquired a taste for extreme sports. He has a dream to do a Tyrolean traverse (tyro) across the fabled gorge on the north eastern tip of Stradbroke Island. Clinton is quiet and thoughtful and seems to be modelling his stubble and squint on Dirty Harry. He hasn't been into rope sports all that long.

"You'll be right", I said, "It's just that you haven't learned the skills yet. Maybe find someone experienced to help you". "Someone should help this bloke get across his zawn" I said (with my big mouth). Dan (and his conscience) said "you should help this bloke get across his zawn", "we should help this bloke".........it grew its own legs from there.

So that's how I've ended up here. Sitting in a convoy of 2 4wd's crammed with gear and strangers, staring at the back of Dan's elongated and craned neck, trying to make small talk as we wait for the Stradbroke Island ferry to arrive.

2)

We've relocated to the scungy passenger cabin on the ferry. Outside are mangroves, brownish sea and rain. Inside, the small talk continues. There's something naggingly pathetic about a bunch of middle aged climbers, who met on the internet, sitting close together on plastic chairs and playing the 'getting to know you' game. Reminds me of the group bonding shit which seemed to be all the rage while I was in school. I feel like passing out pens and asking people to "break into pairs for 2 minutes, then tell us everything you've learned about your new best buddy" Vomit!

Stuart and Simon flew up from Melbourne with Dan. They know each other from the old days at Araps in the 80's, but have gone in rather opposite directions since then.

Stuart pursued climbing intensely for fifteen years, put up some beautiful (and difficult) routes at Moonarie, obsessed, travelled, wrote passionate and clever stories about the sport, then quit cold turkey. He's now married with two kids, and its his birthday today. As far as his wife knows, he's catching up with old climbing mates...........how could he tell her that "Instead of spending my birthday with my family, I'm going to Queensland with a bunch of wierdo's I met on the internet, in order to string a random bloke across a gorge", without it sounding selfish and dumb? Stuart looks nervous, unsure of how to act amongst this group of strangers. I reckon, from the look on his face, that he also thinks this thing is a huge mistake. Stuart has one simple request, he would like to keep the event low profile. "We don't want to end up on the evening news!" Maybe he's worried that his wife will be watching.

Simon is a minor celebrity in the Australian climbing scene. Author of guidebooks and magazine articles. Never good enough to be famous for his skill on rock, but always involved, always in the frame. He didn't bothered to quit climbing, but just lingered around in Natimuk and kind of drifts in and out of the scene in a non-committal way. In fact, if I had to choose a hyphenated word to describe Simon, non-committal would be it. He opened the Nati cafe , but can't commit to running it. He has started relationships with all sorts of fantastic women, but can't commit to any of those either. The only things he seems really committed to are small town afl, and pursuing casual relationships with many more fantastic women. He's one of the friendliest, most easy going people I know. I'm glad that Simon has joined us, for two reasons. Firstly, he owns a camera and apparently knows how to make films. This w/e is likely to yield a good story. Secondly, Simon is pretty level. Not in that annoying, positive about everything, 'Christian on Prozac' way though. He never gets too excited, never too down, and is willing to call "bullshit" when things are.......bullshit.

I have a great idea for a film we could make during this adventure, involving characters who are exaggerated versions of ourselves, and a doco within a doco. Simon calls "bullshit"!


3)

Back in the four wheel drives, we disembark the ferry. As we wind along the twisting road over to the ocean side to check out the gorge, it's really pissing down again. "The gorge". I'm prepared to be unimpressed. Probably just a sheltered, narrow little inlet between headlands, bound to be at least half as high and half as wide as has been described by the over enthusiastic locals. At the carpark, we pile out into the rain and wind. Stuart and Dan let on that they haven't brought anything warmer than tee-shirts. They hadn't imagined that summer in Queensland could resemble anything other than a holiday brochure. A couple of minutes along the planked walkway leads us to a viewing platform, and I'm........impressed. The gorge is wide, the cliffs are tall, and the surf is pumping. For a first time tyro-er, Clinton sure has an eye for a line! Speaking of which, he looks nervous. Hardly surprising, I'm feeling a bit jittery now, and I'm supposedly experienced at this sort of thing.

One of the things Dan and I had discussed over the phone was what to do if Clinton didn't feel up to it on the day. My suggestion had been handcuffs and a haulbag, Dan's more compassionate approach is that you can't pressure someone into doing things. If Clint isn't feeling right, we'll have to respect that. It's the big question mark of the trip. For most of the group, this won't be the most extreme adventure we've ever undertaken. For Clinton, it will be. By an order of magnitude.

The weather is getting us down, no sign of it clearing and we can't afford to leave things to the last minute. The decision is made that we must go out and rig by Saturday afternoon at the latest, even if the downpour continues. We'll still get it done, but everyone knows it'll be far from enjoyable. Since Dan appears to be getting hypothermia in his drenched singlet, we adjourn to the pub for dinner, then to the rental house for drinks and bullshit.


4)

By time two cases of beer have been emptied everyone has started to relax and open up. I'm surprised yet again by how much common ground most climbers seem to have. Clinton shows us his "extreme sports web page", and outlines plans for a printed version "once there's a bit more content". He's overcome a lot of adversity in his life. Something he says really catches my attention. "I know I'm not like you guys, but I try to have my own adventures which push me to my limit" This whole thing really means a lot to Clinton. And that's now enough for it to mean a lot to me. For some reason, I really want this guy who I've never met before to get across his gorge.

5)

Seven o'clock on Saturday morning, Steve shakes me awake. The forecast rain hasn't arrived, its showtime. Everyone jumps into overdrive; packing gear, cooking breakfast, a quick group meeting on what needs to be done. Simon is off at the beach. By eight o'clock everyone is sitting in the cars and ready to roll......except Simon, who is now taking a shower. Given the apparent divine intervention which has granted us a weather window, I make the call to ditch him and get moving. We can unpack the cars at the zawn, and send someone back. Simon is less than impressed, and lets me know about it upon his arrival. The only occasion when I've ever seen him lose his cool. "Great f---ing idea! We fly up here with plans to shoot a doco, and during the first bit of filmable excitement, you take off and leave the film maker behind." I stifle a smile, the unflappable Mr. Mentz......he has got a point though.

6)

I'm staring at the pile of gear sitting on the rocks. There's at least; 400m of static rope, a gym bag full of carabiners, two pulleys the size of my head, crane slings, scaffolding pipe, rigging plates, rolls of carpet, cams, nuts, hexs, tri-cams, hooks, slider nuts, all those funny looking things in the industrial section of your climbing gear catalogue (which make you feel like you should know what they're for). Phil has brought his toys out to play.

The Queensland crew have sorted this whole trip out. Clinton is the man with the plan, Dan guilted us into getting involved, but the Queensland climbers have actually done the legwork. Steve and Bo are young, motivated, good looking, and annoyingly sorted. Steve signs his emails as an "estimator for Q-build" (whatever that means), Bo is a personal trainer. Although not very experienced as climbers, they have the obvious talent and ambition, combined with an organised approach which will certainly see them getting good in a hurry. Steve picked us up from the airport, booked the ferry, has already come over to the island once to check out the site, and also helped Clinton to brush up on his rope skills.

Phil is a gear junkie. Actually Phil is the gear junkie against whom all other gear junkies should be measured. To be fair, he runs a business building obstacle courses and things, so the gear is a tax write off. Running us through his rigging plan, Phil seems to be seeking approval from the flown in specialists. The reality is that he's far more qualified and capable than the rest of us combined. I make a couple of suggestions for pointless minor alterations. The other option would be to admit that the southern contingent is superfluous, which is blindingly obvious. Over fifty, but looking ten years younger, Phil is more enthusiastic than most climbers half his age.

7)

Now comes the part I've been dreading. Eight people who've barely met, attempting to work as a team and get a complicated job done in minimum time. It'll bring out the worst in anyone, there's always; a faffer, a mini-dictator, a whinger, a micro-manager, a perfectionist. Its bound to be a shitfight. But as the team springs into motion, none of those characters rear their heads. Phil begins rigging the northern anchor, Steve and Bo get to work with a fishing rod trying to cast a line across, Dan abseils onto a low wave platform to retrieve the line when it arrives, Clinton and I get going on the south side anchor, while Simon and Stuart have begun filming. I'm stunned. This is what all those stupid "teamwork seminars" are trying to teach. But you know what? You can't teach this stuff. If your team isn't running smoothly, you have the wrong people. Apparently this weekend, we have the right people.

Within half an hour, we have the ropes looping between the headlands, A-frames made from scaffolding pipe keep everything clear of the abrasive rock. Massive, equalised anchors help assuage the fear of a criminal negligence conviction. Every aspect of the set-up is going more smoothly than I had envisaged. But there are too many tourists about. At first they were just walking by, but as soon as one stops to watch the proceedings, their numbers grow in an exponential fashion. By time we have an audience of fifty, I know its only a matter of time. Many more than one in fifty people enjoy reporting things to the authorities.

I'm surprised that they sent a helicopter! The lifeguard chopper hovers fifty meters above us, as the pilot calls in his observations. "Yeah, looks like eight to ten washed up old climbers, helping an adventurous local bloke to achieve his tyro dream........you want me to cut their line with my rotor?"

In short order about a dozen lifeguards appear, followed by a couple more on jetskis. Its starting to resemble a scene from Baywatch. Stuart is less than thrilled "Hey Stu, this looks like it might be headed for the evening news!" Phil nominates himself as chief negotiator/bullshitter. From the other end of the line, I'm unable to enjoy the exchange, but can still see body language. Apparently, put on the spot, Phil suggests the idea of using our set-up as a means of rescuing striken swimmers from the zawn. The body language suggests that the lifeguards might not be buying it. I'm pretty sure that they'll shut the whole thing down. Clinton seems worried, it'd be a pity to have gotten this close.

But now things start looking up, the lifeguards are all nodding and smiling, the chopper peels off, and Phil and Steve have returned to the task of tensioning the line. As it turns out, there are no existing regulations prohibiting tyros, and someone has cleverly offered the lifeguards a ride! We're back in in business.

The tensioned line is a beautiful thing to behold. Ninety meters long, with eighty of those meters stretched high above the pounding, swirling foam. The launch platform is nearly ten meters higher than the landing, promising a fast, gravity powered flying fox ride rather than the creeping drudgery of a traditional Tyrolean. We stick with the name "Tyro" as it sounds far more extreme than flying fox. Now all we need is a safety test. A more professional outfit might use an inanimate test subject.........."where's the young bloke?" Steve is champing at the bit, and requires no encouragement. He fires off on a wild ride, gains impressive speed, hams it up for the camera, and fails to notice the proximity of the sharp rocks at the other end. Hmmmm, maybe we need to let a little of the tension out of the line. Steve probably won't require stitches in that leg.

So now its crunch time. Dan, Clinton, Simon, Stuart and I are sitting on the grass slope behind the highside A-frame. Clinton is a bit edgy. He's trying not to show the stress, but almost a years worth of planning has gone into this moment. Clint has fixed his gaze on the line and has real determination in his eyes. I'm more nervous than I have been in a while. Its been a great weekend, but whether we remember it as success or failure is very much hinging on what happens next.

I can't think of anything to say as Clinton clips himself to the pulley. "How you feeling, mate?" is the best I can do. "Ok" is the only answer I was ever going to get. Simon is kneeling down in front, getting close footage as Clinton breathes deep and takes a step towards the edge. Out of the corner of my eye, I see Dan silently willing him to go. Clinton swallows hard and takes another two deliberate steps. Then his foot slips a little on the loose gravel at the edge, he wobbles, tries to correct it.......then, "oh shiiiit!" Clinton 'CJ' Radloff commits and cuts loose on the ride of his dreams.

Dan is jumping up and down, Stuart is giggling, and Simon grins from ear to ear. And me? Well, I haven't gotten this much satisfaction out of any climbing trips for quite a while. Maybe I ought to get into tyro's?

Straddy 2012, there'll never be another one quite like it!

A List of Quotes;

"That's one small step for (a) man, one giant leap for mankind" - Neil Armstrong (clearly rehearsed and rather cheesy), 1969, the Moon

"Oh shiiiit!" - Clinton Radloff (probably similar to what Armstrong was actually thinking), 2012, Straddy

"I've got the pulleys" - Stuart Williams (said whilst holding, in full view, two pulleys which were roughly the same size as his head, and thereby winning the trip award for stating the bleeding obvious!), 2012, Straddy



Clinton





Put up some more photos ya all.



30/03/2012
11:11:20 AM

Well done guys. This would have to be one of the best 'feel good' stories on chocky. Well written too ODH.
30/03/2012
11:23:26 AM

Word
30/03/2012
11:33:25 AM

Brilliant! Great read. I got goosebumps and slightly misty eyes.
Awesome work to all involved and to Clinton - just awesome!
30/03/2012
11:38:52 AM

Thanks Steve. I'll try and get some more fotes up soon.

And just quietly a more pimped and edited version is available in Argus the VCC's monthly publication!

Great work Damo!
30/03/2012
12:36:01 PM

Where did the link go!

Love a copy to print out for work mate Brian odh.
30/03/2012
3:10:35 PM

Check out Dan's little passive-agressive note to Steve there. Classic!
30/03/2012
4:02:16 PM

Just got a minute to sit down with the full colour version eArgus.

Best TR I've ever read. Well done to all involved.
30/03/2012
11:38:55 PM



Clinton's Team (Formerly known as the Dream Team)

From the left: Phil, Jesse, Dan, Clinton, Steve, Bo, Stuart, Simon and Damien.
30/03/2012
11:47:07 PM




More tension system pics.......and Scott the cool as lifesaver guy!
30/03/2012
11:52:38 PM



Check out the guns on Simon ladies.

What a smile.
31/03/2012
8:25:37 AM

That's what happens when I have a weekend away from the cafe.
31/03/2012
2:15:31 PM

boring ! nothing is boring about our trip. thats why ive devoted my time to call this the year of "tyroleans, zip lines, flying foxes, traverses, abseiling and swings"
31/03/2012
3:11:47 PM

That was the most fun I've had on Chocky in ages.
Thanks All.
31/03/2012
3:41:04 PM

a bunch of atheists show god where its at
31/03/2012
6:57:28 PM

On 31/03/2012 widewetandslippery wrote:
>a bunch of atheists show god where its at

Would it be fitting to say, "a bunch of altruists show CJ where it's at, while CJ shows the bunch of altruists where it's at!""
31/03/2012
7:06:51 PM

On 31/03/2012 Miguel75 wrote:
>On 31/03/2012 widewetandslippery wrote:
>>a bunch of atheists show god where its at
>
>Would it be fitting to say, "a bunch of altruists show CJ where it's at,
>while CJ shows the bunch of altruists where it's at!""

Na as crunch said god gets nailed next friday, time to give it to him before he ceases to exist
31/03/2012
7:53:03 PM

On 31/03/2012 widewetandslippery wrote:
Who's crunch? And why will God cease to exist? And why is the plural of bonus not boni?
31/03/2012
8:01:23 PM

On 31/03/2012 widewetandslippery wrote:
>a bunch of atheists show god where its at

Na, it wasn't really like that at all.

Read it again.
4/04/2012
4:46:21 PM

great trip report.
i liked this quote.

>And me? Well, I haven't gotten this much satisfaction out of any climbing trips for quite a while. Maybe I ought to get into tyro's?


good one odh.
| | |
| --- | --- |
| | There are 25 messages in this topic. |
Home | Guide | Gallery | Tech Tips | Articles | Reviews | Dictionary | Forum | Links | About | Search
Chockstone Photography | Landscape Photography Australia | Australian Landscape Photography

Please read the full disclaimer before using any information contained on these pages.
Australian Panoramic | Australian Coast | Australian Mountains | Australian Countryside | Australian Waterfalls | Australian Lakes | Australian Cities | Australian Macro | Australian Wildlife
Landscape Photo | Landscape Photography | Landscape Photography Australia | Fine Art Photography | Wilderness Photography | Nature Photo | Australian Landscape Photo | Stock Photography Australia | Landscape Photos | Panoramic Photos | Panoramic Photography Australia | Australian Landscape Photography | Mothers Day Gifts | Gifts for Mothers Day | Mothers Day Gift Ideas | Ideas for Mothers Day | Wedding Gift Ideas | Christmas Gift Ideas | Fathers Day Gifts | Gifts for Fathers Day | Fathers Day Gift Ideas | Ideas for Fathers Day | Landscape Prints | Landscape Poster | Limited Edition Prints | Panoramic Photo | Buy Posters | Poster Prints