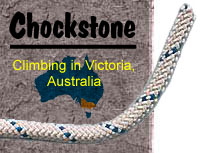 Sponsored By
ROCK
HARDWARE


Chockstone Forum - Trip Reports
Tells Us About Your Latest Trip!
Author

| | |
| --- | --- |
| The snap, the sublime and the beautiful | |

24-Jan-2012
3:39:56 PM

The snap, the sublime and the beautiful


You move into a new flat and there a 1.2 million things to do, right. Thank Buddha, back in the days, I was trained as an engineer, a German engineer, cant get much better than that right?! Well, let me tell you, it can all go downhill from there...

Trying to drill a 63mm hole in my brand new desk to get some gadgets connected with power, I had to screw the drill bit into the drill chuck. Well, is had to be really tight and I used all my strength acquired over years of climbing to do so. As a counterpoint one uses the right hand thumb to apply the load. (You know by now, where this story goes, right?) Yes, applying a lot of load, all of a sudden my right hand thumb just snapped, unfortunately in the wrong direction, towards my body. And then ... the usual string of event and thoughts...unbelievable pain, surprise, anger, fear of not being to do all sorts of 'stuff' in the days coming up :), going to the fridge and find something to cool the thumb, ok, you got the picture!

The very next day, Amigo 1 (Alex) and amigo 2 (moi) had planned to do some cool multi pitch stuff in the mountains, as amigo 3 (that would be our friend and great storyteller François) had some fun fulfilling his duties as a godfather. As my thumb wasn't as bad as expected and hoping, that once doesn't need the pinching grabs too often, I thought, I could at least go to Alex's place and discuss the plans. Gesagt, getan, I rock up at Alex's place the next morning, hoping for his understanding and offering him (instead of a multi-pitch) a single pitch day, so that I could check out, if I can climb at all. I guess, it wouldn't be much fun, to find out at P3 to not be able to go on, abseil again, walk out etc.

But as we know Alex, he's a smooth operator, but tough like a Mozart ball, when it comes down to making his point, what he wants. So, how could I say NO to his proposal to do 'The Sublime and the Beautiful'. François and myself did it exactly a year ago and I was suffering big time, due to reason, which can't be mentioned here :) but that much I could remember: it was an awesome climb, great location, all of that. And as Alex hadn't done it, he had to do it! Yeah!

The 'Sublime and the Beautiful' is a three-pitch climb: 20m, 18; 35m, 22; 20m, 20


Have a look at the impressive wall!

P2 is without doubt the highlight, Alex had the honor to lead it. Which gave me P 1 and P3. Ok, P1 is a sandbag 18. Tough start, one wants to stick clip the first bolt, but without tape...hmm, ok, toughen up, Dominik and go for the first bolt, which is like 4-5 meters high and 3 meters for the starting point (which is located in an amazing corner). Breathe, bring your feet onto the ledge next to your hands, breathe again, master your demons, stand up and keep on moving. The route hasn't seen much traffic (which has to change, as it is fantastic), so, lots of bits and pieces broke off. Once has to be really careful, she'd and how to place hands and feet. Basically, the climb traverses from left to right, using a lot of ledges, which is rather nice, as you step sideway...as mentioned, we found it harder than an 18, technical, crimpy, pumpy, exponentially bolted. But don't get me wrong, a great start into this amazing wall! The belay point is cleverly placed, lots of space. Well done!


Alex's about to start P1


... and is close to the belay point

"Launch up the thin wall. The money pitch !" This is what the topo had promised. Hmmm, if P1 is graded 18, how hard will this 22 be? 35m is loooong and 11 bolts are clearly not enough for my liking. Maybe I should have declined the honour of leading it…. This (or something similar) was what was going through my head when I was starting P2. A few tense moments and about 15 minutes later I was calling down to Dominik the liberating "I am safe", followed by "Mate, this is awesome, what a great climb, what a great pitch! You gonna love it".


The impressive wall, Alex just finishing P2

In summary, it's technical face climbing, intersected by some fun side-pull and undercling moves. To pass the crux one has to pull through a series of tiny crimpers to reach a life-saving ledge, great fun. And the icing of the cake are the million-dollar views towards the three sisters that one can enjoy throughout the climb. And yes, I admit it, 11 bolts are clearly enough when they are cleverly placed, thanks BundyBear!


P 3 actually looks easier, than it is. Yes, it is a solid 20 with a wonderful surprise! The start is a bit committing, step up, hope to find something, find it (yeah!), step higher, big, fat, massive undercling, step higher and yes, clip, don't we love the sound of the gate closing, after the rope(s) went through?! From then on the express way goes all the way straight up. Ah, hang on, that s not true. I forgot about the 'surprise'...there's a part half X-ray through, where you have to exit the expressway and go right. Yes right, to the arête! And then there is this moment, where you're looking for a good handhold (and you can't find it), so you look around the corner and there it is: this massive wall and roof, right next to you, over spanning the void, in the most beautiful colors, unbelievable! Wow, nature creates the most beautiful art works (and they are for free,). And the other good thing is, that you find great side pulls to make the entire 'detour' a very pleasant experience. Don't miss it! After that you go left again and you'll soon arrive at the belay point, which is located just 6 meters below the walk out area. We decided to go higher and build the belay point using one of the trees. So we don't have to have to build two belay point.


Alex is close to the end of the climb, big smile on his face!

From the top it's a short walk back to the car park and all along the track Dominik and I were chatting enthusiastically about how sublime and beautiful the sublime and the beautiful is. In our opinion it deserves an extra star and definitively more traffic. Psyched up as I was I tried to convince amigo 2 to walk down again and check out "The Draw Thief" and "Theory of Negativity", but reason prevailed and his thumb got its well-deserved rest. To finish the day with a coffee and a ciggie in Leura was not too bad, either….


24-Jan-2012
3:47:04 PM

Great trip report as usual!

One word of warning for anyone getting on this route in summer - it probably gets the first rays of sun around 11am. Get an early start.
24-Jan-2012
4:13:44 PM

The first pitch is definitely not a sandbag, you wuss. The first bolt is way high, that's true but that's about it. 18 is fair. Fair, dude.

24-Jan-2012
4:15:30 PM

On 24/01/2012 nmonteith wrote:
>Great trip report as usual!
>
>One word of warning for anyone getting on this route in summer - it probably
>gets the first rays of sun around 11am. Get an early start.

Neil, can you comment on "Guillotine" or "Golden Giles!"? What other multipitch stands out on that wall?
24-Jan-2012
4:24:33 PM

Microdermabrasia is great - 23 first pitch (pumpy and a bit airy), pitch two you have two options - original is 25 and thin, optional right hand variant pitch which is 22. Third pitch is 24 with one reachy move on edges.

Golden Giles has a death start, I don't know anyone who has done it. I belayed a strong bold climber on the start and he bailed off. Its also old carrots.

Guillotine is mindblowingly good. Pitch one is 22 (or 24 if you don't stand on the tree to start) - pitch two is mega 24 (but prob soft for the grade, its a pumper). You can link both pitches together to make a massive 55m pitch which is probably one of the greatest 24s in the Mountains in that style. If you were to do one route at Sublime Point, this would be it.
24-Jan-2012
4:27:52 PM

Well, it's a very nice deck fall, if you don't make it to the first clip...due to rocks coming off. And you should know about that, right?!
24-Jan-2012
4:31:50 PM

First bolt is positioned high as you actually start the route up a classic old school corner crack which I didn't want to retro. So bring one finger sized cam and the problem is solved.
24-Jan-2012
4:55:11 PM

Nice shot of the awesome crack on the first pitch of Bentrovarto (directly behind belayer in this pic):



24-Jan-2012
5:13:25 PM

A fun trip report with good photos, that upon reading is inspirational in making one want to do this route.
24-Jan-2012
6:43:49 PM

That's a great wall down there that yes does deserve more climbers.
I remember looking at that wall a couple of years ago wondering if there was any climbs on it. There lots now so go and try them.
Next time someone says "let's go climb sweetdreams" suggest climbing on this wall instead, it's easier and closer then the gross.
25-Jan-2012
12:06:16 PM

Thanks guys.. I am glad you enjoyed your day out :-)

Re: The start: As Neil said, just plug a cam in and your sweet. Same goes for the rest of the 1st pitch (it crosses GG) so I did not want to retro the existing climb, so bring a few cams to use between the bolts if your not solid)..
| | |
| --- | --- |
| | There are 11 messages in this topic. |
Home | Guide | Gallery | Tech Tips | Articles | Reviews | Dictionary | Forum | Links | About | Search
Chockstone Photography | Landscape Photography Australia | Australian Landscape Photography | Landscape Photos Australia

Please read the full disclaimer before using any information contained on these pages.
Australian Panoramic | Australian Coast | Australian Mountains | Australian Countryside | Australian Waterfalls | Australian Lakes | Australian Cities | Australian Macro | Australian Wildlife
Landscape Photo | Landscape Photography | Landscape Photography Australia | Fine Art Photography | Wilderness Photography | Nature Photo | Australian Landscape Photo | Stock Photography Australia | Landscape Photos | Panoramic Photos | Panoramic Photography Australia | Australian Landscape Photography | High Country Mountain Huts | Mothers Day Gifts | Gifts for Mothers Day | Mothers Day Gift Ideas | Ideas for Mothers Day | Wedding Gift Ideas | Christmas Gift Ideas | Fathers Day Gifts | Gifts for Fathers Day | Fathers Day Gift Ideas | Ideas for Fathers Day | Landscape Prints | Landscape Poster | Limited Edition Prints | Panoramic Photo | Buy Posters | Poster Prints