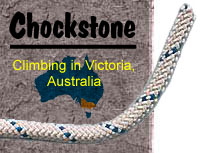 Sponsored By
ROCK
HARDWARE


Black Diamond: SET of 8 "C4" Cams and 8 matching wire gates. Sizes .3 .4 .5 .75 1 2 3 & 4 and 8 anodised "neutrino" - wire gate karabiners. $625.00
20% Off

Chockstone Forum - Trip Reports
Tells Us About Your Latest Trip!
Author

| | |
| --- | --- |
| Castle Hill Trip - April **FULL REPORT** Part II | |

28/04/2004
5:16:48 PM

Thus begins the saga of Nik and Peter, the American and Brit from Hamilton. They turned up on the Monday morning, the booming American Nik introducing himself immediately. I had elected to take the first 2 days of that week off for a rest, and it was hard to not slip my shoes into the backpack. Along with Nik and Peter, 14-year-old Todd from Dunedin joined us for the week. He was on school holidays. The rest of us couldn't believe that his mum had just allowed him to get the bus out here for the week and come back on his own! Anyway, all 3 were sending well, and by Wednesday I was itching to get back and start laying down my authority on the boulders. The first place we hit was the Submarine Boulder, which has some really nice warm-ups on it. We then headed over to the 'Tricky' boulder, with the infamous (well in this report) V6 of the same name. Todd quickly polished it off, although he had tried it the previous day. Nik, who had also tried it the previous day, had more of an epic with it, falling twice searching for the pocket over the bulge, which once latched onto, was basically the end of the hard part. Nik and I alternated attempts on problems, with me trying the sit start to a V4 a did a few days before called Quake, weighing in at V7. I had tried the start moves a couple of days before too, and was slowly inching closer to the send. The crux is the first move, rocking over on your right heel at the same level as your starting hold, a good incut crimp, but with the two holds barely half a meter apart. Very hard rockover indeed! Anyway, with yelling and screaming, Nik finally pulled over the top on the V6, then headed down the hill to play with the others on a completely contrived V5 eliminate Peter created, which he dubbed "The Lady Bird"…instant classic status!!….lol.

It was just Diego with the video camera and me. Rocking over further and further, locking myself into the wall, I managed to reach around the bulge with my right hand into the base of the crack that is the start of the standing V4. "Come on Al, your doing this!" from Diego. As statically as I can, to ensure my heel doesn't pop off the polished heuco, I reach past the first bad hold to the super good incut ledge with my left. "RURP!" as I shift my right hand further up the crack. That's it, I've done it! Knowing that I have done it, I still remain totally focused, making sure not to blow the final moves. I hit the sloper top, and then reach further back into the massive pocket with plant material. Heel up, press out the top. "YYYEEEAAAHHHH!!!!!" its over, I did it, unbelievable! 2 beers for me tonight!

The next day we were back at the submarine boulder to warm-up, but I soon found myself attempting a V6 called Undertow, a rad pocket cranking foot jamming problem with a mantle top out. Todd was the first of us to send it, followed immediately by Peter. OK, so the pressure was on. I had exclaimed after every attempt that it was a pooh problem, and that I didn't care if I did it or not. But, with all eyes gazing at me, I had to. And I did. 3 sends of the same problem, in a row. It was a good and funny start to the day. But you know what would make it funnier? If say, Nik was to flip off the top of the boulder! So he did. A photo is at the link below. On our way over to Quantum Field, we stopped off at a V7 dyno called High Five. It's a one-move problem, with a single left hand side pull and a high foot. Jump and continue the momentum up to a mega flat sloper. After many tries by us all, cleaning and brushing after every attempt, I found myself holding the sloper. "SHIT!" match and feet come off "SHIT!!" pull up and fine a footer. Slap, slap, slap, slapping moss "SHIT!!!" Heel up, stomach over "S-S-S-S-HIT-T-T!!!!" roll over, done! Wow. Completely we wandered over to Quantum field, as I was keen also to take a look at "THE PHOENIX!!!" I put it in exclamation, as it is THE best, most aesthetic, most funnest, most super coolest problem I had ever seen. See pics here http://www.tota.co.nz/castlehill/newpictures/msphoenix.jpg and here http://www.tota.co.nz/castlehill/newpictures/dtphoenix.jpg . It was however, on this day, already in use, by a few guys, and a few guys with video cameras and stills cameras. Our posse was outnumbered, so I decided to throw my carcass up another dyno – Rocket Pants, V7. Again, after numerous attempts, I connected with the final hold, and topped out in the toilet seat exit in the most unstylish of ways. But that's ok, because Nik managed to out-unstylise me on it the next day. I was again checking out and now cleaning the holds on the vacated Phoenix, when I heard a cry of elation. It was the first attempt by Nik on Rocket Pants that I had missed, and it was the one time when he actually connected. I ran around to find him tangled in a mess in the toilet bowl, unable to move because he was too far in with his upper body, and his feet way down low on the wall. Quickly curbing my laughter, I told him "Nik, lean back" he did. "Left foot up" he did. "Now pull up and over" and he did. It was so laughingly simple.



_______________________________________________________________




But this was it. This was THE day. Ever since hearing about this place, and watching 'Contact' and seeing the footage of the Phoenix, I knew I had to send it. On the first day I got to the hill, I walked around, recognizing problems from photos and the video. Then, there it was. I just sat on the boulder above it and watched it. Trying to learn from it. And know the time had finally arrived. I was ready. I had passed the tests put in front of me during the trip, and I know felt worthy to touch its holds, lay my sweat upon it. This was THE day.
I stood there on my own, with Diego filming above (unknown to me) cleaning the holds, making it perfect. This was more then just a piece of rock, it was a final test. The graduation. After this, I could do anything. Mats are in place, and spotters are ready, for I know that this will be the toughest test of all. I wrap my fingers over the first perfect side pull; take the sloper with my left. Foot up, and I'm on it. I slap around with my right. All the moves are familiar. I have been trying them for the past hour. I know every dimple, every groove. I know how much pressure I need to use. I know when to be dynamic, and when to be gentle. I slap again with my right, higher. Switch feet. Left hand moves up onto the vertical spine. I wrap my hand over it. I can feel the texture. I squeeze as hard as I can. I will it to stick. I muster all I can and throw up again with my right for the vital sloper. It sticks. It is at this point at every attempt prior, where my body has failed. Where I have given in to the rock, to The Phoenix. But I am here again, and I know that this final challenge is within my grasp. I am one with the rock, as I throw my heel around the arête. I am floating upwards as my left hand lets go and shoots up towards the finishing hold. This has not happened before. I am taming the rock. I reach to final hold – another hand wrap over a sloping spine. My hand melds with the limestone as I continue up and up, to the top. I have proven my worth. I have passed the test. I have tamed the rock – The Phoenix.



_______________________________________________________________




The next day, Nik, Peter, Diego and I hitched into Christchurch. It was amazing, as we thought that we would have a tough time – considering there were four of us with packs and a crash mat. We were headed for Queenstown for a few days of fun in the sun. But my major reason for going was bungy. And not just any bungy – the Nevis High wire. All 134 meters of it. 8.4 seconds of headfirst free fall, gaining speeds of up to 125km/h. the second largest land bungy in the world. And I did it! Queenstown was magnificent, but mega expensive. So we thought a cheap day would be had bouldering out at Jardines. It is supposedly high quality bouldering, but with a guide to only a single face of a single boulder in hand, it was hard to find anything-worthwhile doing. I think while I was there, I did a V6 and a V5. Not much else interested any of us.

Diego and I far welled Peter and Nik, who were staying on in Queenstown for another day, and headed back to Castle Hill. On the way back through, I did stop at the market and pick up a fantastic jade neck piece from the guys who gave me a lift, like I had promised. But back out at the Hill, and I could feel the trip drawing to a close. I not only knew it was ending, but I felt it was ending. In the last few days, I ticked another V7, Gripper. This is a fantastic little problem, but you can fall off it at any point, including the second last moves – twice. It took 3 afternoons of attempts, but I finally got to the top, collapsing and hugging the sweet, sweet flatness of the top.

On the second last day we headed to Flock Hill. The walk in is hard compared to Spittle and Quantum, but there are some amazing boulders and problems. Up there, I ran into Julian Saunders. He must have spotted me and recognized me, as he walked over to me. It wasn't until he was about 10 meters away when I was like "Oh, Julian!" It was cool, because he had done most of the developing of Flock Hill with others during he trip last year, and it wasn't long before he was running around showing me some of the coolest (and scary-high) lines. On the last day, I had a play on Quantum Mechanics, which the guide gives V8. It was a good test for me, and even though I got really close to the send, I was happy with progress.

Overall, I had a fantastic trip. I met some great people, climbed A LOT of rocks, but most importantly, I learnt a lot about my self. That trip has changed my attitude towards climbing somewhat, and I am now more motivated then ever to get to new and exciting climbing destinations, both here and overseas. The only downside to the trip, is that I have to now work on my endurance again. Man it has dropped having not tied into a rope for the last month!! Oh well, guess that means more climbing for me!

Here are some photos put up on the net for y'all to see.

http://www.rockclimbing.com/photos.php?Photographer=crux_clipper&Period=&CategoryID=&AlbumID=721&SortBy=Rank&Direction=DESC
28/04/2004
5:19:48 PM

Awesome photos mate
28/04/2004
5:29:24 PM

Welcome back Al.

Already saw that you had posted some pics on rockclimbing.com. Very nice!!
28/04/2004
5:30:10 PM

very nice mr Al...

any chance of getting some drill bits off you now that you are back? ;-)
28/04/2004
5:41:19 PM

most definately neil. i've been holding onto them for a while, just never had the chance to get em to ya. i'll post them tomorrow. email me your address sometime tomorrow.
28/04/2004
6:28:34 PM

I'm going in October. Really psyched now.
2/05/2004
8:21:35 PM

*bump*

full report done now, enjoy!
5/05/2004
10:13:35 AM

great trip report and photos alrob, enjoyed the reading and the viewing
22/01/2005
1:02:29 PM

Glad to see you had a good trip. Probably a bit of an mis- statement to say Julian had developed most
problems since we have been bouldering there since the 80's.Currently Flock Hill is fenced off and closed
- they are filming the Lion The Witch and the Wardrobe there but may remain closed.
| | |
| --- | --- |
| | There are 9 messages in this topic. |
Home | Guide | Gallery | Tech Tips | Articles | Reviews | Dictionary | Forum | Links | About | Search
Chockstone Photography | Landscape Photography Australia | Australian Landscape Photography

Please read the full disclaimer before using any information contained on these pages.
Australian Panoramic | Australian Coast | Australian Mountains | Australian Countryside | Australian Waterfalls | Australian Lakes | Australian Cities | Australian Macro | Australian Wildlife
Landscape Photo | Landscape Photography | Landscape Photography Australia | Fine Art Photography | Wilderness Photography | Nature Photo | Australian Landscape Photo | Stock Photography Australia | Landscape Photos | Panoramic Photos | Panoramic Photography Australia | Australian Landscape Photography | Mothers Day Gifts | Gifts for Mothers Day | Mothers Day Gift Ideas | Ideas for Mothers Day | Wedding Gift Ideas | Christmas Gift Ideas | Fathers Day Gifts | Gifts for Fathers Day | Fathers Day Gift Ideas | Ideas for Fathers Day | Landscape Prints | Landscape Poster | Limited Edition Prints | Panoramic Photo | Buy Posters | Poster Prints