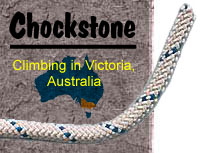 Sponsored By
ROCK
HARDWARE


Chockstone Forum - Trip Reports
Tells Us About Your Latest Trip!
Author

| | |
| --- | --- |
| Rod's Euro 2009 - Trip Report ~ with updates! | |

24-Aug-2009
8:33:47 PM

1/2

not much of a week climbing wise, too hot for pretty much anywhere so i hung out in neuchatel and caught up with various mates, bouldered and hung out at the lake.

the weekend was interesting, a front brought colder weather so inspipred by pmonks granite musings gaynor and i headed for grimsel. we're not slab junkies but exceptional spots make it worthwhile...

friday night's forcast for grimsel - saturday, rain, max 13c low 0c, clearing by mid afternoon, with bright sunny spells. sunday - bright sunshine, max 13c.

based on the forecast we split at around 9 saturday morning with the plan being to set up a bivouac from mid-afternoon onward, scope out the final part of the approach to septumania in eldorado and the descent route, return to bivouac, cook at go to bed before the attack sunday morning.

in situ at the parking spot around 11.30 it was raining, foggy and decidedly unpleasant.

fester time.

we dozed in the front seats for 2 hours with no change in the weather before cracking and heading for the hospice for a coffee. another 2 hours in with no change in the weather we ordered a soup and red wine. another hour and no change in the weather we decided that setting up the bivouac in this was stupid so we'd cancel septumania, sleep in the car and select another route with less investment involved. finding an undercover car park we set up the sleeping arrangements then split, found an old tunnel and cooked in shelter of the rain. in a cold, humid, dire old setting we reminisced about the number of times grimsel had done this to us...100% of the trips to date, less than one completed pitch as a climbing partnership - GRIMsel. we finished tea quickly, headed off, parked near Räterichsboden, climbed into the back and read climbing mags. It was pissing down and foggy when I closed my eyes at 9PM.

I woke for a piss sometime between 2 and 4 AM - cold, wet ground, windy but there was promise in a star filled sky. I went back to bed and shivered myself back to sleep.

Sunday dawned and it was a blue sky, still damp but a bit of sun and wind could probably take care of that and by 10 so we should be on. We dozed until 8 when I finally succumbed to hunger and headed out to cook porridge plus organise the coffee.

Over brekkie we decided on Grimselstrom - 4, 5a, 4, 5a+, 5a+, 5c, 5b/c, 4, 6a, 5c, 400m, 20 minute approach, overprotected but after yesterday we were pure pleasure seekers. The purpose of the trip was to find glacier polished granite with the odd crack or two, looking through the binocs the upper reaches of the route fit the bill so we were on it. We quickly packed the car, hiked in, found the start of the route, dumped our gear and both split with a dunny role to dump something else.
24-Aug-2009
8:36:26 PM

2/2
Racked up off we went up this


Uneventful until the second 5a, apart from route finding with a few bolts having been blown away by past rockfall, basically nice friction climbing on lichen covered crystals. I just paid attention to angles in order to take a few shots of G on 2nd. Here she is in pitch 2.


We were joined during pitch 4 by Isa who was swapping leads with her partner 'Pincette' - Gaynor was tasked with befriending them.

The second 5a+ was a really nice pitch, the first classic Grimsel style pitch so far, a bit of glacier scar here and there, the fun bit being to commit to the friction. G seconded it in style and I watched from above as Isa just about got the yips before committing to it admirably.


This pitch triggered a flurry of discussion from all and sundry in the shared experience. During the next pitch I struck up a chat with the leader on a pitch 10m or so to our left, a bloke from Chamonix. 3 couples chatting away in French in the heart of German speaking Switzerland, a rare interlude. Got a good photo of him leading their crux pitch in the route which I think is called Neuholtz(?).


I cruised up the next 5c, finding it easier than the previous pitch. Everyone else did as well but perhaps its just that by then we were in the groove. Nice little step over in the next pitch of 5b.

Great direct start on a boulder into the 4c. Pinch two nice aretes, friction on lichen for the right foot, toe hook left arete for the left foot and clip, slight release of pressure on the right foot and the slide commences but re-application of pressure and it stops. Super cool, easily avoided on the right. The rest of the pitch involved classic glacier bulges and crack systems, apply pressure on one foot, step up and as you apply pressure to the next foot the first foot hold pops through lack of friction. Nice.

G joined me bubbling away about the first moves which both the girls replicated, including the slippage, then the creepyness of the low friction moves.

I launched into the crux pitch, 6a or 5c if aiding the section. I kept things entertaining picking a direct up an arete system until arriving at the crux and then took a couple of shots at a direct into a very thin crack before deciding on a right heelhook onto the bigger grain of a glacer rounded arete, right hand squeeze of same, left hand semi fingerlock into the thin crack and toe jam into same crack. that set me up to be able to apply pressure and gain nearly a metre then move the left hand into a slightly deeper rounded crack to the left. Clipped and an easy bit of crack work to the chains. The following shot shows G seconding before the crux with Isa and Pincette in the background.


One small section to go and this shot illustrates the style - glacier polished basins, really fun and no hand holds. I left a piece of gear in for Isa at the crux removing some of the uncertainty during the clip on the last move of the day...she had a BIG smile on her face when she grabbed the clip.


G and I stayed up top and ate some lunch. Rapping off we got the cords jammed in fissures twice so I had to climb up and recover them. All in all a great end to a weekend that started out so dire, Grimsel is thoroughly recommended on a cool but sunny weekend.

A couple of scenery shots to round off...



25-Aug-2009
7:15:49 PM

was thinking about putting this into the STOKED thread but in the end decided on putting it in here as a reminder because if i don't get the opportunity to send this year i'll come back stronger next year and try again...

reached the chains on my first jurassien 7b+ just before nightfall yesterday. tackled it ground up with a few slumps to figure out sequences but i managed all the moves on lead including placing the clips. really stoked considering it's the first run...6 weeks of being mentally crushed by crimp/sloper sandbags elsewhere has had a positive effect!
26-Aug-2009
8:45:03 AM

How were your feet after slabbing? mine were shot after 4 pitches in Bungonia.

The place looks beautiful
26-Aug-2009
5:20:12 PM

On the slabbing day I wore a comfort pair of shoes and took the shoes off at every belay station but the feet were still as hot as Hades...I dunked them in a glacier fed stream on the way back to the car. Cramming the feet into really tight shoes was painful the day after, got to the point of not being able to think by the time I got the the chains on the last one and only did 3 routes. It was really cool though to go from granite slabbing in an Alpine setting to a 5 minute walk in to find fingery pockets and something ridiculously steep the next day (for a fat man like myself that is).

Only a couple of weeks left so I'm aiming to make the most of it - I'm off to the Chamonix region for a couple of days then coming back here to get back on these steep routes we enjoyed the other night...the rock is very like Finale, as is the grading.
26-Aug-2009
5:35:18 PM

so where are you exactly? passing through in a few weeks maybe
26-Aug-2009
8:39:14 PM

it's so nice isn't it? climbed the handeggverschneidung last thursday and fair hands line :) glorious sunshine! (not like pom which is utterly horrible again today)

do motorhead when you go back!


26-Aug-2009
9:57:15 PM

Really enjoying the ongoing reports Rod.

You certainly have a way with words.
>apply pressure on one foot, step up and as you apply pressure to the next foot the first foot hold pops through lack of friction. >Nice.
&
>joined me bubbling away about the first moves which both the girls replicated, including the slippage, then the creepyness of the low friction moves.

~> Can't say I have ever heard the term 'creepyness' applied to climbing moves before, ... but reckon it works well in conjuring up the mental image of seeing it happen, as well as the feeling of doing it.


28-Aug-2009
6:07:53 PM

mike, we fly to dubai the 9th of september for 3 days then on to west oz for several months, maybe more. probably going to miss each other. spending next week in valais switzerland and we've got plenty of room, guidebooks and gear if you want to drop in.

goldie, i enjoyed grimsel merely for the change rather than something i'd seek out all the time, eldorado is a bit too slabby to keep my interest for long but other routes in the region like sagitarius are cool.

m9, i reckon your aid fetish must get you into to plenty of creepy situations.

just got from 2 days short multi pitching, day 2's route was blockbuster and super easy access. will write it up shortly.
29-Aug-2009
7:26:51 PM

writing up a couple of days mid-altitude climbing around le catogne with guy before i forget...

day 1 Au Fil du Temps 5b, 6a, 5c, 5c, 5a/b, 6a, 5b. Gneiss, above Bovernier. Fairly uneventful apart from the approach, descent and the wildlife: butterflies, chevreux (small deer), falcons...and whilst marvelling at being buzzed by swallows during the airy pitch 6 i was bitten on the bicep by a wasp right in the middle of the crux, i hurried on out of there. At the final belay, bees decided I was an attractive target but I managed to avoid being bitten despite their interest. Overall a good warm up for Guy in a picturesque though noisy setting on mediocre rock.

day 2 Moments Authentiques 6a, 6a+ with short 4c transition at the end, 6a, 6a+, 6b, 6a+. Granite. La Dyure, Champex. Very well bolted sport route, equipped ground up.

The prior day's approach and descent plus an interrupted sleep due to a call from Australia had really taken it out of me, Guy said he felt similar fatigue during the approach. We lunched and launched the attack around midday.

First 6a opens on flakes and a very nice high step committing into a series of 4 or 5 moves up small flakes and edges, cruise to the chains thereafter.

Second pitch at 6a+ works its way up a 30 metre pillar of fabulous rock requiring good footwork and balance moving between flakes and fissures. Guy led it well and displayed quite a fetish for wide stemming moves in lieu of neat footwork.

Third pitch 6a was fairly bold throughout but very good flakes and fissures made it relatively easy climbing on a nice aesthetic arete (some trad gear would be useful for someone close to their grade limit in this pitch). From the fantastic belay position you get a great look at the main headwall and surrounding alpine scenery. A falcon dived past and a huge eagle or Gypaete circled overhead whilst I was belaying Guy on up.

Pitch 4 is where things start getting steeper, fantastic pitch mixing an opening on small flakes, followed by a technical slab that is near vertical involving a crux which demands some spacial reasoning and patience. The sequence combines palming with stemming moves on an ill defined corner, it then runs into a series of flakes and cracks which become a little strenuous at the end. Guy cracked in the technical section and took a couple of rests but finished it off. The rock is brilliant in this pitch.

Pitch 5 I arrived at the chains and prepared for the crux pitch. It opens by climbing onto a tree, a step left onto a small ledge and then moving a clip off the belay station onto the first bolt. Thereafter its quite strenuous corner work consistent with the grade on rock which is very much inferior to the preceeding pitch. 4 bolts in with a mixture of stemming, foot smears and jams you arrive under an overhang and as a consequence its quite difficult to see the solution. I moved into the corner and created a several minute rest. Getting my breath back I took a few runs up and down trying to establish a mental map of possible sequences but it was very difficult to map the feet positions that matched the hand holds. I downclimbed and checked out a potential solution to the left which but decided to dispence with that option in favour of going straight up with both hands either side of the overhanging arete and the hope of finding good enough smears to set up for a big high step before transitioning left. Kinda gassed by now but, committing, the sequence worked for the grade; a fall would have been 5m or so but fairly inconsequential. The pitch finishes in a rising traverse either through a strenuous option involving footwork and using bigger handholds on an overhanging arete or simply committing to small flakes and crystals on fabulous rock; more technical but far less physical. I opted for the latter but it ended up being very strenuous anyway because Guy was very stingy in paying out rope. Guy took the big holds strenuous option.

Pitch 6, 5 star rock comprising flakes and high friction crystals. Guy was a bit wobbly through fatigue but with a couple of rests got the job done. I followed him up and felt quite fatigued by the end as well, it was quite continuous in difficulty and surprisingly deceptive in steepness.

At the top out we admired the scenery, pine filled valleys and slopes thinning out higher up into typical spires of granite topping the Mt Blanc massif. I finished the last of my water and separated the ropes then we walked off, eyes down for vipers which are prevalent in this sort of terrain, helmets on for small rock fall triggered by chamois. Rejoining the base, we ate then pulled on the packs at the base and walked out on the very comfortable path. Nearing the car a 1m viper was warming himself on the path and it took the don't move option, we left it a metre or so of space and in a minute or so it realised it had ben spotted so it made a cautious move for the bush. They're not life threatening but the bite is painful and can put you out of action for several days.

Excellent outing this second day, the setting, rock and route are absolutely fantastic. Highly recommended.

Headed for the Jura and this weekend will pass in the company of Regis, Laurence and friends climbing in secret spots and socialising...promises to be quite strenuous.
31-Aug-2009
7:20:06 PM

Last update, we go mobile from this afternoon and unless it pisses down we're not going to waste time in internet cafes.

Friday...fatigued from Wednesday/Thursday I hooked up with Regis and with autumnal weather hitting the ridges we headed for a secret spot in the local gorges. Antonin's brother JB was there with Laurences brother Patrick.

VERY strenuous climbing on 'les voires d'anthologie neuchatelois' in the form of Le Capucin and Sauve Bossetriche. Regis perfectly executed both. I got on lead with gear in place on Le Capucin. Through the first crux it was desperate, inverse crimp, bad smear on slick limestone, bridge to bad smear, latch a 2 finger pocket then cross over for a left hand crack...I was scared, it was a fair way above the gear and everyone down below was offering up their version of the beta. I tried them all but the only sequence that ended up making sense to my morphology was that of Regis. Committed and didn't die...so happy! A bit of crack and corner work and I'm facing the last crux, one hand onto the overhanging roof, launch and match it with the left, chalk up and have a look around to discover the climbing position looks like that in the photo's of Kachoong. Awesome. 2 campus moves, a rockover and its done.

Everyone went wild!

Regis explained the local legend: it's one of the neuchatel climber's must do career routes and apparently there's plenty of really high grade climbers that have never made it to the chains...if I'd known that I might have called off the beta and tried harder for the onsight!

Sauve Bossetriche is a hard 7b, I couldn't nail the opening move and got about halfway up before flaming out on yet another crux column. Regis reckoned it took him 50 sessions to nail the opening move so I wasn't overly bummed. Finished on a nice 6c but I was so worked it was enough to just make it to the chains with a few falls let alone redpoint it.

Saturday, late start and off to the Finale like secret spot.


Hooked up with Regis and Steve, G and I did some easier routes to warm up that were nice in the 5c/6a+ range but still difficult due to there being only one sequence through a myriad of pockets. Followed that with a very steep 6b/c of Finale standards, I almost onsighted but flamed out just after the final clip before the chains, its basically a series of 7a moves but at only 15 metres its shortness means there's no way it merits the higher grade. Took a closer look at the finish and brushed a few holds off then sent on the next lap.


We had a 6PM dinner date so we headed down and saw the boys at their newly equipped 6c. Quick goodbye to Steve and arranged to hook up with Regis the next midday.

Regis lowering off on the new 6c


Regis and Steve


On the walk out


Sunday...knackered and hungover we settled on slackline, BBQ and great scenery.



31-Aug-2009
9:05:50 PM

Wrap up: the plan now is a last week of goodbyes and hard climbing then a complete break of 6 weeks or so before setting up a training board somewhere at a campsite in the bush of West Oz. Thereafter, another spring then summer will pass before its back to Europe for another run.

I hope you've enjoyed the updates over recent months as much as I've enjoyed the wanderings and that it inspires some of you to travel. I chose to leave out all the tourist stuff and mountaineering, the whole trip was a lot more complete than the impression you'll garner from this thread.

All the best and keep on sending...Le Rod.
| | |
| --- | --- |
| | There are 52 messages in this topic. |
Home | Guide | Gallery | Tech Tips | Articles | Reviews | Dictionary | Forum | Links | About | Search
Chockstone Photography | Landscape Photography Australia | Australian Landscape Photography | Landscape Photos Australia

Please read the full disclaimer before using any information contained on these pages.
Australian Panoramic | Australian Coast | Australian Mountains | Australian Countryside | Australian Waterfalls | Australian Lakes | Australian Cities | Australian Macro | Australian Wildlife
Landscape Photo | Landscape Photography | Landscape Photography Australia | Fine Art Photography | Wilderness Photography | Nature Photo | Australian Landscape Photo | Stock Photography Australia | Landscape Photos | Panoramic Photos | Panoramic Photography Australia | Australian Landscape Photography | High Country Mountain Huts | Mothers Day Gifts | Gifts for Mothers Day | Mothers Day Gift Ideas | Ideas for Mothers Day | Wedding Gift Ideas | Christmas Gift Ideas | Fathers Day Gifts | Gifts for Fathers Day | Fathers Day Gift Ideas | Ideas for Fathers Day | Landscape Prints | Landscape Poster | Limited Edition Prints | Panoramic Photo | Buy Posters | Poster Prints