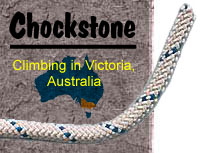 Sponsored By
ROCK
HARDWARE


Black Diamond: 120cm Nylon Runner. (Open sewn sling) 18mm wide nylon. Assorted colours. Awesome value IMO. $8.50
15% Off

Chockstone Forum - Trip Reports
Tells Us About Your Latest Trip!
Author

| | |
| --- | --- |
| Rod's Euro 2009 - Trip Report ~ with updates! | |

19/05/2009
8:54:48 AM

Note: It is not mine ~ but another Rod!

... Am not sure why Chocky didn't accept the original but I received this by PM from Chockstone-ID 'rod' to post on his behalf.

>19/05/2009 1:35:53 AM
>g'day m9, can't seem to post the following into my Sard thread, can you help? rod

~> seems to have worked this time ... ~> after creating a new thread because I couldn't find the original.




May 2009

I'd spent the past 9 months dealing with some major stuff at work: raising funds, succession planning and adapting mentally to the prospect of not being part of the machine. Q4 2008 was very tough, the first 3 months of 2009 were heavy going but very successful then suddenly I found myself in April amidst a frantic rush to close a few transactions, handover the reins and a round of goodbyes to deal with: the words, gifts and companionship in the last weeks were quite moving in their own way. A last business trip to London with too much partying and then on 30 April work life was over; time for the big trip.

1 May 2009 hooked up with Antonin, then headed through Branson to pick up some last necessities before heading through the Gr St Bernard tunnel into Val d'Aosta. Climbed at Gruviere with its minimal approach and totally comfortable cragging, warmed up on a 5b, flamed out on a 5c fissure, got blown away by Golgotha 6c+ then decided to top-rope a 7a…things were really looking good, NOT! We headed over the plains of the Pau for Genova and caught the ferry at 20:30, took a phone photo of the lighthouse silhouetted against a blood red sunset with Antonin looking pretty amped for the trip.

2 May 2009 woke to blue skies, fishing boats and Porto Torres in view. The tug nursed the ferry in and then we were off to Osilo for the traditional Buoux style first day at Muraglia: everything was green, verdant and totally different to the Autumnal tones I'd previously experienced here. Did quite a few routes, the power was evident today but with no endurance of any kind to tap into I kept flaming out well after the cruxes. Antonin had a pretty good day, cruising Dimensionne Horrizontale 7c then offering the crag its first 7c+/8a by sending the project "Per Oggi Basta 7a". We split for Cala Gonone and I decided on the Nuoro route for the scene as you come out of town: the first view of Punta Cusidore certainly sets the stage! Antonin was glued to the view all the way to Dorgali.

3 May 2009 shacked up in Fabio's apartment overnight, the morning terrace psychological preparation was in full swing by 11AM: Mistral…Biddiriscottai. I cruise the approach via the rock dance in lieu of the path to arrive totally relaxed and ready for a day on the towel. Do a few warm ups and there's 2 lines that stand out Thai Dream 7a+/7b or a route that appeared so overhanging you'd end up climbing down stalactites. The latter isn't in the topo but looks about 7a/+ and lots of fun so I settle on that for the day. Antonin just warms up and sends, sends & sends highlights being the long locks on Incastro Maligno 7b+ and an onsight of Depressione Caspica 7c on stalactites. 6 tries and I've finally decoded my route but I'm far too relaxed in general…I don't send and don't really care for some reason. Cool day though, Italians all around, they loved me falling off after the crux every time!

4 May 2009 attempt at Gole Gorruppu but after a changed approach and getting lost we were off it, turned around and I pulled the rack out of the car to do a trad route on Monte Oddeu. Got to the base find a couple of German guys racking up but they were really cool and let us go first, thanks guys! Antonin took the first lead and got a nice pitch, my next one was pretty ordinary and that set the pattern for the day: Antonin - nice flakes, good bolts, clean line; Rod - mantles, crud rock, vegetation but generally reasonable gear placements or bolts. It was fun, we finished fast. Anywhere else it'd rate 3 star, I'd give it 1 or 2: Compagnio di Viaggio 7 pitches 5c to 6a/+, take a couple of friends (0.5, 1.0), some nuts and a few slings. Walk off via Surtana approach. Spent the afternoon with Sergio and Laura, spelio's from Finale who are quite keen to get some climber accommodation happening…I took their number and will check it out in early June. They were a really good laugh, I look forward to seeing them again. Took Antonin to check out potential in Cala Fiuli late in the day.

5 May 2009 Cala Fiuli. Bit of a so, so for me but I figured there's a number of lines that seem similar in style to what we'll find on Wolfgang Gullich so may as well give it another go. Get there and there's no one around, no smell of faeces, it's clean and seems pristine. We head for Thailandia and have a fantastic day. I concentrated on onsighting 6a+ through 6c on 30m slab/vertical routes whilst Antonin went for broke on the stalactites/vertical finishes of Thailandia's main wall. The highlight send for him was "Nido di Chiurlo" a 7c+, it exploited his weaknesses taking an uncharacteristic 4 runs and bringing out a little Elvis here and there. I had my own Elvis highlight on my 7th and last route of the day, it's not in the topo so I've no idea of the quotation but it has this beautiful little pillar in the middle with very thin pinches accompanied by a high and very sketchy foot placement a metre or so above the last bolt which, with my body dimensions, you have to stand on to do a one leg press up to reach high for what appears to be a shallow mono from which you can clip…it turns out to be a deep mono and unlocks the rest of the route. I guess it's somewhere between 6b+ and 6c+ but it was fantastic, really mental and a rare treat.

Later beside the sea in the sunshine I repeat the mental weakness game…"I'm still feeling under-done, gradually the endurance is coming but 400 metres of 6b-7a climbing? If only it were late September last year." This dream is becoming an oppressive weight on my shoulders, "if only's" won't help. I hand copy the Wolfgang Gullich route description and drop it into the mesh pocket on my chalk bag.

6 May 2009 Same locale, different climbing. Antonin pulled down straight away on an 8a "Totem" and after a brief prep run to brush holds and figure out sequences sent it clean. We head off further along and I send 4 quick routes in the 5c-6b range again in similar vein to what we expect on Gullich, quite pleasant really. We head in the direction of Pederiva and passing a big overhang I spy a couple of lines that look nice and varied; we stop and make a pot of tea in psychological preparation. Suddenly this band of Spaniards arrive and its mayhem, like the bar scene in Gremlins. Antonin heads off up his line to onsight "Tritoni" 7c, quite nice but an odd finish. I decided to delay my attempt for later when there's a bit of peace and quiet, we head up to Pederiva. First out of the box was Cappuccetto Rosso 7a and 3 stars. Sandbagged, after a couple of falls I reach the chains. Antonin has a crack, grades it solid 7b. The Spaniards arrive, its comedy all around with plant after plant…the poor whores in Spain. Antonin takes on two more in the 7b+/c range then sends me off on a 6b or 6c which I just manage to scrape through…SO hard. We head back down to the overhang from earlier for me to discover some determination and poise for the first time in a while on a harder route to offer myself an onsight of Condom Stress 7a. Beach, Cannonau and pasta on the terrace.

7 May 2009 Weather forecasts are a bit mixed so I suggest we go to Christian's magnificent Bay of Pigs before it rains. We arrive, its quiet - I pull down the cairns in solidarity against the site's publication. Another day of focus on onsighting for me: 7 routes in the 6b-6c+ range and a couple of pieces of booty. There's one line where you clip the first bolt reasonably high up using a small flake which is definitely going to break off one day…very Christian, freak 'em out style stuff. Antonin chills out. Very pleasant climbing, some Russians tell us they're doing Wolfgang Gullich Saturday, we don't inform them that's when we're doing it but hey, we're not here to make friends! Some bloke from the Lake District climbs pretty well and chatting later he tells us the place was packed to the gills Monday, couldn't even find a parking spot. I'm thankful we are here today, it really is a magic spot when there's people around who respect the calm. Antonin and I de-camp to Margheddi after the sun hits, El Chorro 7c and a project fall onsight for Antonin…the latter was a brilliant send 8a-ish and really long. My Cyborg Space was less elegant but equally determined. A good day all round we decide that's the final day of prep for Wolfgang Gullich so we go out to get wasted.

8 May 2009 mild hangovers, the psychological prep is long today but we settle up with Fabio and get away before midday. The cruise down to Baunei is short, we find a refuge with little bungalows at euro10 a night and decide that suits, we'll eat pizza each night. Pretty rustic really: pigs, donkeys, goats, cows, horses, chooks and sheep, washed out gravel road. After lunch and a hammock session, we head off to check out the approach to Punta Giradili, find the start of Wolfgang Gullich and generally get a feel for what we're undertaking. Our first view is of the top part of the wall set against the sea, we find the park and walk 100m to find a spectacular amphitheatre. We do the full approach looking at columns and tufas on one side and Petralonga on the other, wow stuff. Get to the base and the wall is massive, towering over us, and we don't have much of an idea of the line other than the first 2 and a half pitches. Previously toying with the idea of trialling the first few pitches we drop the idea in favour of going early the next morning to try and onsight each of our leads with the person seconding to simply climb fast and pull the silver jugs to glory if necessary. We retire to Baunei for a quick food shop, pizza (very good) and then head to the refuge to prepare day packs and get an early night.

9 May 2009 Wolfgang Gullich.

6AM alarm, I'm awake anyway having the usual pre-game nerves. We lug packs the 30 minutes to the base, stash them, have a quick bite and get on it.

Antonin's 6c first pitch to warm up. It's all a bit early in the morning for me but I struggle through. 6b next, it's sustained but goes clean…2 down and things are looking up! Next is what turns out to be the crux pitch a 50m 7a on flakes and goutlettes d'eau, easily sent clean by Antonin, I'm weaker after the first crux and pull on a couple of silver jugs 10m before the end. Easy 6a corner next for me then an easy 6a+ on a pock marked slab for Antonin. Beautiful 6b pitch for me next and I'm starting to get into the groove, the goutlettes d'eau are feeling great, like playing piano at times, I'm starting to loosen up and though still climbing cautiously the chains come quickly. Its still early and we're at belay stance 6 finished with the central slabs on the base of the central diedre/corner. Antonin gets a reasonably tough pitch on a vertical pock marked grey wall left of the diedre, about 5m up it leaves a very comfortable crack in the 6a range and becomes a technical 6c pitch. The next is supposed to be my crux of the day, a long bridging length which turned out to be a very welcome change to abrasive pocket climbing. I exit the 6b+ section clean and enter into the sun on the beautiful pock-marked upper pillar to clip the chains below the final crux pitch. The sun has hit the amphitheatre, triggering a little cloud formation and updraft. I'm at the end of pitch 8 with only 4 more to go, it's only 11AM, there's tourist boats and ferries pulling into the bay…it's all a bit surreal and has been far easier than I expected. All leads have gone onsight so far plus on my seconding all bar the 7a and we've only got 4 more left. No sign of the Russians. Antonin pulls out of the corner onto the pillar with an intriguing look on his face…

"So this is the pitch that gave the Valaisan guide a tough time?"

"Yep, reckons this is hardest route of its kind he's ever done and this pitch proved to be the crux for him"

…it's a beautiful pock-marked pillar that Antonin sends clean with a little aggressive pulling on pockets. Mid-pitch there's an updraft which brings a tiny bit of cloud between us and makes it all look very Lord of the Rings. "Putain Rod…ambience Wenden!". Atmospheric.

On 2nd I found the pitch far easier than the earlier 7a, all in the feet, I exited the final crux and took a rest just before the end to give my fingers and feet a break from the abrasion. The belay stance was very uncomfortable so I launched straight into the first of the final 3 6b's - bolder but similar to pitch 5, pock-marked and steep, I climbed with appropriate caution to the next belay stance. Antonin strolled the following 6b to a very nice relaxing ledge stance with a couple of small bushes.

So there we were: finger skin paper thin, hungry, thirsty, an incredible scene laid before our eyes and just 1 6b to go. I felt a bit overwhelmed but at the same time under-whelmed, so far we hadn't failed on a single pitch; if I could onsight the next section we'd be off the ridge and cruising an aręte to the final chains. Antonin pulled out some 70% chocolate and a Coke from my pack, I pulled the shoes off and took all the time in the world.

Finally ready, the first 2 bolts proved the crux: fingery and technical. With 350 metres of climbing under my belt I was fairly determined to get through. Nice and clean at the start, the rest was 6a but I was so smoked I was struggling and then exiting the final steep section I somehow managed to snag the double rope below and had to downclimb to untangle it. In the end I was pumped stupid, Elvis re-visited below the waist: I resorted to thugging my way back over that steep section to find a metre further on from my previous highpoint some easy grade 3 or 4 climbing…woohoo.

I scratched around a bit looking for the belay stance which turned out to be another 15 or 20m away, climbed to the chains, rigged the reverso, then called for Antonin to come on up. Then realisation dawned, it was done in good style and my eyes were…"watering".

Antonin joined me then continued on another 20 metres to the left, belayed me up and, with the celebratory pebble in the mesh pocket, we walked off in thongs (for the English, Flip Flops).

We recovered the packs and then headed off for a look at the line from Petralonga with a couple of beers. From that angle it's very impressive, a perfect pillar that goes straight to the top of the mountain. I took a celebratory nicky swim, dried off and we then headed off for pizza's.

Wolfgang Gullich, Punta Giradili: 6c, 6b, 7a, 6a, 6a+, 6b, 6c, 6b+, 6c+/7a, 6b, 6b, 6b, 3. 6b/+ obl. Sport. 390m.

Collective onsight, swapping leads the whole way.
Antonin: 12/12 onsight.
Rod: 10/12 pitches onsight; all 6 leads; pitches seconded 4/6 onsight, 1st 7a aided unnecessarily and 2nd 7a free with a pause.

Upon reflection overall it could have been a bit more varied but it ranks in my top 5; it's a very aesthetic line and I'm glad for the amount of preparation put in.

10 May 2009 Rest day at the beach.

11 May 2009 Went to the Verdonesque and very airy Regno di Cieli, scared ourselves silly on skinny ropes and then headed off for Isili to realise Antonin's dream. Quite the road trip to get there. The initial reception was VERY weird at all turns so we ended up going to check out the site which was mozzie infested so we went elsewhere and free camped. It was all shaping up to be quite the let down.

12 May 2009 to 14 May 2009 The next morning, armed with my very best Italian and most charming persona I ignored the guidebooks and went in search of a place to stay. Came up trumps within 15 minutes and negotiated a reasonable price of euro21 per night in a hotel. It was clean, hot running water and averaged in with the refugio we managed to meet our criteria for an average euro15 a head each on accommodation.

Thereafter we spent time between climbing the very steep Buoux style walls and goofing off in town. The valley where we climbed is beautiful, takes some acclimatising to after the huge walls of Baunei but once that's dealt with its got real charm. I won't bore you with the climbing details but we each had plenty of beatings and a few successes over the next 3 days. Siesta's in the fields became an obligatory item to accompany the major 3 to 4 attempt battles to finally reach the chains on red point for our selected routes. We each had one major defeat attempting PB's on our last day, me falling one move from the end on attempt 6 of the day and Antonin 3 from the end of his: several days later my hamstring still hurts from the savage heel hooking involved on mine.

We counted 5 different types of cop when we were in Isili…no wonder its crime free.

15 May 2009 Drive and rest day at the beach near Porto Torres.

16 May 2009 Genova dock, Antonin drives and we head back across the Pau into the Piedmonte and Val d'Aosta. A short stop at Gruviere and I've sent the omen route Transea 7a after minor prep, we de-camp to Monte Carogne then scare ourselves silly before heading back to Switzerland for a few well earned rest days.

In summary on Sardinia: go in Spring when no-one else in Europe is on holiday.

I've now got 3.5 months to go…what to fill it with?



19/05/2009
9:00:00 AM

A great read 'rod'.

It sounds a relaxed trip even though the undertaking was formidable.

Wolfgang Gullich, Punta Giradili: 13 pitches. Sport. 390m.

>"Putain Rod…ambience Wenden!". Atmospheric.

>overwhelmed but at the same time under-whelmed

>in good style and my eyes were…"watering".

... ~> summed it up for me!
19/05/2009
11:39:08 AM

Awesome TR Rod. Very inspiring. Love to see some pics if you get a chance to put any up.
19/05/2009
4:11:14 PM

Definitely a nice report Rod, sounds like you are having a great trip!

PS Photos from the trip or it didn't happen :-)
19/05/2009
5:32:45 PM

didn't take a camera but i took some on the phone that give an idea

from the base, PetraLonga in the background

from the base, I guess the "arete" involves the route


end of pitch 8


post match beers, the line is the obvious pillar




19/05/2009
6:06:38 PM

On 19/05/2009 rod wrote:
>post match beers, the line is the obvious pillar
>

Now that a sweet line! Well done...
20/05/2009
7:05:44 AM

Yeh big isn't it, I'm glad we hadn't been looking at it from that angle on prior days...I might have been spooked.

The big overhang on the wall that you see (mid-face, left of the peak) is where the Larcher, Oviglia & someone else famous (sorry mate) bolted a multi-pitch line ground up: I think Larcher sent it last year @ 8b+ and 7c obl. We took a peek and its an awesome bit of bolting & climbing, there's potential for multi pitch 9's in the area.

Off to the right you can also see Regno di Cieli, somewhat less gentrified than Verdon.

In general we were both stoked by the lack of bolting of the surrounding walls, done well it'll easily rival Verdon.

Had a nice touristy day in Lauterbrunnen today, decided a revisit of the Engelhorn is in order during coming months and a run up some of Christian & Regis's new multi routes in Grimsel.

This weekend we're headed for Pinerolo for 4 days, something new for me.
20/05/2009
10:28:48 AM

It was a good read before, but now made quite a bit better with the addition of the photos.
I agree with dalai.
It is an awsome line, and well done to both of you (Rod & Antonin), for picking that cherry in fine style.
20/05/2009
10:36:28 AM

One of these days I'm going to get my head around French grades.

I wouldn't know 6b or 7a if I fell over them.
20/05/2009
10:41:31 AM

Good report rod. Makes another day at work even more excruciating.

wombat you can climb 6b and 7a. In Ewbank grades 17+ and 23-.
20/05/2009
5:31:40 PM

On 20/05/2009 widewetandslippery wrote:
>wombat you can climb 6b and 7a. In Ewbank grades 17+ and 23-.

the 7a's were fairly soft, assume 18 to 22+ and you'd be fine wall wombat.
26/05/2009
3:52:43 AM

went to grande dubbione, val chisone, NW italy last weekend...HOT, 35 and the feet were on fire. great spot though, a bit of free camping, multi-pitch and single pitch routes, some aid routes and generally a great vibe. no-one around. gneiss on the verge of granite in formation and 5a through still to be free'd stuff. we finished off the hardest stuff in our guidebook then tried freeing some of the aid routes, took an age to figure out how to free one but then couldn't red-point the bastard: two 7b+ boulder sections in a generally 7a route and i blew the second crux by about an inch much to the mirth of my companions.

good for a visit if in the area.

if you don't want to free camp or its busy season: www.bellabaita.com
free route guides and information: http://digilander.libero.it/fiorenzomichelin/

finished up the weekend at the top of paretoni with our swiss german friends, fantastic evening.

photo to follow on an edit...

...finally got it sorted, here we go


3/06/2009
4:51:27 AM

Been a bit quiet: recovery and getting sorted to leave our apartment of the last 11 years.

Cold temps at 1,500m after the last report meant time to work on some outstanding Jura Limestone projects a bit beyond my previous PB's...both are sick and after 2 days work 1 is very close to sent (tomorrow?), the other progressing.

Got into Bramois Quartzite on Sunday with Fabien (who's been Experienced at Araps). Super loud by a river overly fed on the past epic winter season...it was like soloing. I discovered a new area and he fell his way up what throughout the day became his most recent project (seems about 7b/+). I had a good time getting off route, haemorrhaging mentally for at least double the time necessary to get up a few...classic climbing rather than face climbing I guess its the sort of thing needed to prep for Chamionard big walls. Did one great route called Mirage (6b/c?) that was sick, the rest were just desperate 6a climbs with every crucial hold invisible from below, so much for a cruisy climbing recovery day.

Took another rest day and spent a little time on easy lead soloing today: reverted from the death modded Gri to the Reverso and found it a lot less messy, think I'll stick to it. The jumaring was a friggin' nightmare...HAVE to sort myself out on that.

Jean-Noel called tonight to say Verdon's off for next week, too hot. Mt Blanc Massif or 'Bleau, meanwhile I'm going to work on vertical limestone projects...

A shot of Fab falling off his Bramois proj...


4/06/2009
7:22:15 PM

. First out of the box was Cappuccetto Rosso
>7a and 3 stars. Sandbagged, after a couple of falls I reach the chains.
>Antonin has a crack, grades it solid 7b. >

awesome route but benchmark 7a unless some holds have fallen off:

http://www.ukclimbing.com/images/dbpage.html?id=54809
5/06/2009
10:26:51 PM

I wasn't 7a fit then, I climbed like shit on it by not using momentum at all and went left instead of right off the top of the column: tangenting slightly right seemed closer to 7a/7a+ at the time and was a lot more pleasant. Seems like an age ago but I reckon I'd nail it right now, I've had a good past week and I'm starting to sharpen up.

Got a grade PB early in the week then bagged a 7a+ that's a local benchmark yesterday, I took a ground up lower off after falls approach to it and ended up in a real ding dong battle. 2 days ago I fell with my finger on the lip of the final crux's mono on attempt 3 of the day...bizarrely it went yesterday in a stroll, 3rd day on! 3 days of 3 attempts and 9 falls, definitely "Made in Jura".

After my send I belayed Fabrice on "Les Animaux Claxon" his first ever 7b+ in the Jura and it was a real fight; he nailed it through sheer determination. Awesome. To put it into perspective, he's done 7c/+ a lot elsewhere, grew up here and puts in a lot of days locally. I was honoured to be part of it, he was one happy man!

SO sore today, bruised tips and big toes, scraped left arm from a big fall late yesterday, mentally I'd love to go climbing before the rain hits tonight but my body can't face it.

Really good site this one, I'll take a pano photo and insert it here over the weekend.
6/06/2009
5:51:26 PM

Here we go...Les Sommetres, Jura - Neuchateloise/Bernoise, predominantly vertical to 15% overhanging face climbing, 4b through 8b (that I know of, there may be harder routes), multi's to 4 pitches, south facing, recommended for cold temps or sunny winter days, over loved on weekends.


6/06/2009
6:00:26 PM

...and Roger's in the final!
9/06/2009
5:55:43 PM

Got a photo from Gr Dubbione off Alex, inserted above.

Roger won...some intensive couch treatment and my hangover is now subsiding, might even be able to climb by tomorrow.

9/06/2009
6:15:46 PM

Damn you Rod, SO jealous! Ha, good to hear you're having fun, we will share a rope on something big one day...
10/06/2009
2:44:26 AM

Any time you like Josh, the next big fun round is Finale in the last week of June.

I got off the couch and went climbing roofs today only to find myself another proj at around 7a+/7b in a totally different style...I might even have to resort to plastic on rainy days to build up the overhang resistance necessary to send it. 35m to the chains and 2 crimpy cruxes at halfway and 3/4 way marks, the rest is juggy and race the clock before you flame out stuff. See you sometime soon.
| | |
| --- | --- |
| | There are 52 messages in this topic. |
Home | Guide | Gallery | Tech Tips | Articles | Reviews | Dictionary | Forum | Links | About | Search
Chockstone Photography | Landscape Photography Australia | Australian Landscape Photography

Please read the full disclaimer before using any information contained on these pages.
Australian Panoramic | Australian Coast | Australian Mountains | Australian Countryside | Australian Waterfalls | Australian Lakes | Australian Cities | Australian Macro | Australian Wildlife
Landscape Photo | Landscape Photography | Landscape Photography Australia | Fine Art Photography | Wilderness Photography | Nature Photo | Australian Landscape Photo | Stock Photography Australia | Landscape Photos | Panoramic Photos | Panoramic Photography Australia | Australian Landscape Photography | Mothers Day Gifts | Gifts for Mothers Day | Mothers Day Gift Ideas | Ideas for Mothers Day | Wedding Gift Ideas | Christmas Gift Ideas | Fathers Day Gifts | Gifts for Fathers Day | Fathers Day Gift Ideas | Ideas for Fathers Day | Landscape Prints | Landscape Poster | Limited Edition Prints | Panoramic Photo | Buy Posters | Poster Prints