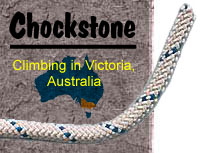 Sponsored By
ROCK
HARDWARE


Chockstone Forum - Trip Reports
Tells Us About Your Latest Trip!
Author

| | |
| --- | --- |
| Rod's Euro 2009 - Trip Report ~ with updates! | |

17-Jun-2009
12:41:08 AM

Checked out a potential project at Les Sommetres and decided I don't have the time to invest right now, kinda bummed because there's two really nice looking boulder problems in it but such is life.

That decided we split for Valais over the weekend. Saturday passed at Bramois with the morning spent between the very appropriately named sector Folle Illusion and at another sector on a very appropriately named route "Balustrade de la Chagrin". Spent the afternoon climbing with Gaynor on single pitch routes between 5c and 6a, some nice and some so, so; weird bolting in general. Sunday we climbed at Pierre Avoi, photo, which dominates the Rhone Valley and has played a reasonable part in our climbing evolution. Alpine bolting on the big face routes so come equipped with the skills to onsight everything at the max grade stated, they're almost all obligatory passages of climbing. Recommended: Eureka, Pierre a Roi and Mecca but pretty much all the multi's on the face are nice. Guidebook: Entremont, Olivier Roduit. Hooked up with Regis & Laurence for the day, met John Fawkes (?) aussie climbing guide, then afterwards we hooked up with Fabrice and Cyril for the last BBQ in Cyril & Francois' mythic Chalet d'Arbaz...late night.




21-Jun-2009
7:33:55 PM

That last post doesn't do justice to Pierre Avoi, a place that provokes strong emotion in every climber that goes onto the Grande Face: its alpine, bold, off-route it's a horror show and the sensation of gas below the feet is omni-present. I've been climbing nearly 5 years now, the place is still was mental as all f--- for me right up until last year: I shared a rope with Olivier Roduit who equipped most of the routes, I took a big fall on the 7th pitch of the day using his beta and had to take it head on throughout the rest of the route…that day I finally slayed the intimidation dragon but each time I've loved the experience up there.

Some personal highlights:

First experience on the face, leading a group of 3 on the Arete which is fairly simple but was a fairly big undertaking for me at the time, no falls but one of my co-climbers was Marianne who has since had two major alpine accidents that nearly ended her life. She was a great asset on that climb, accompanying Gaynor who has an uncanny ability to transfer her nerves up the rope.

A year later I was climbing with more skill in general and onsighting at a level that would allow a nice day out on Pierre a'Roi. I got completely shut down mentally by the end of the first 6a+ pitch and handed over the lead to Christof at the next belay with great relief. Ruedi and Alex were beside us on Edelweiss and, seconding, Ruedi had totally wigged out on their opening 6a pitch (screaming/temper tantrum stuff) through which he managed to freak out all of the 3 teams on the Face…some rapped off, others climbed bolt to bolt for the next few pitches. Christof and I finished our climb onsight, I was Elvis incarnate half the time. We immediately sought out a bar and Christof sank many beers in a VERY short time frame.

Another year later and I'd had a lot of work issues. In mid-September, immediately after getting off a plane we headed to Valais with the possibility of good weather. Knackered I had ONE destination in mind and we gave it a shot both days. We got onto the Grande Face by ourselves both afternoons with Tichdromes and Edelweiss everywhere and I climbed my heart out…SO exhausted that a 40 metre 6a coupled with the omni-present gas under my feet was a total mind-pump. I onsighted Eureka on the second day and was euphoric, it seemed really tough. Topping out we entered the wind and cloud formation that had been hitting the ridge line all afternoon. Suddenly Gaynor's silhouette was evident in the backlit cloud formation along with the cross's shadow…for an instant a halo surrounded the silhouette. Surreal. We walked off and ate in a sunny patch amidst the clouds. Very Lord of the Rings. ALL weekend I'd been thinking of what/why regarding work and as we ate I reached a decision which in the end saw me finish work 18 months on. The photo following was taken from our place in Branson later that evening.



July 2008. 2 in a day with Roduit…the day prior I couldn't find partners, I'd wanted to do Olivier's Mecca and J-M Porcelanna's Delicatessen over the weekend as a training run for Wolfgang Gullich in Sardinia (in the calendar for September). Olivier called back and said he was free Sunday, could do 2 in a day but we'd have to play it by ear given the big afternoon storm forecast. I went up on the Saturday just to acclimatise myself and watched a young guy rope lead-solo Mecca. I was impressed by his ballsyness, first time ever soloing and he picks this one.

We got onto the face and on second long route of the day, Mecca, I peeled leading the first pitch. It was a pretty big fall and that using Olivier's beta.

"So…do you still have the "morale" for leading this Rod?"

"Yeh"

I pulled back on and sent it my way despite being pumped to near oblivion. The rest was a relative stroll on a beautiful route and we topped out with a lightening storm about to hit. It was already on Martigny a few kilometres away and headed our direction, by the time we reached the car 20 minutes later the Grande Face had been fried a couple of times. Later at Namaste, Olivier revealed I was his first client to lead Mecca 10 years after it was put up. His follow up statement that he'd be happy to climb with me anywhere was a real boost; his tales of woe with some clients were pretty scary.

I've done 8 of the 12 Grande Face climbs now and they've all been an experience: bold in nature, generally quite tough grading and an element of altitude effect that you don't really expect but it tends to be there the whole time. Its not for everyone, the rock has that dolomitic tendency to fall out of the face on a regular basis and its not Verdon style limestone so the climbing tends to be a bit more classic and physical. If you happen to be in the area in good weather conditions give it a lash but expect to take some time for adaptation.

21-Jun-2009
10:50:41 PM

On 21/06/2009 rod wrote:
>That last post doesn't do justice to Pierre Avoi, a place that provokes strong emotion in every climber that goes onto the Grande Face: its alpine, bold, off-route it's a horror show and the sensation of gas below the feet is omni-present.

The first photo was impressive but hard to gauge how forshortened the height involved is. Your second photo certainly puts a better perspective on the undertaking involved.
It certainly befits the nature of climbing adventure, and your updated thoughts reflect that well.

30-Jun-2009
6:13:14 PM

Finale Liguria

Fun trip this one, I played on my latest project for a couple of days before leaving and built the sequences...just got to link it on lead now. Found myself infested with ticks the day before leaving so spent time paranoid about Lyme and ensephalitis for the first few days, no symptoms yet so I may have gotten lucky.

Did the 5 hour drive and set up camp on lawn provided by our Sardinian acquaintances Sergio & Laura...superbly located for climbing and 5 minutes from the centre of Finale. Late climb at Maleducato with the highlight being me failing to flash a 6a by 5cm, ended in beers. Their cat attacked me in the tent all night, finding itself the prime position at the top of the mosquito netting.

Day 2 I'm very fatigued. We headed for Mt Cornu (I dont have the topo so bear with me if its the wrong name) where Thierry Bionda had recommended the best 6c in Finale...maybe it was once before being polished into oblivion but on a cool day I reckon it would be pretty nice. We didnt have the recent topo and warmed up on a nice 35 metre overhang with 2 colonnetes at the finish, betting on the grades I was 6a plus, Antonin 6b plus and Bernard would not wager...6a plus wins. We all had a crack at the 6c, Bernard aided, I dogged and Antonin flashed to earn himself the tag Flash Guernat. Thierry's 6c follows, if you ever meet him ask about the bear at the Lotus Flower Tower...



Change of sectors and its my turn to flash...probably due to fear of falling on the tattyest piece of crap I've seen in a long while, nice line though.



It ended there, we headed for camp and I bathed wild in the river flowing past the property before we headed out for beer and pizza. Bernard got attacked by the cat that night.

Day 3 we went to Silencio and still fatigued I was less than inspired but got up for some onsights. Lovely site but the lines didn't do it for me. The highlight was the last route of the day with me on lead, through the hard section and likely to onsight when I throw for the first of a series of tagged as if critical to the sequence "holds" only to discover a shocker of a mono which I stagger through only to be followed by the sucker punch follow up that is exactly the same...I peel. Pulling back on, I make my own way to the top and inspect on the way down. The next 10 chalk marks did the same thing right through to the chains, it was a masterful bit of sandbagging by whoever was the artist in tagging holds 10 to 15 cms away from each in the correct sequence. Flash Guernat thought it very funny following his recent experience in the Tarn. We hit the supermarket, went for a swim and headed back to camp to shower under the garden hose and BBQ with S&L, nice night with fireflies all around. The cat got locked inside.

Day 4 and Antonin and Bernard are amped, I'm in hammock mode. Flash Guernat takes us to his grotto project from last year and finally sends Gallo's 8a on run 3. Bernard takes on a 6c or 7a which looks fantastic right through to the chains...



We descend and climb the other side of the valley and I'm tempted for the first time all day, perhaps all week, by some 35m never ending face climbing cruxes that are the classic Finale horror shows everyone warned me about...site might be Monte Sordu. Fantastic climbing, nice and mental in giving you sufficient time on the feet to reflect on how you're pumped, shaking and 3 metres above the last bolt with 2 metres still to go for the next one in a sea of blank. 5 days later I've got a repairing cut on my right middle finger from one mono crux.

That night we had a local experience, fish co-op...it was a very late finish. Big thanks to S&L before going to bed, this was something special.

Finally day 5 and we get over to Petri whereupon we stumble across THE best line of the week to this climber's eyes. Schifilix. Looked hard when Antonin had a crack, Bernard fell at bolt 2 while I was still warming up on the other side of the pillar and suddenly it was my turn. I pulled on and nearly flashed, throwing for the final jug at the end of this 20 or 25m overhang - I missed it by 5cm and took a BIG fall, my feet scraping the ground. Antonin's rope is too thin for the rating of the grigri, Bernard has a burnt hand and I'm bummed not to have sent. I haul myself back up, finish it off and pack it in for the day. We decamp for another spot, Flash Guernat fails to flash and we head back to pack up camp, grab the last gelati and drive home for the weekend commitments.

On the way back I'm sitting somewhat over the speed limit and we're passed by a big blinged out 4WD doing something approaching 200kmh, 15 minutes later we pass him parked in the emergency stopping bay baring his arse to the world and experiencing the joy of diarrhea.

The past 3 days have once again been spent dealing with the move out of our apartment. After the past few energy draining weeks of dealing with the move all I can say is I never want to do that again. Tonight I've my last social obligation for the next 2 and a half months and then I can concentrate on the climbing again...hallelujah.

Big thanks to Sergio and Laura, I wish them well with the property and hope they can get permits for an agri-camping in any event I'll be back for another visit to get back on Schifilix and more like it.
3-Jul-2009
10:14:29 PM

headed down to branson for a few days, first day at dorenaz opening some new boulder problems and doing some roped soloing...freaking hot. day 2 i picked up bernard from martigny station and headed up through verbier (both have TDF stages 19 and 21 july) to pierre avoi, we did a couple of routes on the grande face for 400m of climbing 6a to 6b plus. route 2 was ponce pirate and every pitch was great, thoroughly recommend it particularly pitch 2. only got 2 routes left up there and they sound nice and hard so i'll try and knock them off next week...45th birthday celebration tomorrow and thinking about it this morning with the way i've pushed it over the years its amazing i got there.

reading a book by bonatti at present, he was one ballsy italian.
5-Jul-2009
8:23:26 PM

On 3/07/2009 rod wrote:
>reading a book by bonatti at present, he was one ballsy italian.

I'll second that. He writes well too!
12-Jul-2009
11:09:47 PM

finished the bonatti book, very good reading and all the more enjoyable by seeing him evolve personally in later years. given that i look at the mt blanc massif in the alps almost every day its fun reading this stuff before heading out for a climb. onto the boardman, tasker omnibus now...their events on k2 brought home how big an achievement Bonatti's effort on k2 was and the italian FA in general.

what have i been up to...

4 july was my birthday, G headed off for a kite surfing week and I went to Branson. Soloed at dorenaz late, got stormed off the rock by lightning and hail 1 pitch in.

next day was spent at pierre avoi on delikatessen with cyril...L1 completely aided by him @ 6b plus was a pretty good indicator (he's comfortably onsighting near 7b), L2 grading of 6b plus was fairly academic because i found the holds just kept ending up in the couloir heading off to the rhone valley floor 2,100m below - 3 falls, one 15m or so which saw me looking UP at cyril, and about 50kg of rock later i clipped the chains with pleasure. finally i'm looking at we're what i came here for L's 3 through 5. Cyril comes up, takes one look and wants to bail, I suggest taking over the lead but he's frozen in the sub zero temps so its not to be. we rap off, trudge to the top and do some single pitch routes in the sun. we part company and i head to dorenaz for some more climbing, only to receive another hailstone beating.

monday the 6th we hooked up again and headed to evolene, a wonderfully located cliff with an amazing variety of styles. cyril's colleague anouk and a friend jean-marie moos were with us, JM being one of the equippers. very good outing...late in the session i put poor anouk through the wringer as i tried to suss a new line out, 5cm longer reach and its easy but for me its probably a 6b plus approach, 7a crux section into a solid 6c resistance route. i'll head back with the drill and antonin next week to see what we come up with. cyril and JM worked JM's most recent creation somewhere in the 7b plus range...but we still don't know yet.

tuesday the 7th and i've actually spent some money to buy rap rings with the intent to rap into delikattessen and purge it. 2.30 in the afternoon i've done the walk in and i'm all set at the top, look over my shoulder to the rapidly darkening dents de midi - i bravely bail for the car, it starts raining with 100m to go and having accelerated to a trot it's snowing by the time i open the car door!

wednesday...almost a rest day, there's a low snow line at 2,000m but i hooked up late with cyril at the folle illusion wall in bramois. i finally got onto and bagged folle illusion without a warm up through climbing very tactically. after witnessing my "inspiring rest creation" Cyril repeated it and i was pleased for once that he didn't seem to stroll up something straight after i'd been on it. he went on to onsight the hardest route on the wall, i told him he lacked rest creation ability and he had a grin from ear to ear.

thursday and i'm back for round 3 on delikatessen and its another knock out. as if it wasn't steep enough for a heavy fella, today there's a heat sapping wind on a sub-zero day. i rapped in and managed L4 on TR solo but by the time I finished that I was so cold I couldn't move so Ls 3 and 5 remain to taunt me from the Branson terrace. I did a light purge of L2 rapped to the bottom and trudged back up to the top to recover some of the rap rings, lunched and split for Dorenaz again. This time lead rope soloed at Graviere, a spot I hadn't visited in a long time and probably won't visit again...with more experience I was astounded at the soft grades, I also seem to have bagged the nicer routes already. it was good to warm up again though, saw a fox pay a cunning visit to my gear after I was 15 metres from the ground...and i didn't get a storm on the head.

friday walked up to the bouldering area behind the village and had a great time. first time i've pulled down on rock here since last year and there's been measureable progress, bagged a bouldering grade PB on something I couldn't even hold the static positions on last year.

saturday 11th Alex and I decided to head to the Dar at Diablerets. 45 minute approach and you find this alpine meadow with a limestone cliff at the end split in the middle by a waterfall. lovely setting. we did merite alpin by the remy bros...fantastic limestone in Ls 2 through 4, we rate it up there as amongst the best limestone quality we've come across in CH, friction plus. smart bolting, hats off to the lads for this one. good weather and i'd be tempted into a few routes up here. strolled back down into the sun and some bloke from belgium decided to crash his parapent above our cliff so we were treated to a Rega heli rescue close up, nice new looking eurocopter.

today. transit from branson for a rest day in neuch with g, the week's weather forecast looks good for mountain granite and both bernard and antonin are free. Olivier Roduit phoned from the Himalaya - 7,800m high point, returns 15 july and wants to go for a climb...reckons delikattessen isn't one of his faves :)
13-Jul-2009
2:23:26 PM

A continueing good read Rod.
It is obvious from reading your TR that the ambience of Euro climbing is quite different to that experienced here in Oz. As an armchair reader (when it comes to climbing in Europe), I am enjoying the contrast!
22-Jul-2009
9:02:13 PM

1/3

monday the 13th, antonin and i hooked up and headed off to prepare a little for Etat de Choc. Spent the afternoon on offwidth sport routes placing friends and other pro as we went, I found a really good one that had us both stumped.

tuesday the 14th Bernard came down and we all headed off in search of Bouddha above PisseVache. 45 minute walk-in amongst granite and pine at about 800 or 900 metres altitude and we found a great setting: old pine forest with lots of different angles to explore nestled beneath a dome of glacier scarred granite. Sport equipped but classic alpine granite routes in style. I spent my time battling my way up crack routes and playing foot friction games on the exit of each, Antonin got on Bouddha Club and tried 6 different ways to glory before finally sending on the 7th run of the day, Bernard mainly slept in the sun. My last run of the day was on a grovelly chimney/offwidth of the like I would encounter later in the week. Beers at the station and goodbye to Bernard...we picked up a copy of Vertical mag which was to become our climbing porn mag for the next couple of days: Yose, Paine, UK sport climbing and...Petit Clocher de Portalet. HUGE electrical storm came in overnight and dropped a lot of water.

Wednesday the 15th and a conflict of guides for our chosen route had us scratching around for info: Roduit's Entrement had it 4c, 6a, 6b+, 5c, 7a, 5c, 7a/b, 6c finishing in either a 4c or 6b+ dependent on choice, doable on a set of rocks and friends 1, 2, 3 and 4; the newly arrived Vertical had 6b+, 6b+, 6b+, 6c, 7a, 6c, 7a or 7b dependent upon what crack you are in, 6c, 6b. Rocks and friends with doubles of number 2, 3, 3.5 (WC?) and 4. I had doubles of 1 and 2 in my rack and a sole set of rocks that we could supplement with smaller sizes of friends. Phoning around we were able to obtain a 3 but remained short on a size 4 cam.

Off to tele La Breya, closed for lunch so we picnic'ed and by chance I decided to call the cabane...sorry mate its full.

Disbelief.

Bivvy gear 30 minutes down in the valley. Antonin tries the cabane, same response. We Fangio it down to get the tent, thermarests and ridgerests, 5 litres of water each, food, sleeping bags, etc, etc. Back at La Breya tele for 16:00 we re-packed the pile and headed on up, a couple of hours later we were scoping out bivvy spots and by 19:00 all was laid out and the sun was setting on the northern face of the Portalet...it looked pretty intimidating now with the added uncertainty of 2 differing route descriptions and approaches. 4 Chamois came up through the col near our bivvy spot and Antonin scared them off with exclamations about the differing route descriptions. Then it started raining so I climbed into the tent and slept fitfully until finally a bear rustled around, ate all the food and chased us out of the tent at 6AM.

Thursday the 16th. Etat de Choc

BRIGHT sunshine, I had the coffee on at 6.30 and 3 expressos later we were off across the moraine...didn't get lost this time around and slid our way across the protecting neve and scree to find to our great surprise a boulder with Etat de Choc painted on it and a bolt signifying the start of the route.

Off went Antonin, 6b+ rather than 4c, so we were straight onto the back foot and the Vertical mag guide was looking like the winner changing the proposition considerably. My next pitch was harder still swallowing 2 small friends and a couple of nuts, again 6b+. Traverse right to another belay and we're under the crocodile's mouth. Antonin's 6b+ has a bolt halfway through and he places a 0.75 then moves up a couple of metres to clip the bolt, exits right and comes back left to the belay.

My lead and finally we'll know, I set off into an overhanging offwidth that's so totally 6c and gear swallowing that I'm nearly overwhelmed, how do you prepare for this when its unique in the Mt Blanc Massif? Suffering a bit, I was thankful for a double of the size 2 before exiting onto a ledge and clipping a rusty bolt from 1983. Some discussion ensued and I decided to beef it up with some gear and turn it into a belay point.

Antonin comes up and launches off into what was to prove my choice was good, 7a pitch and a lot of it was moving around (the blocks of granite), he got up to another bolt 30 metres higher and installed a belay around it then praised my decisiveness...

..."fear does that to me 'Tonin".

22-Jul-2009
9:04:12 PM

2/3

I made my way up and we had another discussion, he wanted to assume the lead thereafter so that I was rested mentally in case anything happened, the car sized blocks that were moving around were unnerving him. I'm happy with that proposition, he's got 3 weeks experience in Yosemite to call on in dealing with offwidths and chimneys whereas I'm picking it up as I go.

Off he goes into a monster body eating crack, wrestles and wrestles before popping out onto the right side of it into the light of day (relatively, we're on the north face afterall) before, after an interminable slow ascent of about 15 metres, he finally makes his way up to an unseen belay. I'm sure he's off route. I set off into the dark depths of the face and surprise, surprise the crocodile decides to eat me: my helmet is stuck. I wrestle it off and clip it to my harness, progress another 30cm and my camelback gets stuck. I wrestle it off and clip it to my harness, progress another 30cm and my torso is stuck...can't clip that to my harness so I have to think a way back to daylight. Right is a crimp, shuffle right and latch it with the right hand, shuffle down and transfer my weight further right, change hands on the hold, nearly fall out of the crack into space and in the swing finally spot THE thank god hold, shuffle further right and jam all I can before sliding my right foot out and standing on THE hold...out I pop onto the face at the edge of the crack and I'm through the first crux of the pitch. Traverse right on small holds with a nice pendulum risk onto the overhanging face and then up a hand crack to the belay point...again a minor jump makes it all move, gently does it.

Next pitch is a monster with a 7b or 7a finish according to the Vertical guide. Antonin heads off placing the number 4 then splays himself like Jesus on the cross before getting in two 3s then down climbing 15m to pick up the number 4. That goes in and he's then out right and into a mix of face and chimney climbing, clips a bolt, face climbs, clips a piton, crack climbs, clips a nice, new bolt (thanks Yves and Claude) then does the Remy move: huge bridge, left hand to crimper and woohoo we're out on the ledge past the 7a/7b pitch (turns out we were off route and had turned a 6c pitch into a 7a just prior to the start of this one). I followed that one in style, avoiding his Jesus moves with some simple chimney tactics and it easily went free. Funny but both of us are finding the 6c's nails hard and the 7a's relatively much easier. I took some photo's from a ledge before the crux.

Get to the belay which was nice and solid, we're a bit lost by now as to what we've done but it seems like there's just 2 pitches to go another 6c off width to kick off with. Antonin is struggling under the pressure, Elvis has started to force his way into his legs and he battles his way up another one, this time contending with some lichen for feet placements and this time the offwidth is a a real gear eater, he exits left onto the 6b/6b+ exit pitch, sees bolts and goes that way. Following, I'm shocked at the speed of my progression until I got to just where the number 4 was placed, WAY back into the crack and I'm forced to take a rope break to tilt myself sideways and recover it and a wandering 3. Pull back on and enter the 6b section...so straightforward and welcome!

22-Jul-2009
9:10:19 PM

3/3

I pull over the top and we're in the sun hanging from a machine drilled bolt glad to have picked the "harder" option, the "easy" 4c/5a option is one polluted looking pitch.

One bolt rap past 2 pitches and we'll be able to use the bolts in the Darbellay, Antonin goes forth and I join him on a ledge after passing off rock into a suspended rap unable to touch the walls for 40 metres or so. The raps went without incident thereafter and we gratefully touched down at the base. 17:00.

Packed it all up and Antonin looked worked mentally, this one really took it out of him and heading back to the bivvy spot he was almost manic in his pace clearly trying to put it behind him. We rested 15 minutes or so at the bivvy spot, packed it all up and walked all the way back to the car. 21:00.

On the way back 3 frenchies passed and their Erik said they had tackled it a few days prior, rockfall ended that trip in cutting their cord in 3 causing them to rap off before the first 7a pitch. They were back to send.

22:00 at Le Corner in Fully we dined on pizza and Shiraz, headed back to Branson and downed another bottle. Then another huge storm hit, we both smiled at each other in the knowledge that we hadn't stopped at the bivvy and headed off to our respective beds to listen to the rain fall.

So now we're the 22nd and since then we're had 3 days with the TDF in our region, I've done some bouldering the past 2 days at spots new to me which are great and the experience with the crocodile of Etat de Choc has been purged.

From here on Antonin and I will probably only do single pitch stuff together as having taken this summer off we've now fulfilled each other's dreams: mine of Wolfgang Gullich, possibly THE aesthetic limestone line in Europe; his of Etat de Choc, probably THE trad line in Switzerland and possibly the Alps. They're both awesome, totally different styles, unique both and thoroughly recommended.

Photo's of this past climb will follow once I'm at a more permanent location, meanwhile look up Etat de Choc, Petit Clocher de Portalet on the web...prepare to be inspired.
23-Jul-2009
1:03:56 PM

>...prepare to be inspired.

Yeah, shifting blocks of granite and offwidths have that effect on people

>and thoroughly recommended.

Sadist!

☺

Nah, I am only recovering from reading it kidding! ... as I found myself grovelling in there along side of you!

Now that you have redefined choss to your satisfaction, what are you going to do when looking for same to climb back here in Oz?

Adventure climbing makes for a good read.
Thanks for keeping us updated.
23-Jul-2009
6:11:57 PM

Very inspiring, I'm a bit lost tho, where are all these places. It sounds like the Golden traingle of Swiss/Italy/France

And how come you are getting up things? When I go OS I "degrade" very quickly as exhaustion sets in
25-Jul-2009
7:27:22 PM

I dunno Mike, I've been setting PB's on a regular basis since May 1 and the only thing I can put it down to is the mental break from work...maybe the extra booze helps. We're in the Golden Triangle but we're sticking to spots which had former glory and are now a little passed by in the media, one thing we've noticed is that crack routes are generally older and nails hard whereas face climbs in the same area's are relatively soft but its a long way between bolts.

Just spent a week bouldering as I let the back of the hands heal from Etat de Choc, 6C's are going flash, 7A's after a bit of work and occasionally bagged a PB matcher. One day I hope to boost my sport climbing performance into the true 7c's to match it but so far it just doesn't seem to translate - either the bouldering grades are consistently soft or the route grades are consistently hard around here.

TDF was a festival atmosphere and G caught Cat Empire in Lucerne last night, just gathering some Grimsel info and coordinating agenda's for a run up some of Christian and Regis's new routes out there...these guys are always good for a scare.

Some photos:

Bivvy spot



The ledge after the 7b pitch




The route at the end of the day


Finally a link to a photo of the line from a previous run up another of the routes, its the crack to the right of the sunlit arete:

http://outdoors.webshots.com/photo/2978639560048752298waMZaB
26-Jul-2009
2:20:47 PM

On 23/07/2009 mikl law wrote:
>Very inspiring, I'm a bit lost tho, where are all these places. It sounds
>like the Golden traingle of Swiss/Italy/France
>
>And how come you are getting up things? When I go OS I "degrade" very
>quickly as exhaustion sets in

Rod's technically not OS as he is currently living in Europe... ;-)

Keep posting Rod, enjoying the reports.
29-Jul-2009
7:21:36 PM

i'm having a difficult time convincing the local authorities where i live these days as i've no fixed address, haven't given anyone my email address (for fear of work related emails), changed my mobile number (for the same reason) and pay all my bills in cash. it seems i'll either always or never be OS.

tell you what though, the body IS starting to feel the workload...i'm knackered today.

spent the weekend marvelling at an electrical storm, lazing in the hammock and doing an "easy" multi-pitch route with G but felt a bit fatigued by the end so I decided a climbing rest day was in order: so I spared the fingers and elbows and walked up a 4,000m peak, my first on foot in the 5 years since I started climbing (have done some on skins in winter but then you get to ski down)...talk about boring, you walk uphill for an age (2,000m in this case), look at the view only fleetingly because you don't want to fall off the ridge and then when you finally get to the top you spend 10 minutes to look at a few glaciers and then trudge back down. give me a technical challenge any day...

...which I seem to have found. I resurrected an old 7b+ yesterday on a north facing wall. It took 4 hours of cleaning and the 7 to 10 moves through the crux seem really hard; I'm off to give it a whirl on the shunt this afternoon.

good effort by lance in the TDF but contador was the most impressive, what a crappy team environment for the young fella. wiggens effort was inspiring, the weight loss key behind it gives me hope for my future climbing progress. freddie killed us at lords, quite keen to see how edgbaston goes.
6-Aug-2009
11:40:40 PM

things have been a bit suss of late - an acquaintance died on a mt blanc route, he was buried today, and, lower down, there was the death of a young local bloke in a late in the day accident at dorenaz which is under investigation as to cause.

i re-opened an elbow tendinitis problem several days before etat de choc which i've been letting settle down but have given it a good lash in the past couple of days and it seems ok. sequence of events since last post...

got on the renovated route. probably only 7b to my estimation but a very nice punchy 15m of climbing with 3 very hard boulder sections, one sloper is killer and i could do with a very cold, dry day for a send but at the moment the weather is too bloody nice. not particularly easy to work on the shunt due to a traverse, i'll have to rig a sling into order to fully link it before getting on lead. i'll also leave the sling in for the lead because if i screw up whilst clipping the second bolt it would mean cratering from 7 or 8 metres.

took a rest day after that and watched the aussies save the edgbaston match, my back screwed up the next morning...happens regularly after i have a day on the couch...muscle relaxants, anti-inflammatories and a mild dose of alcohol did the trick.

off to bonachiesse the next day for a multi-pitch with g. we did the alpine walk in, hunted for 40 minutes before finding the start, took one look at the slabby poof of a route and decided it looked unworthy. watched a heli rescue on the other side of the valley - father and exhausted 7 year old son, bet the dad copped a lecture from the mrs. the heli looked like an Alouette but I'm not sure they're still operational in Switzerland. Descended on foot after spooking a Chamois who took a 15 metre jump off a cliff and totally took it in stride, awesome. Ended up doing 3 single pitch routes, one 6a slab called Fini de Rire was very well named, 2 cul-de-sacs on the thing about 1m from the next bolt and 4m out from the last bolt and yours truly managed to find them both...slabs, ugh. Dinner with Cyril and Sandra later.

Bramois quartzite the next day, cruisy overhangs in the 6b/6c range and lots of fissure work. Then off to a 1 August party for Andy, national day for Switzerland as well so lots of fireworks sent skyward out of the back yard...massive hangover the next day...plus 1.

Rest day.

Bouldering, still shaky from the hangover.

Climbing, 10 routes with a relative debutant at Dorenaz where I meet local legend Lucien Abbet. Had a good chat about Portalet and crack routes in general. Climbing with a debutant after the recent death here scares me into overgripping on anything harder than 6b and each lower off had me a bit nervous as well.

Yesterday I went bouldering with Sandra in Val Ferret, awesome day weather wise and I gave the elbow a good workover - feels close to full strength again.

Woke up this morning to a heli perched right outside the bedroom window, 10 metres away and the pilot was looking straight at me...glad i'm not in a war zone, I'd be dead meat. Apparently they spray the grapes with fungicide 4 times a year and it was one of those days. Awesome to watch.

Got some photos from recent weeks that are worth posting, they'll follow
7-Aug-2009
12:21:45 AM

Bouddha

Antonin finally sending Bouddha Club, 7c plus, on the nth run of the day


Bernard on the Bouddha slabs


Bouddha setting



Some scenery shots from the valley I've spent most of my time in since end June

Etat de Choc, this is what we woke up to the day after...SO glad not to have stayed in the bivvy.


Valley shot coming down from the 7b I've recently resurrected


A potential line spied whilst checking out scenery on a rest day mountain walk. After Etat de Choc my mind is open on the prospect of the opening chimney pitch which then leads into a 40 metre crack line before finishing on slabs. Insane how much untravelled rock there still is here...


Finally one of the Mt Blanc Massif taken from the same mountain walk, see if you can spot the Petit Clocher de Portalet.

11-Aug-2009
2:24:13 AM

hope everyone's going well and sending in the cold weather!

well, the 7b isn't going to go. had a good run on it last friday and nailed the sloper move but then i can't do enough with it to make the next one. maybe its 7b+ afterall :)

saturday i got through the crux of a route that's defied me for years, felt really strong and calm but 2 clips further in it started raining really hard so i traversed right to finish via a dry crack into the route next to it...still no redpoint. we were shutdown for the day.

sunday wine induced hangover, mountaineering day near zinalrothorn.

today gave saturday's site another lash with cyrille; my first really bad day since may. it was pathetic, i trembled my way up the route from saturday to finally bag the redpoint but i felt real weak throughout. was nicely polished on a harder graded crack route well right of it straight after so just put it down to no warm up. having dispensed with the warm-ups decided to step it up for the rest of the day. what followed was an embarrassment on a 6c+, i was static, non-combative and climbed poorly, it took 2 nasty falls before i decided on sending cyrille up to flash it and then getting rained off for the day.

i felt drained from the get go today and may finally have hit the exhaustion wall mike was on about. hopefully tomorrow proves better, i'm off equipping and playing test pilot on some limestone with laurent monnet.

good result in the cricket, hopeful of a 2-1 series result.
17-Aug-2009
7:33:32 PM

just had a cracker of a week!

laurent monnet and i hooked up and took his 1956 vintage jeep for a run over into france. this thing is wild - its a real chick magnet! we went over the pass at monthey, through chatel and turned right up the hill at abondance...so well named. 10 minute walk and we were underneath a 3 pitch route comprising one overhanging pitch of pockets, one very technical slab and the final wall which rears up from technical slab to vertical and then a final overhang with a bit of a dodgy rock finish. top climbing 6b plus obligatory, 6b-6c in general with the slab in pitch 2 defeating both of us on lead and second so we don't know the actual limit but morphology dependent I reckon that pitch at 6c plus to 7a - old slab heroes would probably give it 6a plus. lunch and we moved over to a 7a or 7b route on a pillar - 35 metres of pure manna from heaven. laurent lead and pulled the silver jugs to glory through all the cruxes, i had a crack and couldn't nail the main crux once but bagged the rest. i'd love time to work it into submission, one of the better 7a-b's I've come across, demands everything in the kitbag and its nice and long. magnificent setting and absolutely deserted. topo on the web, PM me if in the area and want details for the site access. driving back was a blast, stopped in monthey and laurie tried to pull the barmaid but she was totally wise to the old dog...

the site in abondance


bouldering in saleina, val ferret with sandra, 6b-6c plus one good looking problem in the 7b or 7c range called power lard but overall i didn't dig this site.

off with laurie again this time we went to the back of Les Dents du Midi to a site that we didn't end up climbing because he forgot his shoes...i was SO relieved, it looked rubbish. off to chibloz underneath gr chavalard for some alpine style rock and intimidation...good routes but the suspect rock put the wind up me a bit, finally got it together though and onsighted all of his routes. the poor bugger seemed a bit disappointed because he'd been gradually piecing them together over the past 10 years but not redpointed one of them yet. a surprisingly large amount of alcohol needed to tame the nerves at the end of the day though, unlikely i'll go back to this site despite the quality of the setting because the rock is simply too hit and miss.

laurie's 1956 jeep


interview regarding swiss passport then 2 days partying in awesome weather that was too hot to climb in.

sunday passed with a trip to the alpine limestone of fritzland with christoph, alex and ruedi. another awesome site with cowbells clanging, flowered meadows, glacier scenery, aqua coloured lakes, marmottes and naked maidens. the rock here ranged from pretty good to inspiringly good. despite the partying induced fatigue we all had a very good day of onsighting and i can imagine staying up there in a tent one of these years with the objective of sending every route in the place. the following photo links show the staggering beauty of the spot, one photo shows the average route style and the final one is a full topo.

http://www.hikr.org/gallery/photo86172.html?post_id=9059#1

tired today, might go for a boulder at the hermitage but may just end up in a hammock beside a lake...

| | |
| --- | --- |
| | There are 52 messages in this topic. |
Home | Guide | Gallery | Tech Tips | Articles | Reviews | Dictionary | Forum | Links | About | Search
Chockstone Photography | Landscape Photography Australia | Australian Landscape Photography | Landscape Photos Australia

Please read the full disclaimer before using any information contained on these pages.
Australian Panoramic | Australian Coast | Australian Mountains | Australian Countryside | Australian Waterfalls | Australian Lakes | Australian Cities | Australian Macro | Australian Wildlife
Landscape Photo | Landscape Photography | Landscape Photography Australia | Fine Art Photography | Wilderness Photography | Nature Photo | Australian Landscape Photo | Stock Photography Australia | Landscape Photos | Panoramic Photos | Panoramic Photography Australia | Australian Landscape Photography | High Country Mountain Huts | Mothers Day Gifts | Gifts for Mothers Day | Mothers Day Gift Ideas | Ideas for Mothers Day | Wedding Gift Ideas | Christmas Gift Ideas | Fathers Day Gifts | Gifts for Fathers Day | Fathers Day Gift Ideas | Ideas for Fathers Day | Landscape Prints | Landscape Poster | Limited Edition Prints | Panoramic Photo | Buy Posters | Poster Prints