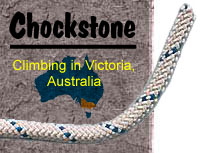 Sponsored By
ROCK
HARDWARE


Rock Master Publications: Sublime Climbs - A Guide to the best rock climbing venues in Victoria, Australia.By Kevin Lindorff, Josef Goding & Jarrod Hodgson. Over 700 climbs, 158 phototopos, 36 maps, and 380 pages covering the best of Mt Arapiles, Mt Buffalo and the Grampians $45.00
25% Off

Chockstone Forum - Trip Reports
Tells Us About Your Latest Trip!
Author

| | |
| --- | --- |
| Seventh Pillar – Trip Report | |

24/12/2007
5:26:49 PM

Christmas came early for my mate Pete and I this year. We each took two days off work the week before Christmas to have our second attempt at the infamous 18 / M2 Taipan Wall classic – the Seventh Pillar.

Earlier this year we had our first crack at it, driving up from Melbourne and trying to complete it in a day. We didn't allow enough time however, so bailed prematurely. The failed attempt only fanned the flames in our minds, so on Wednesday 19th December we headed up for attempt number two, allowing two days this time.

The Plan:
Day 1 – Drive up from Melbourne to the Grampians, hike all our water and gear in, fix the first pitch and the second half of the second pitch, and rap off leaving the line in place overnight.
Day 2 – Jumar the line to our highpoint and continue.


We completed the walk in to Taipan at about 2:00pm on Wednesday which we learnt is the time of day that the sun first strikes the base of the wall at this time of year.
We quickly set up, stowing most of the 10 litres of water we brought, and our packs at the base, and I was off.
I started by swinging up into the stringy bark tree at the base, gaining the large bulge about 3m up, and crimping up to the small ledge above. A nice big cam placement later and I was off up the thick flakes / ramps that lead to the slot at the base of the bolt ladder.
I found the climbing smooth, sequential and logical, as though the stone really wanted to be climbed! Accessing the slot, I clipped an old piton that Bomber Pro recently replaced the looped cord on (thanks BP) (actually I think it's an 'angle' not a piton, and the cord makes it much easier to clip) shoved in a couple of cams and got ready to bring Pete up.
Pete climbed very well, and had no problem cleaning. I was stoked to see him second it free, as his highest grade seconding to date (apart form our earlier attempt at this climb) was on Lamplighter (14) back in Jan.


*Pete blasting up the first pitch*

We quickly arranged ourselves and I was off again to aid the bolt ladder. The reason we cut the pitch in half like this was so that Pete could take some photos of me on the bolt ladder.
I found the most comfortable way to access the first bolt was to turn over onto my back in the slot, with my torso out of the crack and press up onto the roof of the slot with my knees. This allowed me to reach the first bolt easily and the movements felt solid with my knees in place.


*Me exiting the slot*

The bolt ladder was great fun, and made easier by the purchase of a fifi hook the day prior. I'd say that only 2 of the bolts are on the dicey side when it comes to holding static loads, even though they all slope. The ladder as a whole feels very safe though as there are well spaced dynabolts with fixed hangers that Neil placed a while back, and even if you did pop a couple of the old carrots in a fall, the stone is smooth and free from objects / edges that could 'disagree' with you on the way down.


*Me on the bolt ladder*

Pete cleaned the bolt ladder and joined me at the chains at the end of pitch 1. Last time he jugged this section, but as we had plenty of time I suggested he aid up the bolts under his own steam and clean that way (for the experience). He agreed and by the end of the ladder he was a natural.


*Pete cleaning the bolt ladder*

During Pete's climb, 3 'short and sharp' storm cells swept through the amphitheatre with exciting power! We could see them approaching one after the other from way off west, and the third one was quite exciting. We watched as the sheet of water sped towards us hammering the leaves of the trees down in the valley below, but thankfully due to the overhang of the wall, we were kept completely dry at all times.


*The last of the storms for the day*

I jumped onto the sharp end again and was off and up maybe 6 or 7 meters of bulges that lead to a small crouch where you're supposed to stick clip a fixed hanger about 2 meters above the stance. It's quite an overhanging reach, and that's right, I forgot the tape to make the clip! The stick was nicely in place on the ledge, but I forgot the bloody tape! After trying a few ways of contorting myself to reach the bolt, I ended up placing a cluster of nuts in a slot about a foot above the ledge, and pulling upwards on these with a sling and made the clip. I was really happy at this point as the day had gone according to plan, so I rigged our rappel line from this bolt, backing it up with my nut cluster below, and rejoined Pete down at the beginning of the second pitch. We rapped off and headed into Horsham for beer and food – yes in that order!

Thursday morning we rose to clear skies and quite humid heat (unlike the stormy / cloudy day prior). We hiked back into the base of the climb, made short work of the Jumar back up to our highpoint, and got back into the climbing.
Above the overhanging bolt, the route takes you through a curved flake on aid. I thought the gear was really good, and so long as you're equipped with small nuts and some RP's there are dozens of placement options. I had purchased 4 RP's specifically for this aid section, and found that I only needed one of the number 1 RP's (although if the sun had hit this, and the flake changed shape, perhaps this would have been a different story). 2 cams midway through, and a large nut at the end of the flake later and I was gaining vertical territory still on aid. I switched shoes while dangling from my ettrier (from sandshoes to climbing shoes) and finished up the pitch. I really enjoyed the technical aspect of the aid section, but was terrified. I'm usually fine with exposure, but for some reason I was very scared. I think it was probably the mental energy I'd used up until this point that had me feeling both mentally and physically spent. The free climbing towards the end of this pitch was nice, and I felt that the moves were not all that difficult, but rather sustained. I think the secret to this section is definitely your use of feet.
I mantled over a couple of great jugs at the top of the wall to gain the small slot that ends the second pitch. I rigged two lines from this point, one Pete jugged up on, the other, I rapped down on and cleaned my own gear then jugged back up. We had a decent rest in this slot before cracking onto pitch 3.


*Me rapping to clean*


*More cleaning*


*Me in the crack at the end of pitch 2*

Pitch 3 is a fairly straightforward crawl through the slot to a great ledge at the end. Protection is great all the way along.


*Me traversing pitch 3*


*Pete racking up ready for the third pitch*

At the beginning of the 4th and final pitch, I was getting quite nervous about it. I was completely exhausted by this time, and we were in full sun in the heat. I shouldn't have been though: The pitch begins with great climbing up big juggy holds to a little stance (or sit in my case) that is protected with a bolt. I rested up here for a bit, and from this vantage point you can see and plan the remainder of the route. The section is interesting: it's kind of a split corner, with typical smooth Taipan stone on the left face opposing a series of far more textured overhung bulges. In a couple of places I found that I could push my back and shoulders onto the left / main wall, with my feet on the opposing outer wall and get a hands free rest. This last section is great climbing and the expo
24/12/2007
5:39:48 PM

Thanks! Absolutely loved the TR - fond memories of doing that climb - and thanks for the additional (and unusual) photos that really show how some sections of that route are.
- Steve

24/12/2007
6:57:15 PM

Nice work guys!
25/12/2007
4:50:59 PM

Nice work Ben & Pete. So pissed I couldn't be there with you guys. It looks like quite an adventure. I'll have to step up to the plate when we go climbing next, as I can't have Pete bragging about climbing a higher grade than me hehehehehe. Great work guys and well written Ben.
26/12/2007
8:03:07 AM

Nice TR - keep them coming.

>Rather than rapping off the wall as I'd first planned, we headed for the summit from here and walked off down the descent track

exactly how did you get from the top of the route to the summit? were you roped up? interested to know your view of that terrain
26/12/2007
12:03:33 PM

On 26/12/2007 WM wrote:
>exactly how did you get from the top of the route to the summit? were
>you roped up? interested to know your view of that terrain

Thanks WM, we headed south from the top of the route (so right if you're facing the wall) around a series of balconies. We were soloing, but the terrain isn't really 'climbing' as such, more scrambling. If I find myself here again, I'd rope up, as some of the stone is very old and weather exposed which makes the surface quite sandy and brittle, and there is a lot of lichen.

After about 15 meters of traversing, we did end up roping up and headed almost strait up, with a slight southward tack.

I estimate that we covered an additional 70 meters after we completed the actual route, but we did this very quickly, and in comfy hiking boots. It was a nice end to the day to be up at that height enjoying the panoramic views.

28/12/2007
6:30:45 PM

Great TR OP, pitch 3 looks like a groveller.
29/12/2007
9:14:34 PM

Excellent TR Organ Pipe, and it is really good to see folk enjoying their Aid Climbing.

I found your comments of;

>I really enjoyed the technical aspect of the aid section, but was terrified. I'm usually fine with exposure, but for some reason I was very scared. I think it was probably the mental energy I'd used up until this point that had me feeling both mentally and physically spent.
&
>I was surprised by how exhausted I got – both mentally and physically. I mean I'm quite fit, and I climb heaps, but this was a whole new feeling!

to be spot-on!

Based on the positive vibes of your TR I think you will enjoy exploring this component of your climbing in the future.
17/01/2008
9:26:42 PM

nice work. your perseverance and planning seems to have paid off!
isn't it great when things go relatively smoothly...
well done, it's a good one.

your trip report is good reading too :) thanks.
and the photos are great.
29/01/2008
7:09:04 PM

As some of you may recall, my friend Pete and I climbed the Seventh Pillar back in December.

Well now that I'm back at work, I've had time to edit together the photos and footage we took over the two days into a short film.
If you've got 15 minutes to spare - please enjoy : )

(split into two parts)

Part 1
http://au.youtube.com/watch?v=RqspIiY81Ck
Part 2
http://au.youtube.com/watch?v=Gj-NoaDZIuM

29/01/2008
9:53:20 PM

cheers for the vids organ pipe! really inspiring stuff! Seventh Pillar is certainly near the top of my hit list!
22/09/2012
11:26:43 AM

Bump. This is a rad TR...
22/09/2012
1:26:41 PM

I haven't read many good TR for a while so it great to breath life into a couple of old ones.
20/11/2012
12:48:12 PM

Awesome TR and an Awesome route that depending on your fitness can be climbed at various grades and various levels of Free/Aid!. Highly recommended to anyone who loves a bit of trad!

MB
| | |
| --- | --- |
| | There are 14 messages in this topic. |
Home | Guide | Gallery | Tech Tips | Articles | Reviews | Dictionary | Forum | Links | About | Search
Chockstone Photography | Landscape Photography Australia | Australian Landscape Photography

Please read the full disclaimer before using any information contained on these pages.
Australian Panoramic | Australian Coast | Australian Mountains | Australian Countryside | Australian Waterfalls | Australian Lakes | Australian Cities | Australian Macro | Australian Wildlife
Landscape Photo | Landscape Photography | Landscape Photography Australia | Fine Art Photography | Wilderness Photography | Nature Photo | Australian Landscape Photo | Stock Photography Australia | Landscape Photos | Panoramic Photos | Panoramic Photography Australia | Australian Landscape Photography | Mothers Day Gifts | Gifts for Mothers Day | Mothers Day Gift Ideas | Ideas for Mothers Day | Wedding Gift Ideas | Christmas Gift Ideas | Fathers Day Gifts | Gifts for Fathers Day | Fathers Day Gift Ideas | Ideas for Fathers Day | Landscape Prints | Landscape Poster | Limited Edition Prints | Panoramic Photo | Buy Posters | Poster Prints