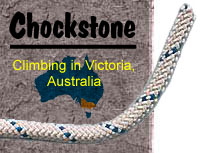 Sponsored By
ROCK
HARDWARE


Chockstone Forum - Trip Reports
Tells Us About Your Latest Trip!
Author

| | |
| --- | --- |
| Ever wanted to go to World Cup? | |

21-Nov-2005
10:23:14 AM

Don't beat yourself up Jac - these things happen and it's all part of a great learning experience. Your reports are really entertaining, and I hope you enjoy the rest of your trip.
21-Nov-2005
1:08:30 PM

Thanks, again, for the lengthy but very entertaining writeup. I had flashbacks of travelling through Slovenia by bike+train many years ago, ordering 50g of cheese in a deli 'cos we'd only learnt to count to 50 in Serbo-Croatian. Also of finding we were just $2 short of the money required to get across the border due to a bike shipping charge that we'd not budgeted for, and being faced with cashing a $US100 travellers cheque into non-convertible dinars, only to blissfully find a 20-dinar note on the train station floor.
Fun of travelling. Keep up the reports.
- Steve

21-Nov-2005
1:47:37 PM

Awesome reports Jacqui. All the insights into the hassles and adventures of traveling, the comp build up, the move by move descriptions, the emotions etc, this is a great thread. Thanks for spending time out to let us know what's happeing!!

Cheers, Richard
21-Nov-2005
10:40:36 PM

Hi all!

Well the finals were very exciting. The mens final was first, with the reasoning that "the men wanted to watch the women, because the women are more beautiful than the men". The route was really long and offered three kneebar rests - a double kneebar which was sort of hands free... a single kneebar, and then a single kneebar with the shin positioned horizontally. The climbing time permitted was 12mins. Would you believe that not everyone found the kneebars? Christian the German used none of them... instead opting to rest in places where he could rest until he could rest no more, if you know what I mean. His efforts were very impressive to me, because he managed to get recovery in these crappy rests, and got within a couple of moves of the top. Thomas Mrazek also missed the first two kneebars, and it cost him dearly when he fell off the third last move, which bumped him down to 4th place. The Italian, Flavio Crespi, also bypassed the rests, but managed to top. The last move was dicey. It looked like he was about to peel, because his head and neck were doing the backwards motions as he snatched the final hold. Two others topped... Jorg from the Netherlands, giving him second place on countback, and Cedric from Switzerland, who placed third. Very entertaining stuff.

The girls route offered no kneebar rests that I can recall. The obligatory heelhooks that always seem to make an appearance in the long traverses with roof-lip-style-scuffling moves. The long traverses are of course necessary to make the route longer and thus pumpier and more entertaining. I was surprised there were no kneebars. This routesetter (Simon) who also set for Valence in France, seems to be a fan of them, because when the climber gets the double kneebar, he or she can take the hands off for a second and wave to the crowd, which is important for the entertainment value.

As per normal, Angela Eiter (Austria) topped out in the womens final, with Maja Vidmar from Slovenia snapping at her heels and falling off the third last move, thus placing second. The Belgian made a terrible strategic error, climbing past a quickdraw and realising she couldn't clip it, and had to go back through some seriously strenuous moves. Thus forced her placing downwards. I was a little confused about the ruling, because her entire body had passed by the quickdraw (which was in the roof). The rules state that when this occurs you are disqualified, but there was no such call from the judge, so I am not sure about that one. I must do some research for future reference in case it ever happens to me. It is important to know where you stand on such issues.

I have made an absolute stack of notes about the sorts of moves that seem to have been the theme at these comps (probably on account of the fact that the two had the same routesetter) but I think my notes will provide some really useful insights. I will post these notes in the coming days.

I went to the after party and got invited to take up an offer of free accommodation and to go climbing with the Slovenians this week. Today I am visiting the city of Ljubljana so I will return to Kranj this evening and fingers crossed the plans work out. I would dearly love to climb at Osp!!

jac
23-Nov-2005
1:13:06 AM

Hello hello!

Yesterday I visited the city of Ljubljana (the capital of Slovenia), where I made use of the youth hostel laundry facilities to wash my clothes, try out a weird lollie that looks like strands of spaghetti and tastes a little like bubblegum but with a hint of plastic, and to visit the old town. It is a lovely city with lots of cute little shops. I found a great chocolate store that made their own version of Raffaelos... but their version is by far superior. At the end of the day I started wandering back to the train station, and it started to rain, or so I thought. Then I noticed the rain was a little irregular in its falling pattern. Snow. When my train reached Kranj, I went to get up out of my seat and noted searing pain shooting through the ankle I broke earlier this year, and I decided this meant it was angry about the cold, and that it was probably my own personal weather forecast. It would almost certainly be even colder by morning.

The snow got a little heavier when I reached Kranj. I decided to find my way back into the township of Kranj by heading for one of the church towers and hoping it was the one in the middle of the old town - an area I am familiar with and can navigate from. The streets were wandering but in general I kept on the right track, via some lovely buildings I hadn't seen before. And all the while the snow got heavier until it was really beautiful. I successfully tracked down the kind Slovenian named Žiga who had offered me a room for the duration of my stay in Slovenia, and got some much needed sleep.

In the morning, I woke up nice and early so I could get a lift into town so I could visit Bled, which has a huge lake and castle and beautiful scenery. It was minus 4 degrees outside (mighty cold as my ankle had predicted) and there was a blanket of snow on everything. It was incredibly beautiful.

Bled was also beautiful. I caught up with one of the Slovenian competitors, Martina Čufar and we visited the castle. She is out of action this week in terms of climbing on account of the fact she had some teeth removed at the dentist yesterday. It hadn't occurred to the dentist to mention to her until AFTER the procedure that she was out of action for a week. This was devastating for her as she is busily sieging an 8c (it would be her first 8c... 33 in Aussie grades) and felt she was close. A week of downtime meant she spent much of last night in tears. The plunging temperatures may mean the route is out of season by next week, and her chance missed until next season. On the plus side of things, she can spend the whole week kicking around home. She doesn't have to go to work, as she works for the Slovenian army as a climber. In effect being an example of what the sport can produce, as far as I can gather, and a few times per year she does promotional talks / guest appearances and other such things. A tough life, but someone has to do it.


23-Nov-2005
1:41:40 AM

Tomorrow we plan to climb at Osp, and I suspect I will freeze to death, but it will be worth it! Tonight I'll climb in the local bouldering gym, and hope that energy levels are higher than they were on the weekend, such that I can try some nice routes tomorrow.

I promised to bring you a list of observations about World Cup comps and the routes. Here they are:

Read the rules before comp day. The locals will attempt to explain the particulars of a route, but the words don't always come out right. It is up to you, for example, to know that a hold marked with a red cross means there is a quickdraw nearby also marked with a red cross, and you must clip it before leaving this handhold.

If starter numbers are stickon, it doesn't mean the glue is any good. Bring safety pins to accommodate for such situations. You probably won't get a new starter number for the semis or the finals if you make it through, so get your comp singlet off immediately after competing and try and keep things uncrumpled etc.

The duration of registration the day before the climbing day itself is at least 1 hour, but you don't need to be there for the entire hour. You do, however, need to be at the technical meeting which usually follows registration, and starts exactly on time. It is at this meeting that any special info about the routes or rule changes are relayed to you. It is also at this meeting that you are introduced to the head judge, routesetter etc.

23-Nov-2005
1:42:17 AM

In isolation, noone will give you the chance to get on the wall. You have to push in. Once on the wall, people will literally be grabbing holds that are in front of your stomach in the hope it will encourage you to jump off, thereby giving them space to traverse. Stand your ground, or you'll get no climbing done at all.

The quarter finals, or "qualifiers" commence early. ie by 9am the first climber is on the wall. You will do one or two routes depending. If you have never competed before, you will almost certainly be up as one of the first 6 or 7 climbers. Train for this. Being primed and ready to perform by this early hour, and perhaps having to climb with sunlight streaming in the window blinding you.

Time for viewing the route will probably be 6 minutes. Ensure you are standing at the door waiting BEFORE they call your division. This will ensure you are at the front of the queue, and are therefore first to the base of the wall. This buys you up to 15 seconds more viewing time than everyone else.

Bring binoculars for the viewing of the route, and ensure you have practiced using them in the gym. Understand their range.

Have a stopwatch with you for the viewing time, and set it going from the second the doors are opened to allow the competitors to stream through. It is surprising how quickly time passes in viewing, and you will want to know how much of your time you have chewed through monitoring the first few moves :-) If the stopwatch is in the form of a wristwatch, you may choose to time yourself during the actual climbing as well, to save the hassle of asking the judge, who's first language may not be English, how much time you have left on the route.
23-Nov-2005
1:42:45 AM

The route you will be climbing will be marked "Women" or "Men" as the case may be, and the rope will probably be strung up and clipped into each of the quickdraws on the route. If the route wanders, ensure you are aware of the quickdraws you have to clip into. Do not miss any!

Multiple colours are used in World Cup routes. This is possible because there is only one route on any given path at a time. At the end of the qualifiers, they strip the route completely and set the semis from scratch. Same again after the semis in preparation for the finals. Hex holds and features are in unless otherwise specified.

You are allowed to touch the holds on the wall during viewing, and even put a foot on a footer if you want. Just don't leave the ground with both feet or you will be disqualified.

I noted that some climbers that wear slipon shoes seem to ensure they stay on during heelhook moves by literally using finger tape to strap them down.

There is lots of cheering for local climbers, for most of the moves they make. If you are next up after a local climber, do not fear. The cheering does not necessarily mean a massive highpoint, and you therefore should not allow crowd noise to intimidate you.

When it is your turn to climb, the clock starts ticking essentially from the second you leave the secondary isolation area (or transit zone). For this reason, some competitors literally run from transit zone to climbing wall.

They don't wait for quickdraws to stop swinging before bringing out the next competitor. If you find it daunting knowing where the previous climber got to, then don't look up. Just focus on the opening moves.

The commentation is likely to be in the local language, so if you find this annoying, perhaps a bit of training in blocking out annoying background noise is in order.

When you are climbing in the quarters, it is very early. There won't be as many spectators as for the semis and finals. Also do not count on the crowd cheering you on. You are not one of their locals. Train yourself to know how to motivate and talk to yourself on the wall to make up for this.

While knowing how to reverse moves in the event of an error is crucial, don't count on it being possible. The routesetting tends to prevent you from doing so.

Underclings seem to be a common theme as they allow for big long moves, and body tension. Make sure you have good body tension.

Routes are often wandering and through rooflets, and as such many quickdraws are really long. It is difficult to clip rope into a long draw as it is rather unstable. It is easier to bring the quickdraw to the rope. Climb up so your waist is above the bent gate, then literally grab the quickdraw (gently so it can't be seen to be aiding your climbing) and bring it to the rope and clip in this way.

Long quickdraws in the roof or hanging over rooflets are often a hassle to get the rope to. A good strategy is to tap the quickdraw and set it swinging. Then pick up the rope, wait till the draw swings your way, and hey presto.
23-Nov-2005
1:50:28 AM

Kneebars seem to make a regular appearance. In Kranj, the mens final had three of them. One double kneebar, one single kneebar, and one sideways kneebar. This will mean the route will be very long. The purpose of kneebars, aside from maybe permitting a little rest before forcing you through a fiery bouldery sequence, is to provide entertainment for the crowd when you dare to remove your hands from the holds and wave. Kneebars are often found behind large protruding features and in the roof.

As mentioned, finals routes are long and seem to feature a long traverse with roof lip heelhook style stuff going on.

Remember, you are not only a competitor. You are also entertainment for the crowd. As such, expect the moves to force you to be entertaining. Ensure you know kneebars and figure 4s. The final will almost certainly feature a cut loose move on which you go immediately into chickenarms mode. Practice dealing with this.

In semis and finals, learn to read the crowd. If you've been getting a bunch of cheering and it suddenly goes quiet, it is quite possible you've made a terrible sequencing error, or missed a crucial rest.

The semis are finals are done towards the end of the day when there is darkness so spotlights can be used. This is much better for the TV coverage.

If there is a superfinal, it might be prepared in lightening time, especially if a speed climbing event is to follow, and especially if this is restricted to a time schedule due to the fact it will be televised.

And as for uniforms: light blue as a base colour with white writing is not a good colour combo, as the name of the country isn't very legible in pics. eg the Italian singlet.
23-Nov-2005
1:12:27 PM

"chickenarms mode." I'm not familiar with this term, please explain?
- Stevovice

23-Nov-2005
3:17:54 PM

Jac, a lot of your observations are really no different from observations I made at this year's Oceania Comp.

I tend to expect very little of myself in the higher end of things, therefore simply enjoy myself to bits. By saying I expect little of myself, I do the best I can, but know the chances of me making a final are very slim... it free's me up to enjoy the whole experience.

Anyway - enjoy the rest of your travels.
24-Nov-2005
12:31:33 AM

Hey Jac,

Great work on the whole trip write up. That first comp description really had me in suspenders.

God luck with the next one, I'm sure you'll kick butt.

Looking forward to catching up in Jan for the big day.

Davey
1-Dec-2005
5:04:16 PM

I told my new Slovenian friends about my meeting with the police, and they could not believe that they had fined me. Apparently this is very unusual.

Un-beknown to me, Žiga and Martina had engaged in a flurry of phonecalls, contacting local climbers to determine who was climbing during the week, and if I could go along. They organised climbing partners for me, and even arranged for someone to come and pick me up! I met my ride at the end of the street Žiga's house is on, and as such on the main road of the village of Predislje. I couldn't work out why we were meeting there rather than at the house, though I knew there was a reason and this surfaced a couple of days later. I'll hold you in suspense over that one.
1-Dec-2005
5:05:52 PM

On Wednesday, Anze (pronounced "An-je") came and picked me up, and we then collected the others – one of whom we collected from the university. He was hilarious. He got in the car, smiled heaps, said "You are from Australia?" and when I said yes, he opened his Atlas and said "I have many questions!", laughed his head off, and proceeded to ask a collection of questions on the geography of Australia, the population (I didn't know the answer), about the platypus and so on.

The guys had warned me to bring lots of warm clothes – which I had. Sadly, they had neglected to do so. As we drove towards Osp, it was snowing, and they knew they were in for a cold day. The temperature reader in the car said it was -1 degrees outside, and I thought "What am I DOING??!! At home I won't leave the house if it drops below 13 degrees! And now I'm planning to climb in freezing temperatures!" We arrived at Osp, and it was still snowing. According to the guys, they had never seen this happen at Osp before, and I was privileged to see it happen.

The scene is just gorgeous. You drive through this mini-town where the roads would be barely wider than the car, and the buildings go right to the edge of the road. The reason for this is to keep the wind out. We all did a few climbs each. I was wearing a singlet, thermal, fleece vest, fleece jumper, 2 pairs of pants, and beanie for each climb. Then the wind picked up. There is a wind specific to this region, called "Boria". It is really strong, and had been forecast to hit 120km per hour that day. Things got cold and I was also wearing all my stuff plus my downie and gloves and goretex while belaying. I was trying the most nails hard 7a (23) I have ever encountered, and my hands were too cold to tackle the crux moves (of which there were three in separate places). On of the crux moves was an enourmous reach onto a sloper followed by a delicate balance to position on a jug. But I couldn't establish on the sloper due to being unable to feel my hands. This was rectified by climbing in all my clothes plus downie, beanie AND gloves, and ditching the gloves about one third of the way up the climb. It's all about delaying the moment when hands meet freezing cold rock.

At the end of the day (4pm) we were frozen solid and rushed to the car, where we ate all the food supplies we had (the guys had forgotten to bring food of significance, so it was good fortune I'd brought an ample supply, including the all-important chocolate. Then we all went for pizza and then the guys kindly delivered me back to the house.

1-Dec-2005
5:09:40 PM

On Thursday, it was back to Osp with a different bunch of people, including Žiga (whose house I was staying at). As per the prior day, it was snowing during the drive to Osp. So we stopped for a coffee. The Victorian climber in me wondered why we were stopping. You need to get on with it and get to the crag and climb! However, it was still very early and very cold so the delay was a good idea. We dropped a couple of guys off at Misja Pec (pronounced "Mishya-Petch") where they were planning to do some steep stuff. I opted to go face climbing where I could learn. Conditions were much warmer and I thrashed myself on some vertical stuff. More learning. At the end of the day when we reconvened with the Misja Pec team, they said they'd had a good day – one of them had climbed his first 8c (33) that day. There seems to be so many people knocking out these high grades over there!

After that I went to the local climbing club meeting where there was a slide show happening. There were more alpine climbers in one room in this small town of Slovenia than all of Australia has to offer. This is of course on account of our differing climates. At night, I remembered that I was headed for London the following day, and had two days to spend there. I kicked myself for neglecting to contact Dave and Amy, who have recently moved there. A couple of hurried sms messages back home to ask for their contact number fixed that. Un-beknown to me, Dave assumed I was still in Melbourne, and calculated he'd hear from me in two or more days.

1-Dec-2005
5:12:06 PM

On Friday I swapped email and mailing details with Žiga, and was confused by the mailing address he'd written. He'd written the house number and the town, but no street name. When I asked him about it, he said his street didn't have a name. In fact none of the nine streets in his village have a name. Why bother when there are only 9 streets? Just give them all a number and that will do. This does mean, however, it is sometimes tricky to explain to people how to get to your house. This, I decided, was why it had been arranged that I meet Anze on the main road and not at the house the day I climbed with him and the other guys at Osp. It all falls into place.

Žiga's father had spoken highly of a wine called "Teran"… a local specialty. As such I had decided it would be an appropriate thankyou gift to the family for having me to stay in their home and headed into town to acquire a bottle. While I was there, I got an sms from Martina, who claimed to be feeling well enough to climb already, and was off to the bouldering gym. She invited me to join her, and as I had time to do so before my flight, I happily accepted. For some reason, the driver of the number 5 bus that was supposed to take me back to the village of Predislje was insistent he wasn't going there. I was really confused. He said "Number 6". When the number 6 came it was a half hour before it departed, so it was quite a rush to pack my bags. Martina came and picked me up, and we headed to the gym.

Martina indicated she would do only "easy" routes because she still wasn't well. Of course, the definition of "easy" is relative. She was knocking off some pretty hard problems! She was also ultra-keen to make up new problems for me to try, which was excellent, because the problems reflected the style of climbing that limestone demands, so I learned a couple of new tricks. The junior team from the Ukraine showed up while I was there, because the Youth Cup was on the following day.

The day before, Martina had been entertaining herself painting some rocks, and gave me a lovely rock with some really cool lines through it as a souvenir to take home. After than, she kindly drove me to the airport, and I headed to London.

When I arrived in London, I gave Dave a quick ring to check what his weekend schedule was like and to see if he had some time when we could catch up. He and Amy invited me to go and stay at their place, and off I went. I arrived, we went straight to the local pub for a quick beverage, and I was thrilled to find Hoegarden on tap there.

1-Dec-2005
5:13:37 PM

On Saturday we headed into town for a quick shopping mission, where I purchased a present for my dad. Then we went to the gym and I sample some British indoor climbing, where it is clear that in order to make a climb harder, you just make the holds further apart. Possibly so far apart they are unreachable. Other points of interest is that in the gym, you can practice your trad climbing skills, placing gear in artificial crack lines etc whilst also roped up on the safety of a toprope. There was also mention of multi-pitch climbing indoors, though I didn't go out of my way to see it.

We did a bit of socialising after gym, and then I was completely exhausted and retired for the evening.

1-Dec-2005
5:17:14 PM

On Sunday we headed out to do a bit of the obligatory tourism thing. We went to the queen's place for a cup of tea, but she must have forgotten we were coming, because she was not at the gate to meet us. Maybe it was because it was so cold outside and she didn't feel like leaving the comfort of the heater. So we instead amused ourselves watching the guards and wondering how bored they must be, and then walked to the end of the British Empire estate (a seriously long road with lots of massive houses), via some food and hot drinks, and off to see Big Ben. By that stage it we were so tired and so cold we headed back, via some more hot drinks and a trip to the supermarket. And at this point I have to mention that it is possible to buy individual chocolates from the Quality Street collection… therefore excluding the crappy ones!! I swear I was in heaven. I also noted that England has a mint version of the Terry's Chocolate Orange, and purchased one as a gift for a friend back home who was helping to keep an eye on my house.

I packed up my stuff, and we all discussed the attire that Dave and Amy should wear to the c--ktail party they were attending that evening. I then thanked them heaps for their hospitality (to shield me from the shock of London prices, they kindly cooked food for us all at their place each day). I then scurried off to the airport to catch my flight home. I was really looking forward to getting home to some warmer temperatures, and to seeing all my people.

After the usual queueing that is involved with boarding a plane, I acquired my boarding pass, and did some last minute shopping in the airport and got on the plane. It was a pretty full flight, so no change of a whole row to myself to lay down. That said, the seat beside me was vacant which I was very pleased about. A guy came up and asked me if I wanted to swap, and I was not keen to head to his cramped seat and give up my spacious one, so I stayed put. It was difficult to sleep on this flight, partially on account of the fact one flight steward had a very heavy footstep, and paced up and down the aisles a lot, knocking everyone as he passed and accordingly waking us all up on a regular basis. However, I only watched one movie and read a couple of chapters of my book, and don't recall spending hours sitting there doing nothing, so I must have slept a fair bit regardless.

We arrived in Singapore, and ahhhh the welcome warmth of the climate. Nice. Onto another flight to Australia, which touched down at 5.30am. Home! Warmth! Friends and family! Woo hoo!

1-Dec-2005
5:19:52 PM

This trip has been an incredible learning experience for me, and accordingly for you, I hope. I was privileged to participate in World Cup climbing events – a concept which I imagine would have sounded completely unachievable had it been suggested to me when I first started climbing 11 years ago. I was able to experience the kind of routes that are issued in World Cup competition, soak up some atmosphere, meet people from all over the world, and learn what does - and does not, work in terms of training etc. I hope I have succeeded in relaying some of these learnings and experiences to you in an entertaining fashion.

A side note that I forgot to mention in my earlier post of tips n tricks is "thou shalt not climb for 2 full days prior to competition, and "thou shalt not do tourism walking for three days prior to competition". I broke the latter rule and got really tired.

Something else it is not helpful to do, girls and boys, is hit your head against really hard surfaces. It is not helpful for general wellbeing or for climbing well in competition! I don't mind so much that this occurred…. I have had an incredible year, and have been fortunate enough to do things on rock and in competition that I had always assumed would be out of the realm of possibility for me. I had a great comp in France, so I know how it feels when things are going really well, and I also know how it feels when things start to go wrong. It sounds strange, but I thing having experienced both ends of the spectrum will be really helpful in establishing a strong focus during comp season next year. If a couple of things start to go wrong, I know how to address them. If I hit my head hard, I know to write everything down and pretend the piece of paper is my coach. Don't leave it up to your own brain if it isn't working too well!!!!

1-Dec-2005
5:23:26 PM

As I said, I've met some really great people… some of whom were from countries I knew nothing about. For example, I found the Spanish and Basque people to be really lovely and hospitable, and welcoming of those travelling alone. I met people from Eastern European countries such as the Ukraine, and found them to be the most giving people I have ever known. I quickly learned it is important to start cooking your camp dinner BEFORE the Ukranians. If you don't and they catch you without food, they will literally be offering you theirs. If you say no it is a little offensive, if you say yes you are possibly leaving someone a bit hungry that evening.

My perception on Slovenia changed dramatically in 7 days. When I arrived my lack of education on the country meant my entire knowledge of it was based on what I see on the news. Slovenia = Eastern Europe = wars and civil unrest. Quite the contrary. Slovenia no longer considers itself part of Eastern Europe, but in fact Central Europe. It is a place where the villages are so small they don't need street names, just property numbers. It is a place where the high ranking competitors, though hideously famous in their country, are merrily baking cookies for the competition after-party. It is a place where the whole town (literally) unites and helps to co-ordinate your week and ensure you have a memorable stay. It is a place where internet usage is free in a café if you buy a drink – and if noone can be bothered asking you which drink you would like, then internet use is completely free. It is a place where you can't have the polenta with your lunch because potatoes are apparently the specialty, but you can have as many home made red wine shots after the meal as you like - gratis.

| | |
| --- | --- |
| | There are 168 messages in this topic. |
Home | Guide | Gallery | Tech Tips | Articles | Reviews | Dictionary | Forum | Links | About | Search
Chockstone Photography | Landscape Photography Australia | Australian Landscape Photography | Landscape Photos Australia

Please read the full disclaimer before using any information contained on these pages.
Australian Panoramic | Australian Coast | Australian Mountains | Australian Countryside | Australian Waterfalls | Australian Lakes | Australian Cities | Australian Macro | Australian Wildlife
Landscape Photo | Landscape Photography | Landscape Photography Australia | Fine Art Photography | Wilderness Photography | Nature Photo | Australian Landscape Photo | Stock Photography Australia | Landscape Photos | Panoramic Photos | Panoramic Photography Australia | Australian Landscape Photography | High Country Mountain Huts | Mothers Day Gifts | Gifts for Mothers Day | Mothers Day Gift Ideas | Ideas for Mothers Day | Wedding Gift Ideas | Christmas Gift Ideas | Fathers Day Gifts | Gifts for Fathers Day | Fathers Day Gift Ideas | Ideas for Fathers Day | Landscape Prints | Landscape Poster | Limited Edition Prints | Panoramic Photo | Buy Posters | Poster Prints