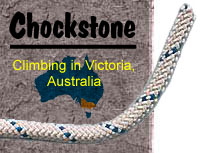 Sponsored By
ROCK
HARDWARE


Chockstone Forum - General Discussion
General Climbing Discussion
Author

| | |
| --- | --- |
| Ben Nevis - Shame on you. What a waste of a crag. | |

14-Aug-2009
10:28:33 PM

On 14/08/2009 howzithanging? wrote:
>what kind of drill bit.. one made by "bob the builder"

Hey mr hoozdongyasuking don't disrespect the Bob - I watch a dvd of his every week. Nevertheless I
can't step away from the fact that a new bit got bluntered. Hindsight is a wonderful thing, and I learnt from
that experience to slow down when drilling in very hard rock, otherwise the bit starts spinning and
overheating....and once the f---er overheats its cactus.

And summit rock is weird, ranges from pure sandy choss to 3 foot long pure quartz crystals....try drilling
in that shit and even bob the builder wouldn't be able to fix it.
15-Aug-2009
6:52:37 PM

If you don't like the run-outs at Red Rock, then go to the North Buttress and climb Big Ben.

I've found Red Rock to be really nice cruisy climbing and the run-outs never really bothered me. Did four routes in a day trip from the eastern side of Melbourne once - no time to clip a bolt every two metres.

JamesMc
16-Aug-2009
11:03:26 AM

http://www.supertopo.com/climbing/thread.html?topic_id=930925
19-Aug-2009
5:10:49 PM

Just read this whole thread and will throw in my bites at the burley it contains...

JBM wrote
>Look - at the end of the day I am all for people creating their individual "masterpieces" to leave their mark on a generation - ie B-Y. However, if the motives for run outs are:

>1) I want to get the first ascent first (read the guide book)
>2) I'm lazy
>3) I could give a rat's ass about who does this route after me ("this route is all about me")

>Then I think we can leave the holy debate on style and ethics behind.

>We are talking sub 18 routes on a crag that does not rate when compared to one an hour or so down the road. Not masterpieces.

&

>Thanks for the discussion - it's pretty interesting when you look at all facets of the issue.
>In this case, I simply propose that it is a irrelevant point - the crag is NOT in Sheffield, is NOT the B-Y, is NOT Araps, etc. It's just a fun crag that could provide a lot more enjoyment if developed better.

Better?
See the Fish Boy post link http://www.supertopo.com/climbing/thread.html?topic_id=930925 (esp Climbing P36 portion) regarding the ethics and style that happen to also go with <18 routes!

Re your point 3. What if I happen to put up a route with that ethic?
Have you considered that the mental challenge involved in dealing with any associated fear/consequence of falling is (for me) the better part of that routes adventure?

~~~~~~~~~~~~~~~~~~~~~~~~~~~~~~~~~~~~~~

ado_m wrote
>Fix it up - it is about time that safety and reasonable bolting standards trump a first ascentionist "rights" to leave a crag in a poorly bolted (thus unused) condition!

… Is this the same fella (thanks ww&s) who started 'Poll - Moonarie and risk appetite' thread?

>Simply no excuse for putting in shit carrots 15 metres apart. I've visited so many little granite crags in victoria with terrible bolting from the 80s that it would be nice to have one with bolts a reasonable distance apart (ie 5 metre).

>While appreciate it may not be that desperate in nice weather within your grade, but when it starts pissing down even a low angled slab can be treacherous to climbers well within their grade...

>The first ascentionist don't own the crag, and so if someone wants to spend their time and money retrobolting to make the route safe by reasonable standards then best of luck to them....sure, ask the first ascentionist to be polite (if you can find them), but if they've got a problem with it then screw them and fix the route up so it can be enjoyed safely in a variety of conditions.

?
You will find a lot more bolts getting chopped with this 'screw you' attitude that results in retrobolting.


~~~~~~~~~~~~~~~~~~~~~~~~~~~~~~~~~~~~~~~~~
gfdonc wrote
>All this debate about bold first ascentionists is misguided. All the slab routes I ever bolted were hand-drilled, so long runouts were simply about minimising the amount of hammering required.

>If I'd owned an impact hammer back then, the outcome would have been different.

?
You surprise me with this gfdonc.

Re 10/08/2009 ado_m wrote:
>Well gfdonc, you must have loads of FA around the place with carrots -
>honestly, if I asked politely would you be cool with me retrobolting your
>lines, assuming it was done in a decent fashion?
gfdonc
>Well, probably, yes. Depends on the route.
>However, in some cases it's been done already, as might be found if you trawl the older postings on Chokky. Neilo's done more than his fair share as usual. However I always thought I had been misunderstood by the masses for the first bolt on Frankenstein and the Were Turkeys, the whole point of the route was to clip the first bolt without falling off and sliding down the gully, after that the fun was over.

You seem to be contradicting yourself here ie advocating one bolt is enough?

Re 10/08/2009 Fish Boy wrote:
>A question of ethics? I took a bouldering pad because I'm a pussy.
gfdonc
>Yeah, that's the other example I keep getting asked to defend. I confess, these days I rap down it and clip a sling to the first bolt. Still don't think it needs another bolt in it though.

More contradiction? … ~> though I thank you for leaving it bold!


~~~~~~~~~~~~~~~~~~~~~~~~~~~~~~~~~~~~~~~~~~~~~



re 10/08/2009 Fish Boy wrote:
>I wouldn't mind doing Clouded Queen soon, but the 30 hook moves scare me.
>If there was a bolt every 3 metres the route would be much more popular.
>What a waste of a climb. The rock is here to serve us.
simey replied
>I wouldn't be using Clouded Queen as a good example for this argument. I reckon the hook pitch you talk about sounds like one of the more stupid pieces of climbing in Australia. Drilling thirty holes for direct aid so that a pitch will 'go' is pretty questionable. Drilling thirty holes but failing to place a bolt, thus facing a dangerous/deadly fall onto a ledge is even more silly.

Fish Boy
> It isn't all drilled, I heard there was a bunch of natural placements, but yeah, it I agree with what you say.
simey
>There is probably some decent (non-drilled) aiding on the other pitches.

There is, and the technical crux is actually lower down, but the hooking section is the mental crux, and for some people these days, is the whole point of doing the route! ~> & to that end I agree with Fish Boys following post too.

(Fish Boy later wrote)
> I'm sorry if you missed my point rolsen regarding Clouded Queen.

>If the rock doesn't suit you, go somewhere else. The first ascentionist stepped up to the task of interpreting how to move up the rock and future parties need not modify the character of a route, just their own abilities.

>Believe it or not, some people actually enjoy runout slab. 15m is not far at all, and if it is to you, look elsewhere.

>Is this a hard concept to grasp?!?!?!

~~~~~~~~~~~~~~~~~~~~~~~~~~~~~~~~~~~~~~

Sarah Gara wrote
>How do you climb a blank wall without "murdering the impossible"? The author adopts a style that lets him have his pristine adventure and climb it, ground up, too. The result: the Bachar-Yerian, a mental testpiece that still defines boldness and traditional climbing twenty-eight years later.

Good point.

ajfclark wrote
>Usually I have an idea of what I'm in for before I start climbing it though.

Good point.

BA wrote
>Climbing is about variety, not homogenisation.

Good point.

~~~~~~~~~~~~~~~~
JBM wrote
>Bolting, by nature is bringing down the rock/route to your level of comfort. By definition, if you are going to place a bolt then you should bolt reasonably.

Why? I regard the ground up FA as a legitimate (and historical) precedent to place nil or minimal bolt/s. Safety for followers is their concern, especially if they choose to adopt the style of my ascent, and this extends to even climbing the route in the first place!! If they aspire to bettering my style of ascent this does not automatically equate to placing more bolts!
~> Here is a thought ... I predict that one day future ascentionists will be looking to eliminate bolt-use on ascents, just like free ascentionists today look to eliminate aid-climbing in their 'free' ascents.

>Bad bolting is self-indulgent. Call them "test-pieces" - I call them selfish acts of waste.

>If you're such a hard ass - then don't place bolts. If you're going to go to the trouble of marring the rock and whacking in a first ascent using bolts - then do it properly.

& Fish Boy replied;
>What you call bad bolting is a reflection of stance drilling a slab. A FA doesn't have a prescribed bolt pattern to follow so that others will be safe. If the FA is an onsight, ground up attempt, then the climber will deal with the issues of an ascent on the way up in whatever matter they choose. Anyone who follows naturally has the same chance of experiencing what happened on the FA.

>Being bold and self indulgent are the reasons so many people climb. It is worth strivin
19-Aug-2009
8:03:46 PM

On 19/08/2009 IdratherbeclimbingM9 wrote:
>>
>?
>I do NOT always choose to feel safe on a climb when I am leading
>one. The risks I am prepared to take are integral to the experience I seek.
>

Great points M9.



Just because someone can climb 18 for example, doesn't mean they should climb 18. Sure the physical moves may be 18, but climbing outdoors is about the mental - if you want repetition and boring routes, climb in gyms.

Don't be an egotistical wanker about numbers so every time you need to climb to your grade limit. You go to the You Yangs and straight away have to drop 3 or 4 grades because even if you're comfortable doing the moves, you don't want to fall. This is only dangerous if you approach the place with a gung-ho attitude, and don't give the FA and the style of climbing the respect it deserves.

Victoria has great climbing because of the range of styles available, why would you think to make them all the same/sane?
| | |
| --- | --- |
| | There are 85 messages in this topic. |
Home | Guide | Gallery | Tech Tips | Articles | Reviews | Dictionary | Forum | Links | About | Search
Chockstone Photography | Landscape Photography Australia | Australian Landscape Photography | Landscape Photos Australia

Please read the full disclaimer before using any information contained on these pages.
Australian Panoramic | Australian Coast | Australian Mountains | Australian Countryside | Australian Waterfalls | Australian Lakes | Australian Cities | Australian Macro | Australian Wildlife
Landscape Photo | Landscape Photography | Landscape Photography Australia | Fine Art Photography | Wilderness Photography | Nature Photo | Australian Landscape Photo | Stock Photography Australia | Landscape Photos | Panoramic Photos | Panoramic Photography Australia | Australian Landscape Photography | High Country Mountain Huts | Mothers Day Gifts | Gifts for Mothers Day | Mothers Day Gift Ideas | Ideas for Mothers Day | Wedding Gift Ideas | Christmas Gift Ideas | Fathers Day Gifts | Gifts for Fathers Day | Fathers Day Gift Ideas | Ideas for Fathers Day | Landscape Prints | Landscape Poster | Limited Edition Prints | Panoramic Photo | Buy Posters | Poster Prints