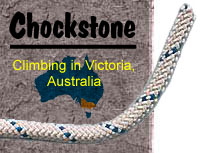 Sponsored By
ROCK
HARDWARE


Chockstone Forum - General Discussion
General Climbing Discussion
Author
7-Dec-2013
5:09:30 PM

Very sad news has come through that John Ewbank has passed away in New York, sometime in the last 24 hours.

At this stage we have no more information than that.

Lost for words.

Rest in peace, John.




7-Dec-2013
8:55:54 PM

Blerrie heck, this is very sad news indeed.
My condolences to his family and friends.






Post edit 14/12/13;
I have been stunned by this event and like onsight, lost for words prior to now because of it.

I did not know him personally, though I feel as if I do because of climbing some of his routes; knowing some of his history; having read some of his writings and heard some of his songs; plus reading of connections of others to him reinforcing the strong impressions I gained from that.

Our climbing community and its ongoing legacy is the richer for his contribution to it, and now somewhat poorer for his passing.

I feel the loss for Aussie climbing, and know it must be even harder for his personal friends and family.

I am thankful for the climbing legacy we gained from him. It is a rich inheritance indeed.

Rest in peace John.

8-Dec-2013
5:19:44 AM

Legend.
9-Dec-2013
9:39:51 AM

That's very sad news. Condolences to his family and friends.
9-Dec-2013
9:16:30 PM

Vale John Ewbank

'Blasphemy!! A gross transgression of taste and I curse God for the rest of his life on both moral and aesthetic grounds'

Johns passing is an absolute tragedy, and his presence will be greatly missed by many.

A legend of Australian climbing, and a personal hero of mine, I am glad for the time and climbing we managed to share a few years ago. Was looking forward to further climbing with him on his planned visits that will now sadly never come to pass.

The Blue Mountains, and indeed the whole country, is so peppered with Ewbank routes to the point that I dare say if you have not at some point climbed a Ewbank route then you have not really climbed . . . The cliffs would be a lesser place without his contributions, and will not seem quite the same without him.

I almost expect that somewhere a cliff crumbled at his passing as a mark of honour, or that DogFace stiffened its resolve to hold itself together better out of respect . . .

Hopefully we can organise drinks next weekend at the Ewbank Room at Mt Vic for a bit of a wake . . . I know I will be marking my respect at the Dog at soon as I have the chance.

Vale John, Keep climbing and leave the rope fixed, we will be following at our leisure,
Off belay mate, RIP . . .
Macca
9-Dec-2013
9:44:39 PM

Not a bad musician either.
10-Dec-2013
2:16:52 PM

He will always be remembered each and every time we do a graded climb. May he rest in peace.
10-Dec-2013
9:27:18 PM

John Ewbank - Remembrance/Memorial

I will be at DogFace on Saturday for the purpose of marking Johns passing - DogFace was one of his favourite cliffs, he really enjoyed the untangible 'specialness' of the place, it certainly has a 'feel' to it that other cliffs don't have . . .

So please, come along and check it out - if you are up for it. I'll make sure to have some ropes for abseiling/climbing whatever, and John willing I'll get on something on the day . .

For those not quite up for that,(most people??) I would propose that we gather at the Ewbank Room at Mt Vic pub from say 4 or 5 in the evening for a memorial bevy or two (before heading off to Mikl's slideshow? Can you dig up any John shots you might have?)

Anyone interested? Please pass it on ….
In memorium . . .
Macciza

11-Dec-2013
3:50:47 PM

Is there any further information about JE's death? Any search I do ends up referring to the original Chockstone post above.
11-Dec-2013
6:06:22 PM

John passed away on December 2, in New York as a result of tragic complications following emergency abdominal surgery earlier in the year. He had already suffered a number of hernia operations, as well as a knee and hip replacement.

A memorial service is to be held in New York this coming weekend.
John Ewbank 1948-2013
Sunday Dec. 15 at 2pm
Riverdale-On-Hudson Funeral Home
6110 Riverdale Avenue
Bronx, NY 10471

Not sure of any particular requests but please donate to Blue Mountains CragCare or BushCare or similar. John had a great love for the Blue Mountains, beyond the cliffs and into the bush and landscape itself. He will be returned the area he loved best. Perhaps a fitting tribute to him can be organised by the community in the new year.
So play his music (if you have it) or play on one of his climbs (if you can) with a mark of respect for the tragic passing of an icon of Australian climbing.
11-Dec-2013
8:01:37 PM

"I think what you have now achieved can be looked upon as a model for all future controversies

on all routes on all cliffs everywhere in the world. I especially like the sensitivity you have shown in your decisions to colour

match the bolt-on holds to blend in with the colour of the rock. The Spaniards especially could learn a lot from this.

Also your decision to use a simple painters plank for traverse sections shows a rare sensitivity to the

situation at hand: The French (for example), would have opted for the permanent scaffold and moving walkway option.




I especially like your addition of the holds at the off-width section because of my own sorry state, what with my

left knee replacement and left hip replacement; The thought of climbing this section has had me shitting my pants,

and I was intending to write to ask you to widen the off-width to a squeeze chimney so that I could (hopefully) shuffle up

inside the bastard, but I think your addition of the (brown) holds on the wall sounds like a far more elegant solution.




The lat-long co-ordinates are a brilliant addition and it is an outrageous oversight that these had not been added already.

Some people just don't care, I guess that's the take-home message.




I'm off to spend a day in the bucket of my cherry picker; I'm going down to the local bouldering area with a dozen cans

of high-friction spray paint, just to give the upper sections a bit of a spruce-up. "
.....John Ewbank.
I never did get to show him my handywork on the Spartan. Rest in peace
11-Dec-2013
10:20:09 PM

Sad news indeed.

I climbed with John way back when (hence my user name!) Or to be more honest, I followed him up many of the (then) big aid routes on Dog Face etc, mostly him leading, using my gear! But I did manage to lead some sections.

Many good memories, and reminders of what it's like to be young.

We spent two nights on Goliath, the first on a comfy wide ledge, the second on plywood belay seats. A peg pulled out when he was about 50' above me on the last pitch, and he fell when I was half asleep. Fortunately the other pegs didn't unzip. The last pitch was longer than my 180' double ropes, so I was off belay and we were double climbing for a while. Given that half the pegs came out by hand, this wasn't terribly peasant.

On our attempt at Echo Crack, the Primus choofer ran out of petrol, so we refilled it by candle light. Not a good idea, and it more or less exploded. We threw the ball of fire off the ledge, and it started a very small bush fire way down below. I retrieved the stove a few weeks later, and used it for many years, even with the dents.

His toilet habits left something to be desired. On one first ascent he called out to me just as he started to piss. Thanks mate. On another, he wasn't taking in the slack, and I had a large loop below me for quite a while on a free section. Despite numerous "take ins" from me, the slack just got bigger. Eventually, it all got taken in, and when I got to the top his excuse was "Oh I had to take a shit, so I tied you off to that tree. I knew you'd be OK." Thanks mate.

I lost touch with him when I started work in 1969, although he worked for me on Lord Howe Island as a fieldie when I was surveying the vegetation on the mountains. I'm not sure if he was afraid of flying, but I recall that he was definitely flying before he boarded the sea plane used in those days. Never offered me any!

Truly a great climber who completely changed the scene in Sydney and Australia.

We knew we were immortal in those days. John's death reminds me that that just ain't so.

So long John, it was great climbing with you. I wish I'd had the chance to say this earlier.

John Pickard
11-Dec-2013
10:42:06 PM

I didn't know John, only made his acquaintance very briefly during a visit to Nati a few years back. But tales of him were an inspiration in my younger climbing days. The stories of his first visit to Victoria in the early sixties are hilarious. He actually went with the VCC to Sugarloaf where the club had a hut in those days. He and some of the younger VCC members (?including Peter Jackson) appalled the old-guard with their behaviour and Ewbank stole Pete Smith's girlfriend. An article by Lyle Closs in an early Rock has a photo of Ewbank during that trip at Hanging Rock, on the first ascent of Gladiator Groove : It's actually low down, before the crux sections and bolts. The rope hangs runnerless from his waist and you can almost see festoons of moss hanging from the holds.
Vale John,.
"As I was saying... " first words of the Ewbank preface to the VCC Central Victoria Guide by Chris Baxter

Edit : Not sure if Pete Smith is correct, maybe Andrew?
11-Dec-2013
10:48:32 PM

Thank for that John - absolute classics . . .
Would love to chat with you about the early DogFace ascents, John certainly loved that cliff, as do I. We managed to get in an ascent of Jormangund when he was out here in 2009. Heading elsewhere just would not have had the same satisfaction for him . . .

In fact it reminds me that I have not actually done Goliath, only back-aided the top half on rappel to salvage gear after some friends bailed halfway up it many years ago, swearing they would never go back - hmm, sounds like fun, thanks for reminding me and they beta . . .

From the way he talked about the early days he would have thought it was great climbing with you too . . .
11-Dec-2013
11:21:37 PM

Thanks John,

It was a pleasure knowing you.


12-Dec-2013
4:06:29 PM

Hi Macciza, Send me an email off-list (john.pickard@bigpond.com) and we'll see if we can set something up. I think I can find my old climbing log book. Has all the dates, etc. I also have slides from those days, never scanned them, but I think I can find them given enough notice.

Another memory very appropriate this time of the year. I forget when it was, but four of us: Ewbank, Pickard, Alec Campbell and Steve (Blue) Lucas) went to Bungonia Gorge. JE & Alec to try a route on south face, me and Blue one on north face. We all piked off. But we spent a great Christmas (and my birthday) relaxing in the sand in the bottom of the gorge taking turns to read out loud chapters of an Emile Zola book (the Charles Dickens of France) that I had with me. Pretty grim book, like all of Zola's.

Tragically, Alec was bi-polar, exacerbated by the shit he endured from the army when drafted during the Vietnam War, and later shot himself in about 1968 or thereabouts. Blue died in a motor bike accident. Both have plaques on the lower RH side of Dog Face. Now that John has also died, looks like I'm the last man standing.

Like me, John had a VERY prominent nose. One Easter at the 'Bungles, he and Dick Smith (yes THE Dick Smith) put routes up the west face. But on the way up the track, John had tripped, and the weight of his pack with all the steel crabs etc. of those days, pile-drove his face into the ground. He kept moaning "Feel my nose, I think it's broken." Maybe it was, but like mine, it was pretty bloody ugly before anyway!

Unfortunately I won't be able to get to Mt Vic this Saturday for John's farewell. Make sure that you don't get too maudlin. He wouldn't have appreciated that! Tell all the old stories, and make sure you embellish them with generous doses of bullshit. Now that he would have liked.

John
12-Dec-2013
4:21:05 PM

From the Central Victoria Guide edited by Chris Baxter.

.As I was saying. The Cretlins of Hysteria are not unique as a race. The people are generally small in stature, with miniscule minds, contemporary pygmies in a world of Stunted actions and ideas. Naturally they feel very at ease in the flattest continent on earth, where even the mountains are stunted down to beaten stumps, and throw off only apologies in place of shadows.

The Cretlins love to live in groups, but fail at both and instead they exist lovelessly alone in clubs and families. For the Cretlins' principle rule is to obey the Cretlin Guide to Cretlin Consciousness, which states, quite clearly "Any lie is better than none, and two Cretlins is better than one," and ends on the Victorious chant "Once a Cretlin, always a Cretlin. Cretlins for ever. Ra Ra Ra".

The Cretlins are happy living in Hysteria, for not only is it the flattest continent on the planet, it is also one of the driest and hottest, where the sunshine and lethargy are most conducive to living out the Cretlin way of death, and following the Cretlin Creed of Active Outdoor Sporting Activities. Hysterial Cretlins have become Internationally Famous as Good Shortsmen, as Cricketeers, Sufis and Gloflers. The males of the nation are the world's criterion of Good Fair Shortsmanship.

In recent years a new sport has taken a hold on the hearts and minds of a small but very enthusiastic number of Hysterials, while remaining unknown to the rest of the Western World. This is the sport of Rock Skiing. I have heard of fanatical Cretlins driving anything up to three thousand miles in a weekend to get to their favourite rock or clifface. It is in fact to tell you about this that I agreed to write this foreword to your Rock Climbling Gum boot.

You are familiar, I have no doubt, with the traditional forms of skiing. In snow skiing one proceeds downwards, across a snow covered hillside, assisted by gravity. In water skiing one travels horizontally across the top of a hole filled with water, assisted by a speedboat. Rock skiing is revolutionary. A Rock Skier travels straight up the sides of cliffs, assisted by a jet plane and steel cable.

Perhaps you can imagine the thrill? An indication is the great rise in popularity of the sport. All the Cretlin Rock Climbling Clubs in the country have now been taken over by the Hysterial Rock Skiers Association. No Rock Climblers can be found anywhere. They are skiing up cliffaces at speeds up to 765 m.p.h., (the current national record), or haggling in the Rock Skiing Shops, trying to trade in great piles of lumberous climbing equipment on a new pair of Bryden Moss stainless steels with universal ball bearing tips.

"Central Wisteria", said Big Crackster, "a foreword of a few hundred turds". "Small cliffs", he said, "and scattered". That's all right. It might be a short ride, but it will be a good take off. A fast landrover and a stout rope will be adequate for your first attempt. Here is the Rock Climbers Guide to Central Victoria, but who will be the first Cretlin to ski up Seven Acre Rock? He will be forever remembered in the anus of International Mountaineering Literature as a true Hysterial. An Arab amongst the bank clerks.

John Ewbank,
Cretlin Mansions,
Sydney, September, 1973.
12-Dec-2013
10:22:52 PM

Cheers JP

Will certainly be in touch to set something up, would love to see more of that era documented before it is too late . . .

Will have to organise a plaque for John on the Dog for sure ( don't worry there will be space reserved for you, and me as well . . .) Will have to give it a little thought and throw it open for suggestions ..

Dicks been contacted, as have many, many others of his disparate friends around the globe. We can only be where we are, so don't worry just tip a glass where ever you are. Most likely the characters that will be able turn up will be well steeped in stories and will surely be able to raise sufficient hell to satisfy the ettiqual requirements of the night, just have to wake and see. There will be a more organised event at a later date . . .

Cheers
MM

PS. Your Illustrated Glossary of Aussie Fences is pretty cool, impressive work . . .

12-Dec-2013
10:23:05 PM

Nice work Macciza with your tribute to the man. I'm sorry I won't be there on Saturday as it would be great to share a few stories about John. I'm sure it will be bloody funny.

As draining as John could be on a personal level, his energy, ability and creativity in the world of climbing were quite extraordinary. I imagine him as Vincent Van Gogh, where now that he is gone we will savour his contributions to climbing more than ever; from the many superb routes he established around Australia, to his grading system, his writing, his performing, and his incredibly passionate approach to climbing.

I only climbed with John once, when along with Malcolm Matheson we established The Big Loose Corner in the Blue Mountains in '93. It was three days spent climbing utter rubbish, but it was certainly memorable for a bunch of reasons and in the ensuing years I did keep in touch with John via email.

All I can say is that John was obviously doing it tough the last decade as you can tell by this passage from an email he sent me in 2005...

> I had over an hour of really heavy duty sex last night and my back is killing me. The woman I am doing the business with at present is a lot younger than me and and I have been suggesting to her for several months now that she ought to be having sex with at least one other chap to give me a bit of a break, but she will have none of it; She insists that she is into the old monogamous relationship racket. All very well for her but she's going to put me in a wheelchair. Either she starts screwing around or I'm out of this relationship. A man can only do so much; My poor little willy is totally exhausted and now my back is so bad I can hardly walk and still she expects me to be as hard as the man from uncle. She can jerk herself back to the stone age as far as I'm concerned. My health is more important than her orgasms, and if she is not gracious enough to start having a bit on the side then so be it.

I could waffle on for ages about all sorts of funny shit regarding John, not to mention his genius in climbing (and I barely knew him). Even if you never met John, I reckon it would be worth going on Saturday just to listen to some of the stories and raise a toast. I'm sorry I won't be there. I hope you all make a great day of it.


12-Dec-2013
10:39:46 PM

Thanks Simey
Yep, how often we don't quite realise what we had till it's gone . . .
And damn another route reminder - What a line that one is, so what if it's utter rubbish when you get up close and personal, it's a bloody impressive looking line from the lookout. There is always the Big Arch Corner to go if you ever get up this way . . .

Absolute classic John, I could literally hear his voice despite my laughter . . . .
Mind you I could't help but also think how funny it will be to get the inverse version of that of you one day in the distant future when you finally find yourself all shagged out . . .
| | |
| --- | --- |
| | There are 56 messages in this topic. |
Home | Guide | Gallery | Tech Tips | Articles | Reviews | Dictionary | Forum | Links | About | Search
Chockstone Photography | Landscape Photography Australia | Australian Landscape Photography | Landscape Photos Australia

Please read the full disclaimer before using any information contained on these pages.
Australian Panoramic | Australian Coast | Australian Mountains | Australian Countryside | Australian Waterfalls | Australian Lakes | Australian Cities | Australian Macro | Australian Wildlife
Landscape Photo | Landscape Photography | Landscape Photography Australia | Fine Art Photography | Wilderness Photography | Nature Photo | Australian Landscape Photo | Stock Photography Australia | Landscape Photos | Panoramic Photos | Panoramic Photography Australia | Australian Landscape Photography | High Country Mountain Huts | Mothers Day Gifts | Gifts for Mothers Day | Mothers Day Gift Ideas | Ideas for Mothers Day | Wedding Gift Ideas | Christmas Gift Ideas | Fathers Day Gifts | Gifts for Fathers Day | Fathers Day Gift Ideas | Ideas for Fathers Day | Landscape Prints | Landscape Poster | Limited Edition Prints | Panoramic Photo | Buy Posters | Poster Prints