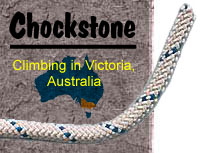 Sponsored By
ROCK
HARDWARE


Edelrid: "Ultralight Helmet" (Turquoise) Mid blue .Fits 54 - 60cm Great heavy duty all-rounder. SUPER SPECIAL for a short time only! $79.00
21% Off

Chockstone Forum - Trip Reports
Tells Us About Your Latest Trip!
Author
28/08/2008
3:09:26 AM

Pilier Lomasti, Sylvie
Val d'Aoste

http://good-times.webshots.com/album/565656859pdIFLj

The Swiss Germans Christof and Alex had me over for last New Year's Eve…and once again out it came, this tale from a seemingly mythical age long ago when Christof was a lithe 18 or 19 year old: he was pulling over a ledge after a splitter looking to traverse a tad and found bats looking him directly in the face annoyed at having to make space for his size 6'5" hands. "Rod, The Rose and the Vampire is really well named". I vaguely recall thinking "…except there's no splitter as its in a different route but hey, its the same wall and why get in the way of a good story from some bloke with a third bigger mass than I carry around?". Piss-talk was all it seemed to me, there's SO much good rock and so many great settings in that valley that it's likely to be just more of the same.

So began my experience of Pilier Lomasti.

Thereafter, Alex had been at me right through to May "Rod, the Pilier Lomasti this, Rod the Pilier Lomasti that, Rod me and Christof climbed the Rose and the Vampire last weekend, I'm telling you, everything he says about the place is true".

Finally I said, "fine, Christof raved about Sylvie that night, ask him what he reckons."

Alex sometime later: "Christof says it's hard. A long series of pitches that are vertical to overhanging, crimpy and tiny pockets…small holds…followed by a long section of pitches that at first glance seem more slabby but end up on pockets and are really hard…small holds. It was really hard when he was a lithe youngster, there's no hope of getting him to go up that route now."

"Right…let's give it a go sometime this year".

Pregnant pause. "Do you really think we can do it?"

"Sure Alex, what's the worst that can happen? We reach checkmate, fall, rappel off. We'll lick our minor flesh wounds and do another route once the adrenalin wears off. You in?"

"OK Rod…lets do it!"

The second last week of August swings by and Alex has had holiday space and been after me for several weekends but I've been pursuing other things in my climbing (getting prepped for Wolfgang Gullich in Sardinia). The weather hadn't really been cooperating with my work induced weekend sentencing anyway so it didn't really matter but I'd been hard single pitching for a couple of weekends and decided that if I want to get WG done this year I'm at the point where I need hard 7 to 10 pitch multi's. It was time for some of the bigger outings that I've got in mind as build up.

So there I am on the usual mid-week scan of the weather: Sunday's forecast was good after a clearing day Saturday, so the call went in to Alex…he was liberated from all commitments in about 5 minutes and raring to go!

That decided, Saturday I played at a site near Branson in great temps: bagged a PB on the 2nd go and generally felt great…which usually means a rest day is needed.

Sunday dawned, I'd slept badly and I was feeling decidedly sluggish. Alex arrived by 8AM so we had coffees in Branson before launching off to Italy via Gr St Bernard. It was a day with the bright blue skies that I've only noticed at these latitudes, G accompanied us having decided a day in the sun was a great idea. Over the border we cruise down past the slate roofed houses of NW Italy. Another coffee stop (well worth it here). We pull off the autostrada at Verres before parking and the 45min approach via Sanctuaro Machaby.

In the last 25 minutes to our right we have Corma Machaby or Il Paretone, a fantastic dome of A class quality Gneiss on which we'd done a couple of routes on last winter/spring. Less steep than Lomasti, it's quite comforting to look at given those experiences. Pilier Lomasti somes into view late in the approach, shaded. Dependent upon where your eye is cast it's a pleasant looking stroll, a crimp fest/horror show or an overhang fest/horror show. I'm more suited to overhangs, Alex the crimpy stuff : I thought to myself "we've got it covered".

I took a look at Sylvie: plenty of horror for both of us but more me than Alex. He nominated me for pitch 2…great.

Alex's lead. 4b, he strolls it (these "easy" pitches oft turn desperate, don't knock-it).

The "warm-up" dealt with its time to get it on.

Ding-ding round one: crimpy start, very feet based before overhang 1 of the pitch that is like a small open-mouthed cavern. I surprise myself and make it to the cavern with only a minimal struggle and notice it traverses a bit from here…"hmm…what was that bit about traversing and bats?"…I look inside, not a bat to be found.

I look over the roof onto a very technical traverse and assess the moves: left below the roof, tough passage to get established above the roof, clip, technical well protected traverse of 10 metres or so heading right with one feathery looking clip, then a rising traverse of several metres to the next roof and a clip then the roof. That's all I can see. I give it a lash but don't send it clean. Give it another go and the first tough section succumbs, the traverse also and the second roof goes relatively easily.

Alex sends up a "bravo, I'm happy you're through those overhangs".

"I'm not so sure about that Alex, this next patch looks to be more your style of crux than mine; I reckon it's the hardest part of the pitch".

I give it a shot, it's thin, crimpy, vertical and very much dictates exactly how the sequence goes. I get 4 of the 5 moves done and then reach for the draw below in a semi-fall/slump. I can't get quite enough out of a hands/feet transition to reach the last crimp. "Hmm, I could clip then try again." I put a short sling onto the last draw then repeat my way up but slot a foot into the sling then stand more steadily to reach for the last crimpy side pull. With a last feathery, slightly shaky from effort, move I manage to clip. I ask Alex to lower me and redo the section but still can't manage to get enough out of the sequence other than to weight the rope slightly coming out of crimp 4 trying to set the last foot in order to get at side crimp 5. I let it go and finish the remaining section of the pitch on finger pad wide crimps into juggy side pulls.

I'm happy with the job done, it would have been a tough onsight on the bottom section but for me that wasn't the hard bit…that 3rd crux definitely exploited my weaknesses (perhaps I could change that if I lost weight but that would be cheating).

Alex comes on up, we exchange a few laughs at the belay and pass a few minutes letting him detox a little. I feel fairly good by the time he arrives, not pumped at all which is a good sign for the rest of the day.

Ding-ding round 2. juggy start, a bouldery looking, evil little overhang into a nice vertical section with fissures and face holds. He goes, he's 3 clips in pulling and breathing hard, he tackles the overhang and reaches to a jug, establishes the feet…this is in the bag…"BRAVO Alex!"…he falls!? Transitioning onto what looks easy to below all is lost: no tremors of effort, no desperate search for holds…he's just off.

The Swiss German expletive of English origin is let loose.

"What happened?"

"Nothing, it's just really hard, maybe more your style".

He rests then gives it another shot and establishes himself via a rockover, makes it to the next clip and downclimbs to a rest. "Way to go Alex!". He takes it on again, fights through the flash/mind pump for the rest of the pitch and gets there…great job!

I give it a crack and take the bouldery option on the bolt 3 section above the depart, wrestle the body mass into position on a solid left hand/sketchy high feet pose then let fly with a dyno to what looks like a right hand jug…and bag it! I was so nearly off! I layback/fridge-hug my way over the bulge completely ignoring the crimpy face climbing option that blew Alex away. I'm quickly through, breathing hard. Settle it down before climbing using a mix of cracks and face holds to about 4 metres below the stance. Then its kinda hard into the finishing section, I make it through for an onsight second but it required a bit of observation and cool thinking.

"Hey Alex…good job in holding it together in that last passage, that was tough, kinda run out, I had to fight right there."

We've got a good stance. Sunny. I'm pumped, I'm sure he's happy to see that, we've 2 more vertical and equally hard pitches to go before the guidebook suggests it backs off a little. I take a 10 minute de-pump mind/body break. It's a great spot to find yourself in, really well situated. I look down - directly below G is lying in the sun tranquilly reading Joe Simpson's The Beckoning Silence. Alex munches through the last of his Snickers. I finish a muesli bar.

We assess the next section…"looks more Alex than Rod!"

Alex suggests a left side approach so I head that side of him but it seems better from a low pocket and side pull to the right so I downclimb and re-position on the other side of him.

Round 3 (…that f…king bell just got thrown off the ledge from now on it's Apollo program style…this shit is seriously hard). The Rocket's ready, time for launch.

I go: crimpy…pockety…vertically…hard for a body massy likey, thaty! I feather through clip 3 and I'm still on…through clip 4 and its starting to back off…high step left foot and reach right to a pocket, its nasty, ring finger piercing but enables clip 5 to go down…"oh this hurts, maybe if I'm quick to get off it"…apply tension, try to transition the weight to the left foot and hop the right up but its not going to happen…Alex urges me on…I keep pressure on the right hand, the pain is starting to get insistent, the left foot goes down…try a tension move again, its not enough…the RH needs more pressure, then I need to load the left foot…I try again, it doesn't feel right…"f..k I can't think through this pain"…I grab the quickdraw.

"GRRRR!"

Reset the system. Look at it all. That high-step was a BIG mistake, made the clip easier but I should have resisted and made several moves to the same position then froggied. Oh well, accept and move on but that cost a tonne of energy. I make the series of moves into a small roof trying to de-tox through 5 to 8 metres of easier 6b climbing. I create a rest and reassess it as "one roof then a bit of shaky, fatigue induced stuff before the chains, climb smart and it's easy". Up I go, find a way then downclimb, up again, too torched, downclimb, repeat the up/downclimg twice more, slump. 1min rest then its go again - easy to the chains.

I'm cramping and feeling pretty spent.

We've 2 pitches before the next crux pitch. I look up, one short section looking every bit of 6b and then it's slabby. I'll have time enough to recover if Alex can get through the next pitch.

"Alex, DEPART!"

He dogs his way up through the low crux right from the get go, this pitch is his style of climbing so I assume it's tactical to save energy. The only other party on the face rap down during Alex's ascent and offer up that they'll take some photo's. I accept gladly and ask them to speak with G for our email address, Alex is over the roof.

Round 4. Alex launches into the next pitch to take his on-lead glory moment in the sun under the glow of a camera. He does it proud and they continue their rap…his turbo-prop motors sputter and he falls nearing bolt 4, too funny! A bit of a rest, then the crux goes easily as he sticks the left foot onto an edge before strolling up a slab section to the chains 20 metres away.

I join him fairly quickly thereafter, I made a minor error exiting the crux, which, tackled slightly more to the right was beefier but simpler. Overall it wasn't as tough as I expected. However, I'd been cramping through the crux and was doubting my shape for the last tough pitch a little higher.

Round 5 is a break in the action. I recover through a lovely stretch of easier climbing on great rock through pitch 6. Clip the chains, take off the shoes, pull the rope through and install the belay then lie in the sun to bring Alex up in auto-lock mode before decision time: last hard pitch of Sylvie or piss-weak alternative. As Alex is climbing I'm reflecting on it in the sun: we've only had one move necessitating aid and that might be eliminated with time to work it once more. "It'll go", I think to myself.

Alex arrives looking OK, prepares for the weak alternative. I suggest we tackle the last hard pitch of Sylvie: "let's not leave any regrets up here Alex, this is such good climbing. It merits a last ditch effort. I've looked at it and there's one section that looks thin that seems like the crux only because you can't pull through on bolts. Give it a go with a tactical focus on that section…even if we have to pull through the rest".

"You are right Rod"

Cut to round 6, clip two, through a water-runnel style basin. Alex is looking good, he uses 3 good pockets to re-establish on the face, clips then tackles a semi-mantle, he falls/slumps. He's torched and nearly empty. Has another go, a red-hot go and passes. Pulls 4 bolts thereafter and faces down THE section. Pockets enough and a good part of a crack should allow him to re-establish higher, one more move on a big pocket and he should be able to get the draw in. He makes the move and, trembling with effort, tries to position for the clip. He fights…and fights…and fights. Then takes a fall of 3 to 4 metres. I was ready for the impact but get body slammed into the rock.

We assess for consequences: he's fine, I've cut a foot.

I lower him off, he's spent. We strap up my bleeding foot, once again I'm glad he's brought a repair kit, then I pull on my shoes and head up there on top-rope unclipping his end, re-clipping mine. I get through the lower stuff to just below the last clip clean then Alex suggests batmanning, "the next section needs power and you've got to re-position the rope in that next clip anyway." I'm still on, think it over and decide he's right…I don't feel like I've got enough juice, I have to let this go. I batman a couple of metres, re-clip and review the section.

He went left, what's right? Maybe I could reach from the left hand pocket at the bolt for that edge nearly a metre up, crimp with right hand, smear the left foot to get the other into that pocket on the right level with the bolt, match on crimp, try and find something for the right hand a little higher then weight the right foot enough to get the left foot into the pocket at the bolt. Thereafter I may have the feet high enough for a reach either right for another pocket, if there's one, or crimp like mad and reach higher for that thin part of the crack.

I give it a whirl and there's enough to reach for a pocket out right then I'm just able to reach the crack better positioned for the following moves to the next bolt. I'm slightly right of where Alex got to and can now layback off one of the pockets to enable the clip. That done I slump, knackered but in good spirits.

I look down smiling, "Alex, we're through this pitch".

With a short recovery period I get enough juice back and engage in some more pocket climbing then with a move left onto a fingerpad wide ledge the last of it's done. I clip the next set of chains and chill out, look at the river coursing through the valley below and enjoy a moment or 2.

With just one 6a looking short vertical section remaining in the next pitch, it's done and we rap down past what we came up. Alex organised the raps, I'm brain and body dead, and guided me through a walk off that spared us a last rappel.

Pilier Lomasti, Sylvie: 4, 6c+, 6b+, 6c, 6b/b+, 5c, 6c+, 5c (we finished via a 6a variant). Unlike many another it is all it's cracked up to be.

The grading is pretty solid: I felt fairly strong that day, I've come to expect onsights of 6c/c+ this year and that didn't look like happening on any of the 6c's. However, someone lighter, more flexible and more observant who also onsights this level 80% of the time can expect to nail it on a good day as I firmly believe the grading is correct for that style of climbing and quality of rock. I'm glad it wasn't soft.

A big thanks to Alex and Christof for their inspiration, support, friendship and mentoring.
28/08/2008
6:01:04 AM

Excellent trip report, Rod.

Reading that was a good way to begin what is going to be a pretty crappy day of work.

I is jealous.
28/08/2008
8:41:37 AM

Great report Rod - thanks.
28/08/2008
10:46:37 AM

A good read, and you describe the experience well.
Also great to have accompanying photos!

Some memorable lines that could easily slip into a movie script! Heh, heh, heh.
... like this quote;
>"Sure Alex, what's the worst that can happen? We reach checkmate, fall, rappel off. We'll lick our minor flesh wounds and do another route once the adrenalin wears off. You in?"

>"OK Rod…lets do it!"

Interesting to see a glimpse into 'twin rope and a rack of draws style' for long, long, sport routes.

| | |
| --- | --- |
| | There are 4 messages in this topic. |
Home | Guide | Gallery | Tech Tips | Articles | Reviews | Dictionary | Forum | Links | About | Search
Chockstone Photography | Landscape Photography Australia | Australian Landscape Photography

Please read the full disclaimer before using any information contained on these pages.
Australian Panoramic | Australian Coast | Australian Mountains | Australian Countryside | Australian Waterfalls | Australian Lakes | Australian Cities | Australian Macro | Australian Wildlife
Landscape Photo | Landscape Photography | Landscape Photography Australia | Fine Art Photography | Wilderness Photography | Nature Photo | Australian Landscape Photo | Stock Photography Australia | Landscape Photos | Panoramic Photos | Panoramic Photography Australia | Australian Landscape Photography | Mothers Day Gifts | Gifts for Mothers Day | Mothers Day Gift Ideas | Ideas for Mothers Day | Wedding Gift Ideas | Christmas Gift Ideas | Fathers Day Gifts | Gifts for Fathers Day | Fathers Day Gift Ideas | Ideas for Fathers Day | Landscape Prints | Landscape Poster | Limited Edition Prints | Panoramic Photo | Buy Posters | Poster Prints