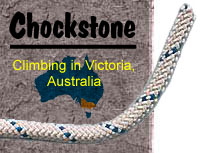 Sponsored By
ROCK
HARDWARE


Black Diamond: Super Chute Rope Bag. Volume 25 litres. Single adjustable shoulder strap. Rope tarp dimensions: 146 X 126cm. 400d nylon. Assorted colours. (Holds up to 80M Rope) Only 2 left! $39.00
44% Off

Chockstone Forum - Trip Reports
Tells Us About Your Latest Trip!
Topic
Date
User
Another Mt Arapiles Trip Report!
Wednesday, 9 November 2005 At 3:29:18 PM
oweng
Message
There seems to be a bit of a lack of trip reports on the site of late, though I might post some rambling comments about a recent sojourn to Araps. Its been sitting 3/4 finished for a while. No photos im afraid.

I arrived solo late Saturday night of the Queens Birthday long weekend. I couldn't believe how busy the place was. It was difficult to find a parking spot, let alone a place to camp. Still I managed to squeeze in to the bottom of the pines, wedged my bouldering matt into my tent and kipped down to recover from the effects of a cumulative couple of days of sleep deprivation due to Spirit of Tasmania boat discomfort and get togethers with friends in Melbourne.

Sunday dawned sunny and mild, and I dragged myself out of the tent to see if I could find a couple of NSWelshers who I had exchanged some emails with the aim of joining for a few routes. Not having expected the campsite to be so busy, we had exchanged rudimentary tent descriptions expecting that to be enough. A quick look around at the 100 odd tents and some quick negative responses from the few tents that seemed to fit the description was enough to convince me that a return to bed followed by some afternoon bouldering was the ticket.

After a quick trip to Nati for some supplies I stopped in at a strangely deserted Dec Crag. After some warm up solo's on a couple of the easy classics I threw myself at a boulder problem on the side of the Braindeath boulder facing Dec Crag. This problem, featuring a thin start to a poor high pocket and a juggy top out had defeated me a couple of years ago and needed to be knocked on the head. This was achieved with a minimum of fuss after working out the pocket is best used as a pinch for the right hand, whilst throwing with the left hand for the high chalked jug.

I was joined by Nick and his girlfriend from the Uk, and after we knocked over a few more problems, I was able to talk Nick into leading Little Thor (20) on Dec Crag. Nick hadn't really done any climbing in the last year due to a huge holiday he had been on, but after a quick look at the grade comparison table decided he was up to try the sweet looking line. Unfortunately after the first 3 or 4 metres the lack of recent climbing (and last hour of bouldering) kicked in, and with forearms pumped he lowered off. I quickly suggested we top rope the line, but a withering look soon convinced me that I should have at least a cosmetic attempt at the lead. Having heard numerous stories about this route seeing some big falls, and stripping gear, I placed pretty much everything I owned in the crack up to the roof, including a nut directly underneath the roof, and another nut immediately above it. This got me thoroughly pumped, but I was unconcerned as I figured as soon as I got my feet above the roof I would get a good rest and an easy finish. Imagine my disappointment when I pulled the roof to be confronted with no rest, and a pumpy looking leftward rising traverse. Grumbling and moaning I somehow made it to the top. This route seemed technically pretty easy to me, however its pretty sustained and pumpy for its length!

Buggered if I can remembered what I did with the rest of the day. I suspect it involved chocolate, footy on the radio, and more sleep in my tent.

Monday morning dawned with another unsuccessful attempt to locate those elusive NSWshers. After breakfast I decided some exploration was in order, and took the guide and my climbing shoes to the Pharos Gully region. A quick stroll up Ordinary Trees (6) a big corner system located just right of Tiptoe Ridge proved a pleasant if uninspired start to the day. I descended back down Pharos Gully, and went looking for Huey (18) a classic right leaning finger crack. After a bit of bashing around in the scrub I found it lurking behind a tree. Awesome orange looking rock and a beaut looking line. I had seen a photo of this route in Rock Magazine that didn't make the route look that great, but looking at it in the flesh certainly inspired me to climb it (someday when there is a rope handy).

I then scrambled around the back of Voidoid Pinnacle and found Barefoot in the Park (8). It looked really good, and proved to be so. Would be awesome for somebody just starting to lead, with plenty of good pro, but also a degree of steepness with thoughtfulness required. The only setback was the descent, which seemed to take longer than the climbing. All part of the fun though.

My exploration continued with a look at the nearby Heckle and Jeckle Area, which features a black slab, with a steeper orange wall to its left. On the black slab I found Rush of Blood (13). This started slabbily up a bit of a crack, which soon fizzled out, leaving a run-out leftward trending finish on good positive little 'slab-jugs'. I thought this was pretty good value, although by Araplies standards its a bit of a hike to get into. I quickly ran up the easy corner line separating the black slab from the bulging orange buttress to its left.

It was by then time for some lunch, so I waltzed back to camp. Mmmm mussels!

After a solid meal of them, I thought I would flex mine on the Pharos, and made my way up to tackle The Shroud (10). This was dispensed with quickly and easily, and after enjoying the view, I started to solo down. Id had done this a few years ago and remembered it being pretty straight forward. I made my way down the tricky off-width corner near French Crack without to many problems and squeezed through the hole to reach the top of the big flake. After scrambling down the inside of the flake for a few moves I realised I was going to have to move to the outside and down climb above the void. Suddenly moving from a secure chimney/flake to a face 20 or 30 metres of the deck was pretty disconcerting. This was probably the crux of the afternoons climbing for me. I made it down safely.

I then spent an hour bouldering on the caving boulder. With my fancy new bouldering matt I figured I would be able to knock of a couple of problems that had eluded me in the past due to lack of ability to commit to the top out without a spotter. I managed to 'tick' the problem to the right of Caving, which was satisfying.

After leaving my tent to look after itself for a couple of days whilst I went visiting family (good to see those Aarat cops are still Robo-cop like in their determination to pull over any vehicle containing me as a driver or as a passenger, see you later $205), I returned to meet up with Chockstones own Mike Boniwell for a couple for days of 'classic ticking'.

Being midweek on a winters day, we thought it would be a good chance to have the Watchtower Faces to ourselves and set off to climb Mantle (14). This three pitcher takes a cleanish streak to the right of Brolga on the Right Watchtower Face. After watching with increasing incredulity as three other groups of climbers arrived to tackle other routes in the vicinity (bye bye serene mid-week winters day!) I tied in and struck out up the first pitch. After getting over the shock of finding the crux within the first 3 or 4 metres, I stuck in a RP, and found away around the crux by jagging off to the left, then followed the nice slabby quartzite goodness to the large belay ledge. Mike scurried up behind me, and took over the lead. I was very impressed with his first placement of the deck on pitch two, which featured a 1 Wild Country Zero cam (for those of you not familiar this is an itsy-bitsy tiny cam only rated for aid climbing) and a cunningly equalised tiny nut (with about 90% of the nut sitting outside the surface of the rock). This was indeed slab climbing jiggery-pokery of the highest order, soured somewhat be the turning up of good gear a few metres higher which rendered it sadly redundant. Mike wound his way up the second pitch through what looked an intimidating steepening and disappeared from view. Using a 60 metre rope Mike was able to get all the way to the top and I soon joined him there. With a few showers threatening, we had a look at Kitten Wall, located immediately above the Right Watchtower Face.

Towards the right hand end of Kitten Wall I jumped on Footloose & Fancy Free (19). This face climbing route starts a few metres right of a similar route called Hendrix, charges up to a rest, before a leftwards traverse with good small cam protection in horizontals leads to a steep finish. Hanging around trying to slap in gear at the finish was a very pumpy experience, but overall satisfying. Mike then leaped on Siamise Crack (15), a glassy and bulgy looking jam crack. Alarm bells were ringing at the guide books description of this route as a jambing 'test piece', but Mike passed the 'test' with flying colours, jambing up the steep and sustained start with aplomb. When my turn came I managed to thrash my way up somehow. I found this a pumpy and strenuous route for the grade, but then when are jamb cracks not? (yeh I know, they're not when you know how to jamb......). A rain shower forced a quick scamper back to the carpark and some lunch.

The darkness of the lunchtime cloud cover, and the seemingly high likelihood of some serious drenching made some short routes in the vicinity appeal. We made our way to the bottom of Yesterday Gully where I jumped on a (15) who's name eludes me just to the right of Running On Empty. This route was an absolute ripper I recon. It gets one star in the guide, but is worth two in my opinion. It starts up the left side of an arete, moves around the arete to the right past a tree, then trends up and right on long reaches up overhanging rock on big jugs. With plentiful protection available this would be a great route for a grade 15 climber to jump on. Once on top of the buttress we chucked a top rope down Running on Empty (21). I'd managed the on-site of this sucker before christmas, and enjoyed reminiscing about past glories from the safety of the top rope. The big reach back left after the start felt no less desperate than I remembered. Whatever happened to routes feeling easier on top-rope than on lead? Following Mike's tick, we rearranged the anchors and I lowered MIke down Ethereal (20) a route I had designs on leading at some stage. A clean top rope ascent was achieved, but not without a significant amount of vocalised uncertainty on Mike's part. Following his frank assessment that 'as your friend I wouldn't let you lead that route' I threw away thoughts of saving the route for the on-sight, and succumbed to the lure of the top rope. A tough steep mantle type move at the start lead into a strange thin slabby crux that would have felt incredibly insecure on lead (hell it felt incredibly insecure on top-rope). A steep right-wards series of moves then lead to the top out. The route looked to have a good wire placement just below the crux, but overall would be pretty serious for the grade in my opinion.

Thursday dawned wet and moody. Although he rain stopped over breakfast, it looked like it wasn't going far, and much of Araps had a bit of a sheen to it. Mike and I strolled up to the Pharos in the hope that the routes in the vicinity of Oceanoid had stayed dry. To the left of the first pitch of Ocenoid, we found Halfway Dammed (19). This 40 metre pitch weaved its way up a fairly slabbish wall, with two rooves at half height to keep things interesting. Enough gear and some thought required to get through the roofletts made this an enjoyable route. Above the second roof the guide suggested following either the green corner on the left or the orange corner on the right. There is no choice! Orange rock or green rock, take the orange every time.

We rapped of the ring bolts and had a bite of lunch before heading up The Desired (19) on Bard Buttress. Rain clouds were threatening, but I set off up the first pitch. I really enjoyed this route, although I found it a bit greasy in spots. I made the belay ledge just as it started to rain. Mike raced up, grabbed the gear, and quickly set of up the second pitch trying to beat the seemingly inevitable soaking. Enough rain fell to wetten the rock, but by the time Mike made the top it had stopped. We cautiously climber around to meet Alis' and rapped off. An English couple were starting up Euridyce as we recovered our gear at the base of the buttress. Eyeing the regathering clouds Mike suggested we finish the day on something short escapable. Nearby we found the first pitch of Resignation (10) which Mike lead to access the anchors on top of a nice single pitch (21) which we top roped to finish the day. The rain finally caught us properly when I was half way the 21, and by the time I made it back to the ground (after a successful top rope ascent based almost totally on blow by blow beta from Mike) our bags and equipment were thoroughly soaked. A sodden walk back to camp, past the English couple hiding under an overhanging on Euridyce wasn't the best way to finish the trip, but considering the bad weather that threatened for days, overall we were pretty lucky.

Another good climbing trip to Araps. Thanks Mike!

Home | Guide | Gallery | Tech Tips | Articles | Reviews | Dictionary | Forum | Links | About | Search
Chockstone Photography | Landscape Photography Australia | Australian Landscape Photography

Please read the full disclaimer before using any information contained on these pages.
Australian Panoramic | Australian Coast | Australian Mountains | Australian Countryside | Australian Waterfalls | Australian Lakes | Australian Cities | Australian Macro | Australian Wildlife
Landscape Photo | Landscape Photography | Landscape Photography Australia | Fine Art Photography | Wilderness Photography | Nature Photo | Australian Landscape Photo | Stock Photography Australia | Landscape Photos | Panoramic Photos | Panoramic Photography Australia | Australian Landscape Photography | Mothers Day Gifts | Gifts for Mothers Day | Mothers Day Gift Ideas | Ideas for Mothers Day | Wedding Gift Ideas | Christmas Gift Ideas | Fathers Day Gifts | Gifts for Fathers Day | Fathers Day Gift Ideas | Ideas for Fathers Day | Landscape Prints | Landscape Poster | Limited Edition Prints | Panoramic Photo | Buy Posters | Poster Prints