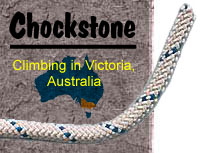 Sponsored By
ROCK
HARDWARE


Chockstone Forum - Trip Reports
Tells Us About Your Latest Trip!
Author

| | |
| --- | --- |
| NZ Rock Climbing Road Trip | |

13-Jan-2005
5:13:54 PM

1/1/05 – Antartic World and Wanaka

Met up with Rob at the airport in Christchurch and had a few hours to kill before Guy's flight was due in, so we visited Antarctic World. I recommend visiting it if you have time; they have a cold room attraction full of snow, ice and an ice slippery slide! Every 20 mins or so, the fans generate icy cold strong winds in the room to simulate the weather on Antarctica, below 0 degrees. It was brrr cccoooolllldd!!

We then headed back to the airport, met up with Guy, hired a car then we drove 6 hours to Wanaka, and set up camp (sleeping bag under a tree!) on the lake, luckily it didn't rain!


2/1/05 – Climbing around Wanaka and Queenstown

At brekky at the Kai Wacha Pai (plug!)– climbers hang out in Wanaka, we decided to visit Roadside Attraction outside Wanaka past the Aspiring Views. During brekky we also peopled watched, with me picking out over weight chicks for Rob to ask out!

At Roadside, Guy led Strawberry 15*, Aratuathai 16*, and Aspiring Arseholes 16* an awesome crack. It was pretty funny watching Guy climb, swear and swear some more as he hadn't climbed in quite a while.

At Roadside Attraction, I was surprised at how easy Schist rock is to climb. We were then joined by climbers from the Chez Republic, NZ and some Pommy folk; it was nice to chat to them.

I led Elvis Trashed His Car 14, a nice face climb, Rob led (I think the term is 'flashed') it after me. Rob and I had an understanding… I called him a lard arse, old man with a gut, and he would try and tickle me until I pee'd my pants!! Didn't work!

We then drove along the road to Queenstown with 500m of bra's on the fence, I was going to add to it, but I only brought one with me and I was wearing it…honest! We stopped along the way for lunch, music blaring in the car, Guy and Rob playing and singing that really annoying song over and over the whole way. I'm not sure what the name is, but it goes 'I love Jack White like a little brother…' not sure who sings it…it's the kinda song that would stick in your head for ages and ages!!

In Queenstown, Guy decided that he needed a wash, so dipped into the freezing cold lake. The expression on his face was pretty funny. Then we visited some outdoor shops in the main streets (R&R Outdoors – plug!) for some local crag information.

We then drove to Coronet Crag; it's on a main road – between Arrow Town and Arthur's Point Road. You can literally drive up to it, park then belay out of the car!! I led Ladder in my Stocking 12, was ok… a bit dirty and dusty. We could tell that not many climbed there.

We then drove to Shotgun to take a look at the speed boat attractions, and then Guy and Rob tossed the idea of throwing me off a bungee bridge, selling all my gear, and spending the money on beer!! They put the idea of bungee in my head…

We then headed back into town for some pizza and wine for dinner, where Guy and Rob 'formulated a plan' to scam and trick the waiter into giving us some free wine… it involved some invisible string and a spoon under the half full bottle of wine… I'm sure you could use your imagination!!

After dinner we drove up the Remarkables Ranges, passed some sheep, passed some more sheep and slept on the porch of the Lodge about 1500m up, what an awesome view it was!!


3/1/05 – The Remarkables Ranges

We got up early at 7:30am so we could trek and climb the whole day….brrrr it was cold! After eating our honey puffs (yum!) and packing up, we started the 3 hour zig-zag trek up the mountain, to the half frozen lake, then around it to the back walls at Lower Alta Buttress, kinda below and to the side of the communications tower.

With me being the ONLY rational one amongst us, I suggested that we wear our gaiters before starting the walk…. 'nah, we don't need them' said both Rob and Guy…. How wrong they were…typical males!

After trekking through the snow and ice, Guy mentioned that we should have listened to him and worn our gaiters!! They gave me shite about it all day, sure mates…. Apparently, it was all entirely MY fault!!

We then climbed The Fat Lady Sings at the Circus, 3 pitch 15** 120m - what an awesome climb!! The trek up the mountain was soooo worth it, along with the spectacular view from the top at 1800m!! What a great and fun experience.

The first pitch is a grade 10 a scramble, Guy led, I seconded and Rob soloed it. The second pitch is a 15 with a slightly scary pumpy overlap overhang move! The third pitch is graded at 12, face climbing and the most fun out of all 3 of them.

We then rapped down, packed up and started the 2 and a half our trek down the mountain to the lodge. Rob suggested that I try crossing the half frozen lake to see if we could walk across the mountain quicker and save some time….not likely!!

Back to Queenstown for dinner; saw heaps of wild sheep along the way, back up to the Remarkables Lodge porch for the night, as we thought it was going to rain.


4/1/05 – Climbing around Wanaka again

We had arranged to meet up with Garreth, Scott, Martin and Jeff (all Brisvegas climbers/ mountaineers) for a leisurely breakfast in Wanaka, so there we drove again past the fence of bra's.

During brekky, the boys told us about their ascent of Mt Aspiring, being stuck in the hut for a week waiting for the crap weather to clear, and bumping into and chatting to the dude whose climbing partner fell off The Ramp and died, pretty sad.

After the bloody HUGE breakfast (value for meals in Wanaka – plug!), we then decided to visit Tombstone and The Engine Block for the rest of the day.

At the Engine Block, we climbed at the Main Cliff first. Guy led The Big Corner 14** a nice corner crack, traverse up to a flake with awesome pro, with an awesome weird move at the crux.

Garreth, Scott and Rob led After Burner 18, a nice wall using a layback style, I thought it was a bit weird… Garreth and Scott also led other climbs at the same wall, including a 21 crack…eeewww! Lotsa lotsa swearing!

We then packed and walked to the Tombstone, my favorite crag in NZ so far!! Awesome Schist rock, with really nice climbs that flowed really well. I led Radiator 12** a cute face climb, Garreth then soloed it….grumble…

Guy then led The Crack 17*, it's the most obvious climb to see while driving past the crag. This climb was my favorite there!! It had nice moves, face climbing, crack climbing, and nice small knobby bits to stand on!

I then called it quits due to a sudden pick up of icy cold strong wind at about 5 o'clock, which made it difficult to climb; I was also still stuffed from the trek up the Remarkables the day before. The others pushed on with Garreth doing a total of 8 climbs at the crag!!

Other climbs that were climbed were Disco Inferno 21 Arete, Rusty Pins 18, Lincoln Blondes Have More Fun and more, these were arête, face and crack climbs.

After watching some para gliders, a heard of cows crossing the road, and the clouds roll in, we retired to the Wanaka motor cabins for the night……a warm shower was just what I needed!!

Subway for dinner then being social, playing cards (haven't played snap in ages!) and drinking red wine! Actually…was a bit of a 'boys' club…


5/1/05 – Bungee and climbing

We left camp at 10am and Garreth joined us for the next couple of days…actually I think he wanted me to see shit my pants on top of a bridge before I jump off of it!! We drove past the fence of bra's back to Queenstown, and to Kawaru Bridge. Being the only girl amongst 3 other guys, I was the only chick to jump!! Guy was scarred, Rob had bungeed before and Garreth was broke!

I almost wussed out, but after some coaching by the staff and cheers from the built up crowd watching, and Rob and Guy waving their arms at me telling me how to jump, I jumped!! It was an amazing feeling of accomplishment, together with a sense of un-controlled helplessnes, I bounced a few times then it
13-Jan-2005
5:35:05 PM

Cool. Good to hear the old brisvegas crew having a good time!
14-Jan-2005
1:51:49 AM

Nice trip report.

I remember Castle Hill well...slippery dip rock on lots of routes but the bouldering was 1st rate!
14-Jan-2005
9:51:25 AM

Good one!

You kids are Baaaaaaaaad!

Sounds like not all the rock over there is choss, only some!
14-Jan-2005
11:09:54 AM

Nice trip report Neats!

How was it travelling around wif all those lads?

J'a reckon NZ would be a good place to live?
14-Jan-2005
4:10:10 PM

Thanks!

I didn't mind being the 'TG' (token girl!), they are a great bunch of lads. NZ is absolutely beautiful, soo many places to visit, not sure about living there though...
14-Jan-2005
6:48:48 PM

Nice trip report. Brought back some good memories.

Coronet Crag has got to be the worst crag I've ever climbed at. Ugh!
16-Jan-2005
9:01:59 AM

On 14/01/2005 Kris wrote:
>
>You kids are Baaaaaaaaad!

Yeah neats, now I know why your mum is relectant to let you have your passport !!

Still can't recall scott's surname, but pretty sure it's the same one on the TMC course I did. Last I heard he was training to fly helicopters.

---------
yep, that's right
17-Jan-2005
10:50:52 AM

On 16/01/2005 Richard wrote:
>Still can't recall scott's surname, but pretty sure it's the same one
>on the TMC course I did. Last I heard he was training to fly helicopters.
>
His name is Scott Feilding.
18-Jan-2005
1:13:44 PM

On 14/01/2005 cameron wrote:
>Nice trip report Neats!
>
>How was it travelling around wif all those lads?
>
>J'a reckon NZ would be a good place to live?

Cool trip, sounds like fun, thanks!

Is that Cameron O'Neill of inside front cover ACT Granite photo fame, caught sieging a project? Thought you finished climbing years ago. By the way I found some mistakes in your Geology writeup in the guidebook!
19-Jan-2005
5:24:04 PM

dat's ok, don't let it happen again!!
| | |
| --- | --- |
| | There are 11 messages in this topic. |
Home | Guide | Gallery | Tech Tips | Articles | Reviews | Dictionary | Forum | Links | About | Search
Chockstone Photography | Landscape Photography Australia | Australian Landscape Photography | Landscape Photos Australia

Please read the full disclaimer before using any information contained on these pages.
Australian Panoramic | Australian Coast | Australian Mountains | Australian Countryside | Australian Waterfalls | Australian Lakes | Australian Cities | Australian Macro | Australian Wildlife
Landscape Photo | Landscape Photography | Landscape Photography Australia | Fine Art Photography | Wilderness Photography | Nature Photo | Australian Landscape Photo | Stock Photography Australia | Landscape Photos | Panoramic Photos | Panoramic Photography Australia | Australian Landscape Photography | High Country Mountain Huts | Mothers Day Gifts | Gifts for Mothers Day | Mothers Day Gift Ideas | Ideas for Mothers Day | Wedding Gift Ideas | Christmas Gift Ideas | Fathers Day Gifts | Gifts for Fathers Day | Fathers Day Gift Ideas | Ideas for Fathers Day | Landscape Prints | Landscape Poster | Limited Edition Prints | Panoramic Photo | Buy Posters | Poster Prints