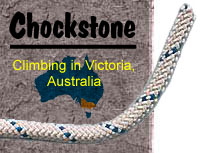 Sponsored By
ROCK
HARDWARE


Set of 11 "Wallnuts" (1 to 11) N/B NEW Anodized colours!!! New "lighter" version. Steve's favourite wired Nuts. $169.00
15% Off

Chockstone Forum - Trip Reports
Tells Us About Your Latest Trip!
Author

| | |
| --- | --- |
| Adventure climbing - the completion of Scythe Slab | |

12/11/2004
11:31:54 AM

On 11/11/2004 A5iswhereitsat wrote: in Response to a PM received from climbau with his 'Scythe' Trip Report in it.
>Sent your normal email a word.doc with some minor suggestions included
>in it.

Climbau
>Yeah the suggestions are great. Could you post it on the forum from your end? I still >haven't sorted my technology.

Done.
~> See Thread; Adventure Climbing - the completion of Scythe Slab.

X-link to original thread; the guts of which is copied below with updated pitch length & grades.

SCYTHE SLAB PART 1:
JOURNEY INTO THE UNKNOWN

A plan had been hatched to go and climb a new line in Victoria's Far North-East.
Several weeks later, the first attempt was made.
The members of this marauding unit were Rod (the mighty Addax) and Andrew (the manic Count); together they schemed to create an adventure of epic proportions.
Rod had been scoping the line from afar for near on 6 years, Andrew for the last 12 months caught glimpses as he drove past and oft wondered if it would "go" and "was it worth the drive". At some stage in a conversation between the two, the seed was planted. On the 29th August 2004, the seed was to germinate.

The length of the line had not been discussed, only the feature, the gear, and possible difficulty. Rod had conversed with a local climber in the early days, trying to work out if the climb had been done before, he was met with the flippant response, "Bah, it's a walk up mate". Perhaps this climber was confused as to the specific line and location, as no sign of passage has been found by either Rod or Andrew so far.
It was decided to take some pitons just in case there were no other belay options or for emergency retreat, other than that, it was one and a half racks of cams, 3 sets of wires, a selection of hexes, quickdraws and slings, plus other paraphernalia.
This was to prove way too excessive as so far 120m has been climbed in three pitches involving 7 pieces of pro plus belays, with nothing bigger than a number 2 HB Quadcam used. This has been dubbed the "approach slab".

The walk-in took much longer than anticipated but was less difficult than expected. It is still worthy of a warning though, as it probably warrants a 'sport grade' of heinous!
The thick scrub of Melaleuca was a wholesome challenge, which led to many a prickly situation. The Lyrebirds sang and the Addax grunted, music to the young Counts ears, "one bush slap in the face, two bush slaps in the face, three…..Ah, ha, ha, ha, ha, ha, har".

(Pitch 1, 45m Gg 12) At the logical base of the slab it was negotiated that Rod would lead off. The first protection point was reached at about 25m, two equalised pieces with a third to act as a directional to counter rope-drag dislodgement, formed this reasonable point of safety. Heading up and left a further 12m found the next piece (again backed-up), before heading up the final 8m to a good belay.

(Pitch 2, 35m Gd 11) Andrew was then to lead off on the second pitch. At about 20m a marginal #1RP placement was found. Later while cleaning it with a slight flick of it's runner Rod said; "I don't know why you bothered!", when looking at the runout above it, consisting of 15m to Andrew at the belay that was three marginal equalised pieces in a biscuit of granite that is yet to leave the mother rock.

(Pitch 3, 45m Gd 10) Rod did not hang around long and set off up the third pitch. At 30m, a marginal #1 friend was backed-up with a skyhook in a nearby solution hole and this was weighted with large cams to, again minimise rope-drag dislodgement. The climbing above was treacherous due to water seepage but not technically difficult, and surely Rod was wishing for a more solid piece 8m below his heels, as well as a more substantial belay. To his credit however, Rod danced his way through to the top to belay amongst the haggard Ti-tree shrubs.

A further 80m of bush bashing brought us to the base of the major slab, mighty and impressive was the line of the "Scythe" that soared above us.

(Pitch 4, 50m) Fearing time and weather (now closing in fast), we soloed two separate lines from the logical start, in order to find a suitable belay point above. 50m later, we arrived at a suitable stance that led to an island of shrubs off to the left. It was decided that this would be belay one of the scythe climb, as a few small bushes were better than nothing at all.

It seemed a long way above to reach the bottom of the feature that curved its' way up the slab; at least another rope length…..most likely more. Where would we belay next? Would simul-climbing a protectionless slab a hundred metres above the deck be the price of our adopted ethical stance ("to make a ground-up onsight ascent")?
It was decided to back off and return again another day as the weather was turning on a slow drizzle and it was 2 p.m with at least five, if not six rope lengths of runout and unknown slab climbing yet to be done.
Yes, we should back off, but downclimbing did not seem a good option!
We traversed off left to the edge of the slab, and set about navigating our way back down.
We descended via a different bushbash route, which took a little longer than the walk up, but was through lush wet sclerophyll forest for the most part. A Lyrebird incubation mound was stumbled upon, with its' guardian nearby sending out the alarm, so we respectfully skirted around and continued through the bracken filled glade. A forest of moss covered boulders and short grasses were the scene of the lower half of the descent. Eventually the open rural paddocks were reached, with a light drizzling rain wetting our shoulders. Looking back, the slabs glistened all over with moisture in the evening light.

The fearless adventurers made their way back to the trusty white stallion that would carry them home to report their glorious adventure to date, and to work on getting back to finish what they had started.

Will our adventurers triumph? Stay tuned for part 2 of the action packed adventures of Rod Addax and Andrew Count.

SCYTHE SLAB PART 2:
THE ONGOING EPISODE; A JOURNEY INTO THE MIND AND WILDS OF ADVENTURE CLIMBING RETRO-STYLE.


31st October 2004 saw a return to Scythe Slab to finish that which we had begun. Our dreams and lives had been plagued by this route since our last visit on the 29th August 2004 and we knew that there had to be closure.

Saturday 30th dawned bright and sunny and promised to be a warm day and a harsh reminder of the fast approaching summer. Rod arrived at my financial source ready for the adventure. As 3p.m arrived, we were off to my residence for a final pack and for me to shed my costume of reality. 4p.m saw our departure, and with a quick stop for fuel and ginger beer! we were on our way to freedom.

It was decided to donate a six-pack of the finest brew in an effort to placate the farmer whose property we would camp on and through which we would gain access to our holy grail. I thought it would also be a good time to "clear the pipes" so to speak, and after I ravaged the local facilities we set off for our campsite.

At the final turn-off another quick look at our prize through the binoculars confirmed what we already knew. The following day was to be long, hot, and run-out to buggery.

Upon arriving at the paddock that we used as a campsite, the sleeping quarters were arranged and a final gear sort and cull was undertaken. We shed nearly 2kg of superfluous weight and were happy with the final choice of rack.

As darkness enveloped us the bush television was ignited and dinner was prepared. For Rod, a hearty feast of cold tinned ravioli in tomato sauce; Myself, I went another dehydrated meal, this time within the use-by date (barely). Rod though happy, was less impressed with his fare ("doesn't taste as good as it did on my solo attempt of Lord Gumtree"), and was most disappointed that I could actually finish my meal this time, without complaining!

Amazingly, the evenings banter was not dominated by the coming day. There was talk of days gone by, past adventures, future adventures and the very highbrow topic of spiritual music. When those topics were exhausted we decided to put the musical theory into action. Out came Rod's harmonica and I produced a cheap Djembe for which to serenade the wild, and win over the "spirits of the mountain".

Now you may be thinking that no good could come of this weird musical combination. Well, to my untrained and uneducated ear, it sounded pretty good considering my inability to maintain a steady beat or rhythm for any significant length of time. Our musical murdering was at least sufficient to tame our desires, but would it appease the gods and persuade them to allow us safe passage up the largest monolith in Victoria?

Sunday dawned chill and clear. A quick meal was et, and we shouldered our packs for the hike to the upper slab.

We battled through untracked scrub up a steep slope for one and a half hours, it was now 8:15a.m. We racked up and decided to measure our original solo in terms of rope lengths.

(Pitch 4, 50m grade 8) I lead off and 50m later (sans pro) was at the "belay" undulation that we had retreated from last time.

(Pitch 5, 55m grade 9) Rod climbed on through and found himself below a dismal shrub with no more rope left, so we simul-climbed the final 6m so that Rod could get to a half-decent belay seat from which to body-belay me the rest of the pitch – (sparse pro: 1 solution hole and one small crack, neither used).
It was decided that a more substantial belay was needed in order to belay for the next pitch. With no time or desire to install a bolt, it was decided to bang a single small knifeblade piton into a closed seam (this was removed by the second).

(Pitch 6, 50m grade 12) I set out up the obvious water streak directly above and soon decided to opt out and return to the belay to attack a different line of passage; a left leading weakness that would take us to our desired namesake feature more directly. Again, failure to find gear placements that I was comfortable with forced me to retreat and relinquish the lead to Rod the ever-faithful Addax.
Rod, with true aid climber cunning, managed to place good protection at my point of retreat, and continued free-climbing up the line hand placing peckers and weighted-skyhooks in solution holes plus a trusty passive tri-cam to protect his journey to the next belay point. This belay proved to be the most secure belay of the climb and was a semi-hanging stance on the scythe feature, off a good small cam, a fair (but too) small nut, backed up with a small knifeblade piton; (removed).
I dutifully followed and paid homage to Rod's bravery and cunning, so naturally I declined the offer to lead through and passed the next pitch to him.

(Pitch 7, 50m grade 11) This pitch follows the upper curve of the "Scythe" proper, and saw Rod place several good pieces only to belay from two abominable dead shrubs and an O.K cam under a 'floater' (semi detached flake).

(Pitch 8, 50m grade 9) saw Rod lead off on easy ground and place a few O.K pieces (the by now usual weighted-skyhook etc) along the way and belay a full rope length out off some reasonable shrubs. Upon reaching Rod, I decided to launch off directly up the final 35m pitch.

(Pitch 9, 35m grade 8) Believing I had the two cams required for the only protection opportunity, I set off only to find that neither of them would stick (possible small to medium cam in flaring overlap) and was forced to run it out all the way to the top of the slab. Finishing into the shrubs over-hanging a slick with moss overlying damp-mud covered exit. After grappling with the shrubs and managing to sling one on the way through, a belay was set and Rod followed.

With the daring duo reunited at the top of the climb, a hearty handshake exchanged, and the obligatory summit photos taken; we made our way to the marvellous vista upon the summit plateau. There it was agreed that the expected feelings of joy and elation were just not there, with Rod commenting about a sense of sadness that such a long-standing and worthy undertaking had now come to an end. At that point Rod produced a celebratory mini bottle of "Directors Special" port and our dehydrated bodies absorbed the liquid gold instantly putting us momentarily into a heady state of calm.

It was during this moment of calm that I came to the realisation that I didn't need to be elated and joyous, I could live with being content, for I knew that there would be another adventure to provide the amplified emotions that I was looking for.
Life truly is in the journey, and contented reflection is the result of true happiness.

With the closing of this chapter in our climbing lives, another one is just beginning as our eyes and dreams turn to new adventures of untold (as yet) joy and elation. What should we tackle next? Will it be that project at the mighty Mt Buffalo, or should we get right out there and hit one of the more remote locations with potential, spied through the trusty binoculars?
The anticipation leaps ahead, to already name the next potential adventure (1.5 km left of Scythe) 'Sickle' being a similar though smaller feature, in likeness to this sojourn amongst the moments we called 'Scythe' 420 m Gd 12.


Andrew Secomb.

Bio: Andrew has been climbing for the last ten years. His adventures have taken him from his beloved Blue Mountains to the mecca of Arapiles and many, many crags and cliffs in between. His current passion for long easy routes drives his search for new routes in Victoria's North East.




12/11/2004
2:24:45 PM

A good read, thanks. Where is this wonder?

My main concern is that the last time I heard the expression "clear the pipes" was in the film Something About Mary, which makes me wonder about exactly how you went and 'ravaged the local facilities' .. but I really don't want to know ...

12/11/2004
2:42:29 PM

> in Victoria's North East.
12/11/2004
2:52:37 PM

yeah - how did you manage to get your helmet to fit correctly with your hair all gelled up.
12/11/2004
2:55:54 PM

On 12/11/2004 Mighty Mouse wrote:
>> in Victoria's North East.

how helpful of you. i think he may have been wanting something a little more specific.

nice report by the way. good to see you dragging andrew out and getting him climbing.
| | |
| --- | --- |
| | There are 5 messages in this topic. |
Home | Guide | Gallery | Tech Tips | Articles | Reviews | Dictionary | Forum | Links | About | Search
Chockstone Photography | Landscape Photography Australia | Australian Landscape Photography

Please read the full disclaimer before using any information contained on these pages.
Australian Panoramic | Australian Coast | Australian Mountains | Australian Countryside | Australian Waterfalls | Australian Lakes | Australian Cities | Australian Macro | Australian Wildlife
Landscape Photo | Landscape Photography | Landscape Photography Australia | Fine Art Photography | Wilderness Photography | Nature Photo | Australian Landscape Photo | Stock Photography Australia | Landscape Photos | Panoramic Photos | Panoramic Photography Australia | Australian Landscape Photography | Mothers Day Gifts | Gifts for Mothers Day | Mothers Day Gift Ideas | Ideas for Mothers Day | Wedding Gift Ideas | Christmas Gift Ideas | Fathers Day Gifts | Gifts for Fathers Day | Fathers Day Gift Ideas | Ideas for Fathers Day | Landscape Prints | Landscape Poster | Limited Edition Prints | Panoramic Photo | Buy Posters | Poster Prints