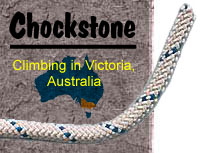 Sponsored By
ROCK
HARDWARE


Black Diamond: Black Diamond "PosiWire" Quick-Draw Sets. (6 Pack) Top: Straight gate Positron. (Anodised Ink Blue) Bottom: HotWire Wire gate. (Anodised Ink Blue) Dogbone: 12cm long and 14mm wide. N/B SIX quick-draws AWESOME value IMO. $19.16 per draw... $115.00
15% Off

Chockstone Forum - Trip Reports
Tells Us About Your Latest Trip!
Author

| | |
| --- | --- |
| A Brief Trip to Frenchman's Cap | |

21/04/2014
11:43:52 PM

Matt and I decided on a trip to Frenchman's in mid Jan after tossing around a few options; in particular the Darrans. We set dates for the Australia day long week end, since there was a reasonable overlap in Matt's leave and my lack of employedness. I took the boat down with the van on Thursday night, did a shop Friday, collected Matt from the Airport Friday evening and we drove to the trail head. It was a very late arrival, close to midnight, so we shared a dram (or 3rd of a bottle) of Talisker (a gift from the lady), then hit the sack.

A slow start to Saturday morning; packing bags, drinking coffee, watching the hikers get a prompt start. Each and everyone one of them carrying a 60 to 70 litre pack, apparently full, for a two to three day trip. We managed to get everything down into our respective 50 or 55 L packs. Not without compromise though, we packed four days and nights of food, no first aid kit (except sports tape), only one bog roll. We came to rue this, and every little thing we carried that went unused (extra gas, too much coffee! (too be fair, if the weather had turned foul, we would have sat it out in the hut drinking tea and coffee)), when we started cutting down our meals to make it last through night five and day six.


Collecting water at the Franklin River / An early stream crossing

The walk in, is by reputation, the most arduous part of climbing Frenchman's. This is no longer the case, thank or blame (your choice) Dick Smith. Much of the Loddon Plains is avoided now, and duck boards cover the worst of it. We still got wet feet, but it was not so bad, even in persistent light to moderate rain. Four hours and twenty saw us to Lake Vera hut, for a brew and bite to eat. Another three hours five got us to Lake Tahune Hut in worsening weather, and strong winds once we hit Baron Pass.

As a climber, Matt is a vastly superior athlete to me; as a pack humping grunt less so. For the hour after our arrival his yelps of pain provided comic relief as his legs cramped intermittently. Tahune was busy that night, at least a dozen people in the hut, at least two of them snorers; a few more in tents. No one else came to climb, though a few of the hikers were also climbers.

Each day began with Matt commenting how well he slept; me countering how poorly I slept, then a brew up.

From Sunday to Thursday we had exceptionally fine weather, despite forecasts to the contrary. Showers late on the Tuesday, after we were back in the hut, notwithstanding. Perhaps the hikers caught out at the summit may have felt differently.

From Sunday to Wednesday we climbed The Chimes of Freedom, Tierry Le Fronde, two different direct starts to TlF, and The 9th of January.

From the Hut, its about an hour to the start of most of the climbs; and the access is far easier than I expected.

Accessing The Chimes of Freedom, involves a scramble up a loose gully on the left side of the face. Caution is advised here, a few times I had to dive to the side as cannon balls were loosed from higher up.

Finishing up the last pitch of The Chimes of Freedom

We soloed the first 50 metres of easy ledgy rock, before roping up and donning rock shoes. A short traverse left got us to the start of the 4th pitch and the real climbing. Matt led off, through pitches four, five, and half of six, where he finally ran out of rope, and found some gear for a belay. Three small nuts, nothing bigger than a WC 3, all shallow, and none good for an outward pull. The guide book recommends doubles of 1 & 2 camalots for pitch five; we carried one of each, both were placed earlier on pitch four, so he made do with a hex and a few rattly tricams.

Matt took the lead again, finishing up the rib, placed a #7 metolius cam, and set off on the 7m rising traverse. It turns out poorly protected traverses are one of the signature features of routes here; and featured in both the other long routes we did. After 7m of delicate and serious (but not hard (think missing link)) balance climbing a rusty peg is reached, which can be backed up with a mid sized cam, before heading up the corner. Matt belayed part way up the corner, and from here I finished up the route, avoiding some of the loosest rock near the top of the corner best as possible.

All up the route took about four and a half hours.


Obligatory Laibach poses on the summit. Berg heil.

We debated climbing another route, but I was keen to jump in the lake whilst the weather was fine.

On the descent, only a few hundred metres from the hut, I got a bug in my right ear. A fly or something. It hopped in as I brushed passed some leaves. I had a horrid, and loud buzzing inside my head. It took a few minutes to calm down enough to explain to Matt what had happened; which was not aided by my strange reflex to cover my unaffected left ear. He could not see anything in my ear, which was in itself pretty distressing. I hurried down to the freezing cold lake, and dived in, trying to wash out, or drown the bug. Which was not very successful. Novelty or anxiety muddled my breathing apparatus and I inhaled whilst underwater. I bursted to the surface coughing and spluttering. After one submersion I saw a millipede or similar swim away from me, and shuddered with revulsion thinking it had been inside me. Then the buzzing resumed. Meanwhile, Matt did the rounds with the well packed hikers, and returned with some tweezers. With which I very gingerly tried to remove said bug. Also unsuccessfully. I tell you inserting a sharp metal implement into your ear is most disconcerting; especially when your ears are the primary tool with which you make a living. Eventually the horrible buzzing inside my head stopped, after about half an hour of fits and starts. I guess it just died in there.

Yes it did. Die . Two weeks after returning I visited to local clinic and explained I thought I had a dead bug in my ear, and would they please clean it out. After inspection by three nurses, and a few minutes flushing with warm water, I held a pitcher in which a small moth, five or six millimetres in length, floated in the water flushed through my ear. Strangely, after it had died, I could feel nothing, and observed no difference in my hearing to indicate it was still there.

Each afternoon we predicted that, finally, we would have the hut to ourselves, and each evening we made friends with our hut mates.

The hut logbook was brand new, the warden had replaced it around new year. There were only a few pages of entries, and only one other climbing party. They had spent fourteen hours on Tierry Le Fronde. Ouch.


P1 of the alternative start to Tierry Le Fronde we climbed, "Barstards Benediction"

Monday we climbed Tierry Le Fronde. Starting from the buttress below the main face, we climbed two pitches, probably new, avoiding the dodgy gully scramble, to the base of the main face. Except we didn't, avoid the steep scrambling gully, dropping out kit at the top, and descending for some water at our packs, before returning up it. If you are not happy soloing each but exposed terrain in approach shoes, or in my case trail runners, then Frenchman's is not a good place to visit. Tierry le Fronde, is graded 16, a bit easier than Chimes, and it is. Except, its not. There is more bad rock, loose rock, and another exposed traverse, this time straight off the belay. It feels at least as serious. Leading required a certain degree of attentiveness to ensure your belayer lived to tell the tale.

Tuesday we climbed The 9th of Jan, notable for another exposed, and challenging traverse. This time more like seven metres, without intermediate protection. Higher up there is a wildly exposed, but fairly easy arete. From the top we could see plumes of smoke, bush fires had started a little ways north of the Franklin. Surprisingly, in notoriously wet western Tasmania, these were not isolated either. When we arrived back at the hut mid-afternoon, we greeted a policeman, a bioethicist and his musician son. They delivered news of a few other fires in the region and engaged in a prolonged and unnecessary debate about if it was safe to remain.


On the arete of The 9th of January

The bioethicist had a high school teacher by the name of Chris Dewhirst, and was keen to discuss our adventures, and share some rather funny tales. Chris was obviously quite an inspirational teacher to a certain kind of student.

Wednesday was our last morning in Tahune. We were getting a little slower, as our decreasing rations sapped us of energy. Even this had been bolstered with the odd donation or two from sympathetic hikers. We set off, up the hill, for our last climb. I had worked out that we as long as we made it back to Lake Vera by evening, I could realistically make my Thursday afternoon flight home. The plan was Cold Steel Dawn, a starred grade 18, on the Tahune face. By the time we got to base of the face, it was obvious we did not have the combined vigour to set off up a long route. Still, we had a prolonged run of good weather, in western Tasmania. To walk out without touching rock on another dry day would be crazy. After debating our options, with a general lack of verve, we decided to climb a parallel direct start to Tierry Le Fronde. This time starting near the bottom left of the face, to the right of small rooflet, and moving left under it and up. Two pitches, both about 30m in length, led to the top of the gully you would otherwise scramble up.

Either of the direct starts we climbed presents more appealing climbing than the gully. Matt proposed the name of Paniced Punters for one of them. Barstard's Benediction the other. Which is which, who knows?


At Baron Pass

After walking down we packed our bags, brewed up, and began the trudge back to Lake Vera. At Baron's Pass I turned took my phone of Airplane mode for the first time all trip. It had been doubling as an electronic guide, and low quality camera. As we watered up, I waited for any outstanding messages to arrive. The reception at the pass, and on top of the Cap is quite good. After a few minutes I recevied a message from my partner with a time stamp of 11:48am. Three hours old.

"Please call me as soon as you get this"

I don't think any parent wants to read a message like that. It sends the imagination into catastrophic overdrive. As I was calling, on low battery, my brain was already planning the inevitable death march back to the highway. Ring out, voice mail. Breathe. Try again.

Hello.
Is Edith Ok?
Yes.
Are you Ok?
Yes.
Then why? What's going on?

It was a terse dialog.

There's been an accident. At a music festival. Katie, from work, she didn't make it.
Ok. I have to go now.

I couldn't bear to talk on the phone. Supremely relieved that my daughter and partner were ok. Full of rage and sadness that a colleague had been killed. In such extraordinarily dumb circumstances. A tinge of guilt that my first reaction was one of relief. I can't offer any wisdom, poetical or ironic. My brain tossed around formless, worthless thoughts that we were returning home safe from an explicitly risky activity. Perhaps I could be persuaded to vote pro-capital punishment.

The rest of the walk to Vera was quiet.

At the hut we met out trio of friends. We heard more Dewhirst tales. They had clearly stayed up to date with the news, having walked in days after us, and through their phones. I refused to let myself enquire about Katie's death, though it was surely in the papers. At this point, I had one gu, and a third of a normal sized meal to last until the highway. The trio gifted up their excess food. Cup 'a' soups, Deb, Angel Hair pasta. All of it went to me. Matt's sensitive gut unable to cope with wheat and milk powder. Still, it meant he got a full serving of rice for dinner. I ate everything they offered. Shameless, possibly excessive. Definitely a mistake. I'll pick starvation before I consume Deb again. I can cope with the unappealing texture and bland flavour, but my intestines aren't that strong. A cheesy grin from the Bioethicist in the morning told me he was aware of my gastrointestinal distress. f---er.

My quiet, angry disposition continued on the walk out the next morning. On the relatively flat terrain I found a brisk hiking rhythm I hadn't known since 2009, when an elderly Japanese man had commented You very speed . On the slopes of Daisetsuzan it had become my ethos. I knew almost nothing about climbing at the time. On the mudflats near Vera I was greeted by a snake. Occupying the middle of the trail, raised and staring me down. I gazed at it for a minute from a safe distance. It sat unmoving, challenging. I gave it a wide berth, avoiding the trail for 15m. With the good weather, the mud was quite firm. No wet feet today.

At the Franklin, only a few minutes from the highway, we downed packs, and bathed. Wonderfully refreshing. At the van, we tossed our packs in the back and inspected the food we had stashed for our arrival. We had this notion that returning to some fresh food would be extremely nourishing. With sustained hot weather, we returned to a stinking mouldy mess, from which we were able to find the occasional snow pea worth eating. Bananas stewed in their skin anyone?

Then its time to saddle up. Ive got to get to Launceston Airport. There is time, but not time to waste. Reception is poor to non-existent along the highway, my consultations with Google Maps fleeting and erratic. Eventually I find the way, as Mat drives. Shortly after we turn on to the B11, we encounter a blockade. The road is closed due to fires. There is no expedient alternative. I will not be catching that flight home. Hmm. Ok let's find a meal then. I call Nicole, she books me a new flight home and messages me the details. Its not for another forty hours.

Pulling into pubs along the Lyell nets us a refreshing pint of Cider but no food, it's too early for the kitchens. Im not sure how long I want to dwell in Ouse anyway.

Our detour takes us all but completely into Hobart before landing us on the Midland Highway. A pub dinner in Oatlands.Red meat and vegies, Holy Shit! So what now? I've got an extra day. Ben Lomond. I tried to climb there twice previously and on both occasions weather got in the way.

After grocery shopping in Launceston, we drive up the Ben and bivy. We plan to go to the climbers hut but never do. It's late already, and I can sleep in the van.

The next morning we are greeted by way too many mosquitos, and it hurries us along to get out amoungst it. Away from the still water where they have bread. Of the course of the day we climb Barbi Di Viendetta, Ramadan, and Rajah. Three classics that make a good introduction to the Ben I'm told. I had packed my busted up old crack shoes for this day. They are due for the bin, but I figured I could squeeze another day out of them. Well sorta. For the straight forward jam cracks, you'd never notice the bare leather on the big toe of the right shoe, where the rand has been worn and torn away. The start of Ramadan requires very wide bridging, with small features for the right foot. Features I just could not get any purchase on. I fell at the beginning, several times, following the pitch. Once, from a few metres up, there was enough slack and rope strech, for me to land on my feet, fall back, smack my head into the ledge, which I then rolled off. No matter, try again. Eventually I frenched the first couple of metres on small cams, before freeing the rest. Nothing else required such precise work from my right foot.

During the worst of the afternoon heat, we found a large boulder to recline under, before climbing Rajah. At the end of those three routes I was pretty worked. Im sure dehydration played a part. During the descent off Rajah I lost my footing on snow grass several times, and almost lost my cool. The walk back to the carpark was laboured and slow. Matt must have arrived fifteen minutes ahead of me, and had collected water by the time I arrived.

The swarms of mosquitos at the car park were in plague proportion. Large and aggressive, we had no business fighting with them. So down we drove in the evening light. Finding a quiet spot to pullover. Matt cooked diner as I sorted our kit and packed for the morning flight.

In the dark we sat by the road, on our packs, enjoying our eats and another dram of Talisker; the end of our trip.


Goodbye Frenchman's Cap
22/04/2014
7:41:33 AM

Rad TR mate. Your ability to make suffering through an epic sound appealing, is a gift;)

And sorry to hear of your loss.
22/04/2014
8:49:39 AM

Nice TR....bittersweet i guess.

Fairplay to anybody who adds a rope and climbing gear to their normal pack then walks in to Frenchmans.
22/04/2014
9:45:47 AM

Excellent TR, thanks!

22/04/2014
5:21:22 PM

Nice trip report, really inspiring. I did the walk up there many years ago before i started climbing. Frenchmans is an awesome looking peak cheers for sharing your story

Sorry to hear about your friend
22/04/2014
5:29:15 PM

Thanks.

When I started climbing, not that many years ago, Frenchman's Cap was one of the first objectives I set my eyes on. It was satisfying to finally get there; much like my time on the North Wall with Huw late last year.

As an addendum I should note the following: We had had our sights set on The Lorax. That was going to be the prize of our trip, and we had the weather for it. Whilst I've got up a number of 20's, its more or less as hard as I climb. It became obvious rather quickly that Frenchman's is the kind of place where you probably want to keep a few grades in hand. Even following, the traveres, typically with frig all gear, make the going quite serious. I will return when I'm ticking 23s to get on it.

22/04/2014
10:28:14 PM

Great write up Phil! You boys had quite the adventure down there.
23/04/2014
9:28:40 AM

Interesting write-up. BTW, what would you consider to be the better route out of Chimes of Freedom and Tierry Le Fronde?

And you guys certainly finished with a big day at Ben Lomond. Did you top out each time and walk down? Had your partner climbed there previously? I am trashed after just doing one route there.As for Ramadan, you might have been making it harder than you needed to. I am pretty sure I chimneyed the start of it (wedged the left side of my body and pushed off the opposing wall with my right foot), although my girlfriend seconded it by bridging the whole way.

23/04/2014
10:03:36 AM

Chimes is better climbing. Tierry feels at least as serious, and could really make a Gr.16 leader loose their breakfast.

Walked of Barbi. Ramadan and Rajah share a top pitch. We rapped back after p1 of Ramadan, then went up Rajah later in the day once it cooled off.

I think you might have Ramadan confused. There is a good corner/face on the left which makes the left foot work easy. Either that or you were facing in to the little alcove which would have required larger bridging still, I'm not sure my legs are that long. I have long legs. Even so, it would have presented a challenge moving into the crack and corner higher up.

I think the other option for the start of that route is to climb the thin crack direct on finger locks. It would be pretty goey.
23/04/2014
12:05:11 PM

On 23/04/2014 phillipivan wrote:
>I think you might have Ramadan confused. There is a good corner/face on
>the left which makes the left foot work easy. Either that or you were facing
>in to the little alive which would have required larger bridging still,
>I'm not sure my legs are that long. I have long legs. Even so, it would
>have presented a challenge moving into the crack and corner higher up.
>
>I think the other option for the start of that route is to climb the thin
>crack direct on finger locks. It would be pretty goey.

I can assure you I climbed Ramadan. I also went there knowing other people had failed on the start of the route (Steve Bell for example). I also had some beta for how to approach it. Wedging your left shoulder on the left side of the alcove and pushing against the far right wall (when you can) is still strenuous but gives you some respite. If you are short it might not be so easy to do.



23/04/2014
12:16:17 PM

On 23/04/2014 simey wrote:

>I can assure you I climbed Ramadan. I also went there knowing other people
>had failed on the start of the route (Steve Bell for example). I also had
>some beta for how to approach it. Wedging your left shoulder on the left
>side of the alcove and pushing against the far right wall (when you can)
>is still strenuous but gives you some respite. If you are short it might
>not be so easy to do.


Thats pretty much how to climb it from about five or six metres up. Below that the crack on the right doesn't have nearly the defined edge to provide easy bridging.
23/04/2014
9:19:58 PM

Bloody good read.
Sorry about your friend.
Online Now
24/04/2014
1:24:35 PM

A great read.
I am envious of your trip phillipivan, as it is on my 'wishlist' of things to do, if future circumstances permit before I croak (not expected any time soon!).
~> I shall have to refer to you in the future as 'the guru', as you are achieving an envious climbing resume at a rate of knots...

Like DD (of sorts), I too am saddened by the loss of your friend.

The bug in the ear thing was interesting, as my hearing is somewhat stuffed by industrial deafness...
24/04/2014
1:55:21 PM

I found the bug pretty horrifying. The thing about it isn't the noise, it's the physical feeling of something buzzing inside your head. Our ear canals aren't used to being touched in the same way other parts of our bodies are (and it was in deep enough to not be visible without the special tool doctors use to look in your ear (even with it, the student nurse was unable to find it, at least in the time before she hurt me and I told her enough)). I spent the rest of the trip, when walking below the treeline, with my ears covered (see photo of me on Baron pass). Even now Im pretty sensitive about stuff, tree branches, etc, touching my ears.

I should make it clear that Matt was both the brains and brawn of our climbing party; Im not sure I sure I don't deserve the title of 'guru'. Anyway, for anyone seriously contemplating a trip in the future, would it be useful to write up some gear notes (ie what we took/ what we should have taken) like I did for Ozi?
28/04/2014
10:41:15 AM

Well put Phil. Got a bit of a buzz reading that myself! Still not sure what the go was for that traverse on 9th of Jan. The variant would take good gear though don't you reckon? Which would make it the most accessibly route on the face I'd think...

We got the gear pretty spot on I think. If you post the gear list though I'd recommend that you likely don't need the tent or the half a kilo of coffee and I did want that second red C4. Without it you would go a long, long way past the belay if you came off. Having said that, doing three 60m pitches is a how-not-to economise on gear... Also the huts have mattresses - NZ style - so don't need the sleeping mat.

Forget who asked, but while Chimes is probably on better rock, they're both absolutely classic. Can't overlook that Tierry is almost certainly the most exposed 16 in Australia.
| | |
| --- | --- |
| | There are 15 messages in this topic. |
Home | Guide | Gallery | Tech Tips | Articles | Reviews | Dictionary | Forum | Links | About | Search
Chockstone Photography | Landscape Photography Australia | Australian Landscape Photography

Please read the full disclaimer before using any information contained on these pages.
Australian Panoramic | Australian Coast | Australian Mountains | Australian Countryside | Australian Waterfalls | Australian Lakes | Australian Cities | Australian Macro | Australian Wildlife
Landscape Photo | Landscape Photography | Landscape Photography Australia | Fine Art Photography | Wilderness Photography | Nature Photo | Australian Landscape Photo | Stock Photography Australia | Landscape Photos | Panoramic Photos | Panoramic Photography Australia | Australian Landscape Photography | Mothers Day Gifts | Gifts for Mothers Day | Mothers Day Gift Ideas | Ideas for Mothers Day | Wedding Gift Ideas | Christmas Gift Ideas | Fathers Day Gifts | Gifts for Fathers Day | Fathers Day Gift Ideas | Ideas for Fathers Day | Landscape Prints | Landscape Poster | Limited Edition Prints | Panoramic Photo | Buy Posters | Poster Prints